Recap on Superband Episode 4:
Round 1-2: Hong Issac vs Kevin Oh
Superband – Kevin Oh Team: Fireflies
Yoon Jong Shin (Judge) said that this performance really suited Kevin, and forming a 3-person team was a good choice. He commented that when he first saw drummer (Kyung Yoon) he had no thoughts that he will perform in this style. And for bassist, Jong Hoon, who had always been doing slapping technique to change his style to fit and perform with drummer, he thought he was really a great performer.
Yoon Sang (Judge) said that when he saw Jong Hoon playing on his bass, he wanted that bass very much (XD). He felt it wields much power. He added that because of Jong Hoon playing slapping technique before, he had a higher expectation of his performance, which he felt was missing a little something since Jong Hoon only played the chords.
Kim Jong Wan (Judge) shared that performance itself is the most important thing for a band. He thought that if other teams saw them, they should be on their feet. Although Issac's team performed well, he thought that Kevin's team put out a more professional stage. Yoon Sang added that music should be great, but for a band, looking "cool" is the most important thing.
Result: Hong Issac vs Kevin Oh Team
Kevin Oh team won 4-1. Hong Issac felt heavy-hearted – that even though it was team work, but ultimately they followed his lead. He felt sorry for losing the round. But he was thankful as well.
Round 1-3: Benji vs Im Geun Joo
Sorry you can't see their faces, but I like their entrance! The really cool/hip team! (Lol, and I realised that Benji is really super tall in the later parts of the show).
Yoon Jong Shin thought this team looks like DJ DOC (a South Korean hip-hop trio). And Benji started showing off his moves. XD
And they were up against Im Geun Joo team, which MC dubbed the "Classic Avengers":
Benji Team
Benji thoughts on why did he choose Jo Han Kyeol: Great personality! When someone was performing, he would have plenty of reactions "Ayeee!", "Yea!", "Yes!" etc etc.
But when he saw Han Kyeol performance, it was a totally opposite feeling. Jo Han Kyeol showed off his husky voice in his self-composed song during audition – Benji felt that, Han Kyeol's voice and guitar playing, it was a very touching performance.
DPOLE, on the other hand, also noted both of them down during the review – and just in luck, he joined the 2 of them.
Then DPOLE showed a remix of "Camelia Girl" he made, and the team settled on the style of song to do! They worked on Shampoo Fairy, a song from 1990s (wahhh). The trio then went to DPOLE studio. DPOLE in interview shared it was his first time working with others, even in his studio as well.
DPOLE studio is really interesting! Like game controllers and all sorts of gadgets – these are basically his instrument toys. xD.
Benji highlighted the point of his team: there is no such team, because it is truly a weird-combination team! But just because that it is weird combination, they can come up with unique songs.
Superband – Benji Team: Shampoo Fairy
Yoon Jong Shin shared he had previously worked with Light and Salt (the original singers for Shampoo Fairy) and said that this music belongs to his era, so he had some reservations about their cover. But it was all broken – it was a totally different feeling. Many people of this generation will be hearing it for the first time and they might be able to accept it with their version. He added it would be better if the main vocal sang it a little cleaner. For DPOLE, he thought that he did really well.
Yoon Sang said the most interesting aspect of DPOLE performance was that he purely performed on padplayer without backtrack, and was able to back up the other 2 members while they performed freely. He thought this was a difficult feat to achieve in a live stage.
Benji asked if they managed to hear the lyrics during the middle – which the judges replied yes. Benji high-5 DPOLE, and proudly revealed that it was DPOLE's idea. DPOLE explained that lyrics highlighted the story of the song, and he personally recorded the voices which were provided by his mom and sis.
Lee Su Hyun (Judge) thought Benji was someone who influences people very easily, and makes them to want to mimic him – his is not someone of this world(?). She thought he was a very scary and formidable competitor, as during his audition he did not reveal all of his abilities.
Im Geun Joo Team
During the frontman and member selection, Im Geun Joo's lost his Ganeung-Dong member (Shin Ye Chan) to Ha Hyun Sang. But despite that, he still wished to retain the classical element in his music, and thus the selected team members.
Geun Joo shared that because his team consist of more classical musicians, producing the song actually took up a little more time, but he is quite confident with their practices. They practiced into the middle of the night.
Yoon Jong Shin said he was surprised with Geun Joo's voice when it first started and how the song progress they added other elements. As the song progress to the middle he thought it might be a pity if it ended and Geun Joo didn't let his voice rang out. And yes, Geun Joo didn't disappoint and delivered it. He was also surprised with Geun Joo's voice as it felt different than when he performed with Ganeung-Dong. He felt the dilemma of choosing between 2 teams, which both did really well.
Joe Hahn thought that the arrangement was great, and he became a big fan of Im Geun Joo's singing during the audition. He too, was torn with having to pick between the 2 teams.
Result: Benji Team vs Im Geun Joo Team
Benji team won with 3-2 judges vote. DPOLE shared that he felt really grateful to be working with others. At this point, I really feel him – like he shouldn't be cooped up all alone by himself!
Round 1-4: I'll vs Zairo
MC funnily commented on I'll team: Handsome, next to handsome, next to handsome.
I'll Team
As they walked out of the hall, they remarked that they must have the highest average team member height. Then they suggested they should perhaps wear suits to their performance – nothing too formal, but stylish suits.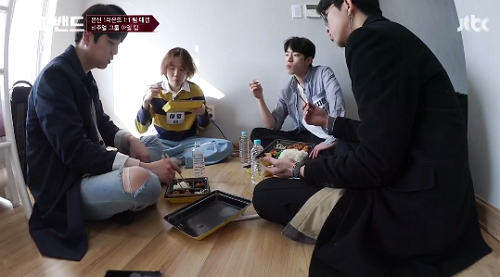 I'll debuted in 2017, but he didn't had a huge following and wasn't well-known. Because of this, he thought that perhaps he lacks the musical talent. :(, And at that point, he wanted to make band music. Coming to Superband, he felt that this triggered his desire to want to make music.
Kim Dong Beom shared that he wanted to do different style of music from what he learned in school. But ultimately he couldn't deviate from his school curriculum. It was only until now that he joined Superband, that can he officially start learning to make the music he wants. He said he was quite surprised with the talents he had seen here, and thought he won't be selected any team at all.
Superband – I'll Team: Spring Day
Yoon Sang said that the song was totally interpreted in a new way, and I'll was very concentrated in it. And it is his first time to see a saxophonist rapping (XD) and it wasn't awkward at all, like he had been waiting forever for a chance to do this. He was surprised with how a classical saxophonist could rap so well. At Ji Hwan, he said like, wow after a week, you looked really handsome (XD!). He thought Ji Hwan also gave it all out when he performed on guitar and rhythm.
Lee Su Hyun remarked that BTS Spring Day is a very popular song and it is difficult to re-interpret the song – but they changed it in a daring way. She asked who made the 2nd part of the song. Ji Hwan was the one, and he explained that usually vocal or the guitarist would become the main focus of the song. So he wanted to change that, and instead make the saxophone the main focus instead. Lee Su Hyun added that she sort of knew it would be him because of the impression she got from his audition round. Ji Hwan, together with Won Sang, were from a band called Yenevara. And during their audition they showed off their producing skills. Kim Jong Wan added that it was a good call to separate both Yenevara members, as the teams which got each one of them did really well.
Joe Hahn said he enjoyed the performance although he had never heard of the original. He thought that it sounded contemporary, and felt that I'll's voice fitted the song perfectly. He loved the integration of the saxophone and the rapping, but he felt it would be better if the guitar was louder, not that he fault the team for it.
Zairo Team
Ok, I am anticipating Zairo's team during my rewatch of the series. Especially this team, cos how it was made was really full of epic reactions.
Zairo himself already had some concepts on what he wanted to do when he joined Superband: he wanted to make a trendy sound, so he had a goal to put together a team with EDM DJ, a bassist, and a drummer.
One by one, bassists were picked and none was left…
Then the DJs too…
And no more drummers.
"I am doomed", he despaired, much to the amusement of others. xD. Finally it was just him and Mellow Kitchen left.
And next frontman goes to…Mellow Kitchen!
So after Mellow Kitchen took his pick, Zairo was left with only vocals. Even MC can't help but laughed sheepishly at the 4-vocals-team outcome. Members on Zairo team felt disheartened that they were not "chosen". Ji Sang thought that he was gonna go home if he wasn't chosen lol. Zairo also can't help laughed awkwardly while staring at his team.
In fact, he laughs in a charmingly carefree manner that it has to be appreciated in a focus clip: the real deal starts after the rewind:
Ok! Back to the contest – Zairo confidently said to his team, "We can do it coolly!". As they walked towards their dorm, they were receiving smiling/funny glances from others, and Zairo can't help questioning "Are we funny?" to himself. But somehow, he got the feeling that they were a "famous" band – then perhaps, others were smiling at them were because they look to be in harmony with each other.
But they weren't all without hope, because Zairo himself is a guitar-pro – even Young So (guitar genius #2) was surprised to see Zairo on Superband, and had initially thought Zairo was a producer on the show.
Zairo was one of the judges on a guitar competition that Young So had been on. Essentially, Zairo is the 3 guitar geniuses' idol (captioned).
Ji Sang said that they felt like they were easy targets, like, "What can 4 vocals do?". He felt the desire to win. They practiced fervently under Zairo's guidance. Zairo was then guiding Ji Sang to catch the correct tempo, although much to his frustration. It was actually Ji Sang's first time to collaborate with anyone else, so he had quite a fair bit of difficulty trying to catch up with others. He didn't want to trouble anyone, but felt that the team progress slowed down because of him.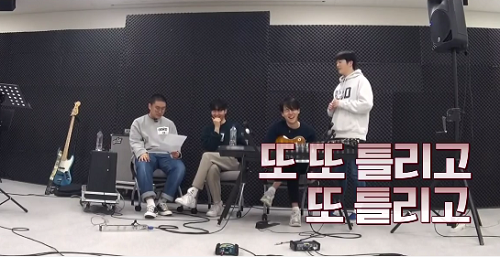 At the dorm, Zairo woke them up for practice. Yong Hoon began with a high-pitch singing, and received praises from Zairo. Ji Sang was like "How did you do that?". He attempted it himself.
And Zairo praised him.
There was a long moment of silence and Ji Sang slowly turned towards Zairo…
Ji Sang then revealed a smile and thanked him, breaking the silence with smiles and laughter.
Ji Sang recalled Zairo's words, "We can do it", and that itself gave him encouragement. Zairo said that they tried to meet up every day for the practice, even if it was just 2 hours, or even just a meal together. They became closer through "not-quarreling quarrels".
Gwang Il and Yong Hoon both said that Ji Sang would have felt most tiring, and at times, he had even cried. Zairo said that Ji Sang must fight with himself, and learn to do what he cannot do before. I like what he said, even for anyone, to excel at anything, you must fight with yourself.
Superband – Zairo Team: Hard to Say I'm Sorry
Sorry I have to do this before the judges commentary – this shot during their performance:
The backstage waiting room rang out with the loudest applause and cheers after their performance ended.
Yoon Jong Shin remarked that this song is hard for 4 vocals to sing it together, but under their circumstances, they produced it really well. Although there was only 1 guitar sound, the rhythm and the vocal singing was very well-balanced. At first he thought that this team was gonna a little bad, but as the song progressed, he was touched.
Yoon Sang complimented on the arrangement of the vocal parts and the singing, he thought that no other teams could compete against them – they showed great harmony. He said, from the performance, it didn't feel like it was Gwang Il's first time playing the bass. He said that this team proved that despite the circumstances, they can still create great music.
Ji Sang commented that it was tough, but his team and Zairo gave him a lot of guidance. Yoon Jong Shin complimented that he did really great.
Kim Jong Wan said he was very appreciative of Ji Sang's voice, even though he don't understand why. He was touched by Ji Sang's voice during his audition. When Ji Sang got into the 2nd part of the song, he again felt his powerful vocal ability. So he thought that as of now, Ji Sang should be 2 or 3 times more confident than before.
Results: I'll vs Zairo Team
MC announced: ZAIRO TEAM!
Zairo team won with 3-2. Even they themselves were surprised with the results as it was totally unexpected – their expression was like "huh, we won??". Ji Sang said that he would never be able to forget this feeling in his life.
IMO of this team
(IMO) This team interaction is most interesting to watch, as it centered on the weakest vocal on the show and Zairo as the most aggressive and skilled teacher. Yet despite their team combination and situation, Zairo knew he can't do it without any of their strengths and puts in effort to get the team up to speed, through practice, encouragement, and etc. You witnessed how he leads and guides the others, I think he is a true leader.
There were little footage on Shin Gwang Il, but did you noticed that he is a vocal but he played the bass? And with Yoon Sang comments, I think it was his first time to play the bass too? Did someone *ahem-zai-ahem-ro* put him up to it??
Round 1-5: Yang Ji Wan vs Ahn Seong Jin
MC dubbed them, the "Visual Rock Band":
Lol, Ahn Seong Jin team had this really scary guitarist based on the audition clip – he used a chopper on his guitar. xD. And the keyboard Gyu Mok is like an all-rounder: keyboard, vocal, guitar, producing, etc.
This match-up is actually really well-balanced: both were rock theme!
Yang Ji Wan Team
Yang Ji Wan and Kim Ha Jin were from the same band called "Cardean" and they had a number of live performance experiences. Chae Bo Hoon is from a band called "The Vane" – though I am unclear as to who were part of the band. It seems like there is only Chae Bo Hoon? He had also sang quite a number songs for drama OST too.
In his interview, Yang Ji Wan said that he likes and very much respect Ahn Seong Jin's Team. Ahn Seong Jin said that they were up against a tough team, and was curious how they would rearranged Ga In's song. He didn't want to go up against them. xD
Ji Wan team started by understanding each other's background; Gwang Hyun parents makes Korea traditional music, so he managed to bring in the large traditional drum. Ha Jin is more interested in sounds effects.
Superband – Yang Ji Wan Team: Paradise Lost
Joe Hahn: It was awesome~! He later on added that the intro was very cool, with them tweaking the pedals and stuff. He commented for them to keep doing that weird stuff.
Yoon Sang said that from the performance, they didn't give an impression that two of the members were from Cardean, but rather that they felt like a whole different team. He said that it felt like they had been together for 3-4 years, or were even friends since high school.
Kim Jong Wan said that Ha Jin was very captivating the way he performed. The baseline he heard from him, up till now, was the most pleasing to the ears. After viewing Chae Bo Hoon solo stage during audition, he hoped for him to quickly performed with a band. Kim Jong Wan thought he found the most suitable team.
MC asked was there a reason to use the big drum. Gwang Hyun explained that in first part, the rhythm to back the dreamy sound was created using the big drum, as it had a greater impact and looked better than just using the normal drum set. Kim Jong Wan said that usually when there were too much instruments, it will be very weird. But for this, he didn't think that it was overdone.
At then, MC noticed Ha Jin (not exactly sure what he saw, maybe excessive perspiring?) and probed him. Ha Jin replied that he was too hot after the performance, thus he was perspiring a lot. MC persisted asking was it because without his guitar, that his hands were feeling awkward and all curled up. Joe Hahn added that these people looks unstoppable on stage, but when they were handed with a mic, they are just not used to it. MC then jokingly asked Ha Jin, do you want to hold your guitar?
Ahn Seong Jin Team
Ahn Seong Jin is actually a high-school science teacher. He said that with passion, nothing in the world cannot be achieve – he wanted to show this thinking to his students. Many contestants on Superband were surprised to learn of a teacher joining Superband as well. (XD)
Back at their dorm, Seong Jin introduced himself and his profession to his team, and suggested if they could come up with concepts in that direction, ie. mad scientist!
When he was teaching students the science formula F=ma, he suddenly had the inspiration to make a song. Then he talked about adding hydro-chloric acid to marble, and how one will observe a reaction that it the marble will foam and melt away. So he wanted to use that as an analogy to express his heart melting away upon meeting someone he loves.
He played his song, sang quite a bunch of chemical notations – xD – and lol, the others were like kinda like stunned right there.
Ahn Seong Jin said that this song would be the most educational song ever for Korea. Kim Gyu Mok added on top of that, this song also have some form of arts, so hopefully people will view it as unity of both science and arts.
Superband – Ahn Seong Jin Team: Marble
So as they were setting up, judges took an interest in the lyrics they saw…
Yoon Jong Shin said that they will have no problem answering exam questions on "marble". MC and Jong Shin both commented that it is a song that appealed to the general public. Yoon Jong Shin commented that Seong Jin is very good at writing music. For Choi Young Jin, he thought that he isn't a typical rock drummer. But the moment Choi Young Jin started drumming the rhythm, the feeling of the song became more for the general public. It might be the reason why the MC felt the song appeal to the general.
Hwang Seung Min, in his previous audition, he used a chopper on his guitar which he explained would give a more spooky feeling. For this round, he used an iron ruler to match the "mad-scientist" theme. MC questioned if it would spoil his guitar – so he explained that he needs to be very careful while playing, and had practiced a lot to not actually touch his guitar.
Yoon Jong Shin asked if the song was an accurate description on "marble" – if he knew all this, will he really score all exam questions correctly? Ahn Seong Jin gave a more detailed description on "marble", which was called another name in Korean that would have been incorrect.
Yoon Sang was reminded of another scientific advert after reading the lyrics. Then judges were laughing at Yoon Sang for saying "advert" instead of "CF" – just that "CF" is the trendy way of referring to advert.
Kim Jong Wan thought that they might be doing hardcore punk based on lyrics, however it was not what he expected, but it was even better. In summarized sentiment, music and lyrics were catchy, even he if doesn't want to remember, he will keep recalling it.
At first, Kim Jong Wan had doubts if Gyu Mok would be suitable in this team, but he saw Gyu Mok performing happily. He quoted Joe Hahn in audition round that, no matter where he goes, this person has the ability to gather people around him. Jong Wan added that if there were just 3 people (without Gyu Mok), it might be a plain pop-punk. To which, Yoon Sang added that Gyu Mok did well with using the arpeggiators. Jong Wan commented that perhaps because Ahn Seong Jin is a teacher, he is very good at putting together the right team.
Results: Yang Ji Wan vs Ahn Seong Jin Team
Ahn Seong Jin team won with 4-1. Ahn Seong Jin said that he felt really good with the win. Hopefully in the future rounds, he would form team with the same members.
The next round was also revealed in this episode – shall continue in another post for Episode 5!