Day 4
We reached Berlin from Cologne somewhen in the afternoon. First stop was lunch. We found a pizza shop on our way to our airbnb accommodation, and we were famished right then. Also, we had to wait out the time before meeting our host.
This metro station, U Görlitzer Bahnhof, which we shall base ourselves for the next 3 days, had no escalators ;_;
After the lunch, we reached our airbnb apartment, and met with our host. The tricky thing here was the lift, which looked really scary. Unlike conventional lifts, it had no way to tell which floor you are at on the inside. Our host told us, sometimes it may stop at incorrectly at level 4 even when we pressed 5, or vice versa. So to avoid confusion, she told us to check the floor level (which was a piece of paper pasted right on the wall) on the opposite of the lift.
We were lucky – we did encounter it once. And we stuck our keys to the wrong door before realising we were on the wrong floor.
Memorial to the Murdered Jews of Europe
After freshening up ourselves, we then headed out for the first item in Berlin: Memorial to the Murdered Jews of Europe. I actually didn't buff up on my german history before the trip, but through this memorial visit, it gave us a first glimpse into Germany most prominent sadistic historical event – The Holocaust. You should really read up on this history before going Germany.
There was no entrance fee to the memorial exhibit, and the only requirement was to be masked up before entering museum at the basement. We didn't take photos of the museum in the basement of the memorial, but just the outside.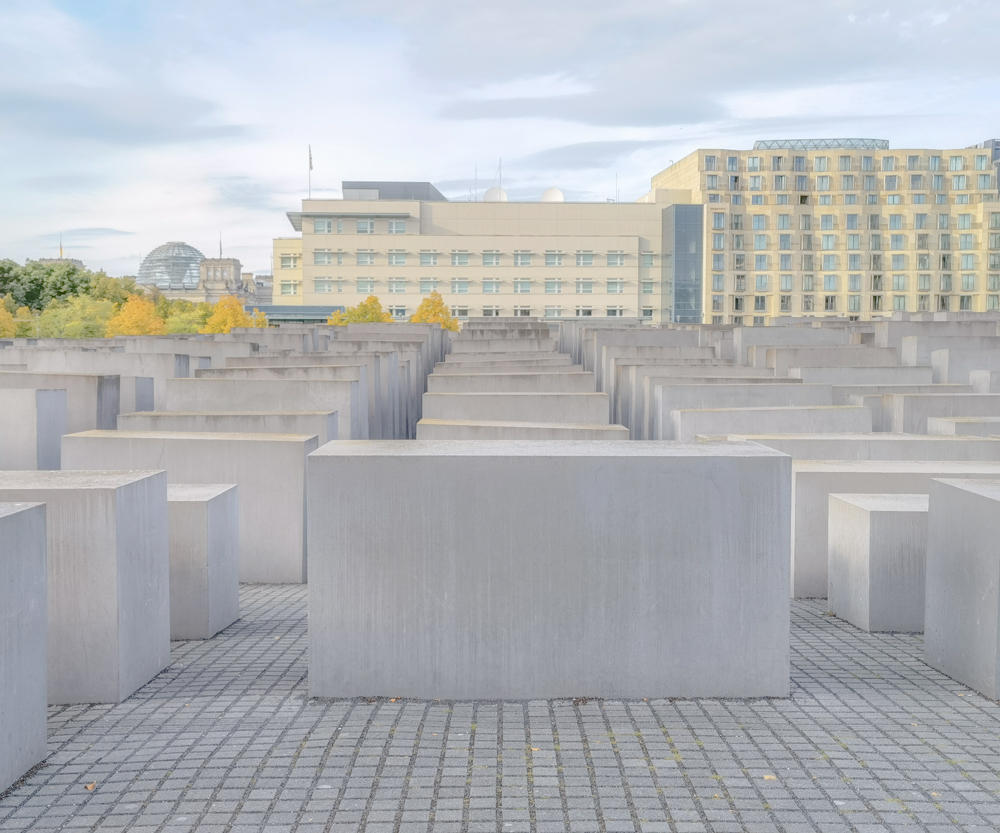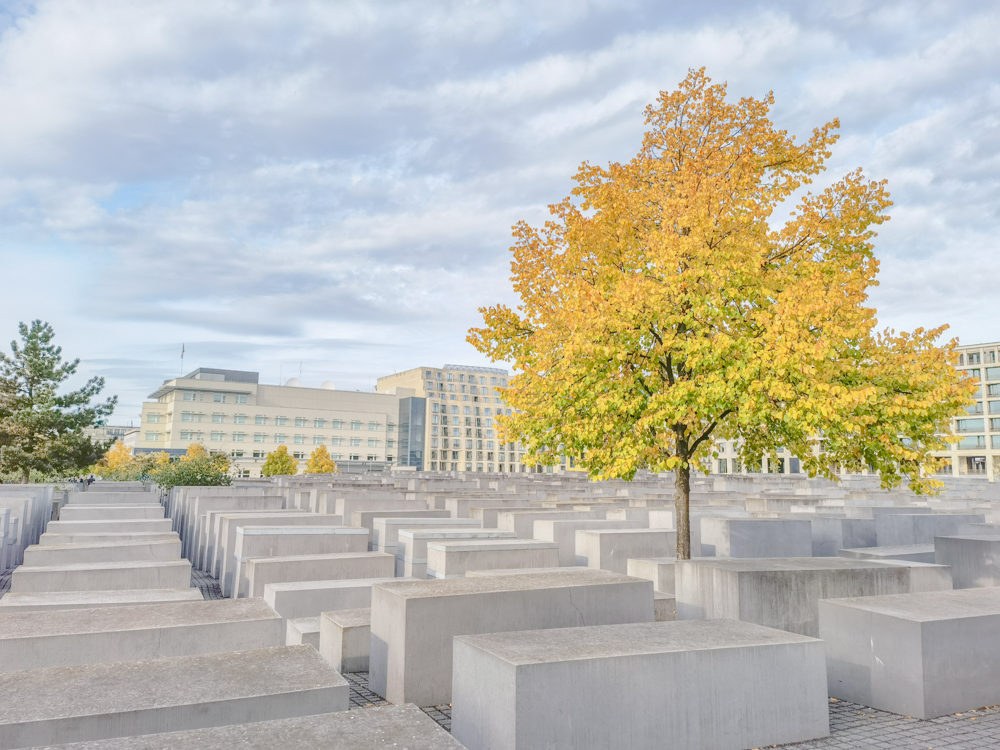 Brandenburg Gate
Next we headed to the Brandenburg Gate. Right before reaching the gate, there was a huge crowd with stage setups and we were curious…
Seemed like this was the starting or the ending point of the Berlin Marathon for 2022? But it hadn't started yet, so perhaps people were here to collect their goodies? There were currywurst stalls, brezel stalls, and not to forget beer stalls as well!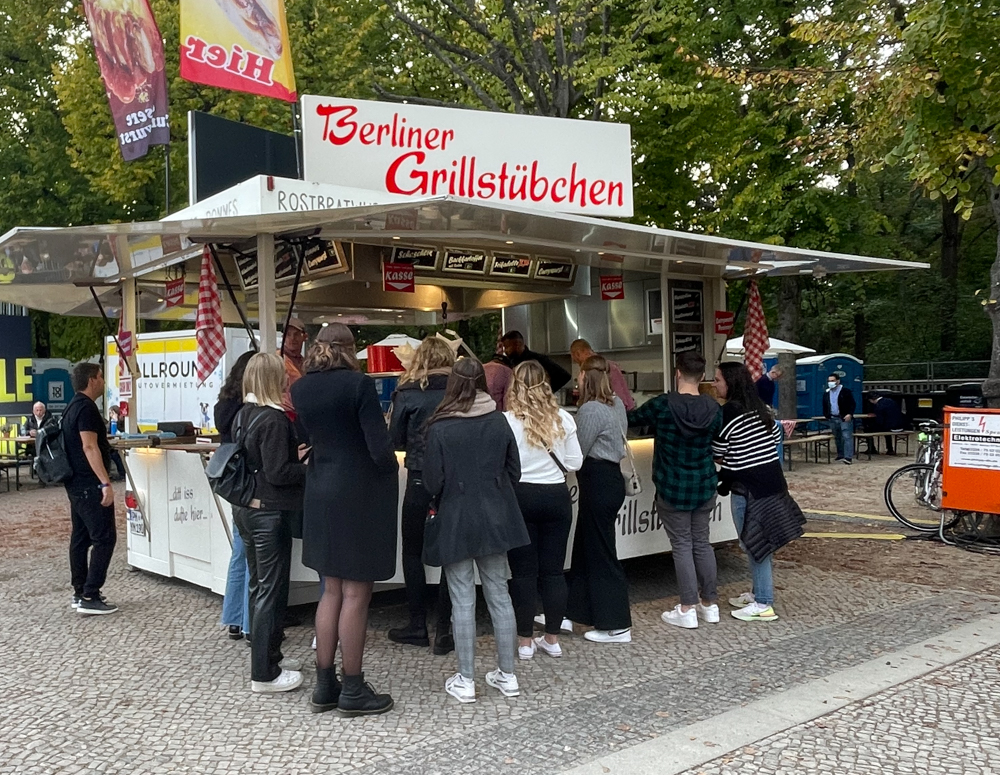 We walked through the Brandenburg Gate to the other side, again that crowd there was insane as well, but it wasn't because of the marathon. Apparently that was a demonstration.
They seemed to be going on about human rights, women rights and etc. They were shouting slogans/phrases in another language (German?) so I couldn't really understand what they were saying…
I was totally intrigued about this – I mean, what are the chances of seeing such events in Singapore? My sis wasn't too comfortable for fear it may suddenly turn violent. Yup, there were police in the area as well.
Dinner at Restaurant Maximilians
So we left shortly, and went for dinner next at Restaurant Maximilians. I think one should try book a reservation, but we were lucky to get a seat without booking.
I got this green beer here – hmm the taste is a little unique, not what I was thinking hahaha. Sweet and less bubbly than normal beer. But totally try-able for the curious ones~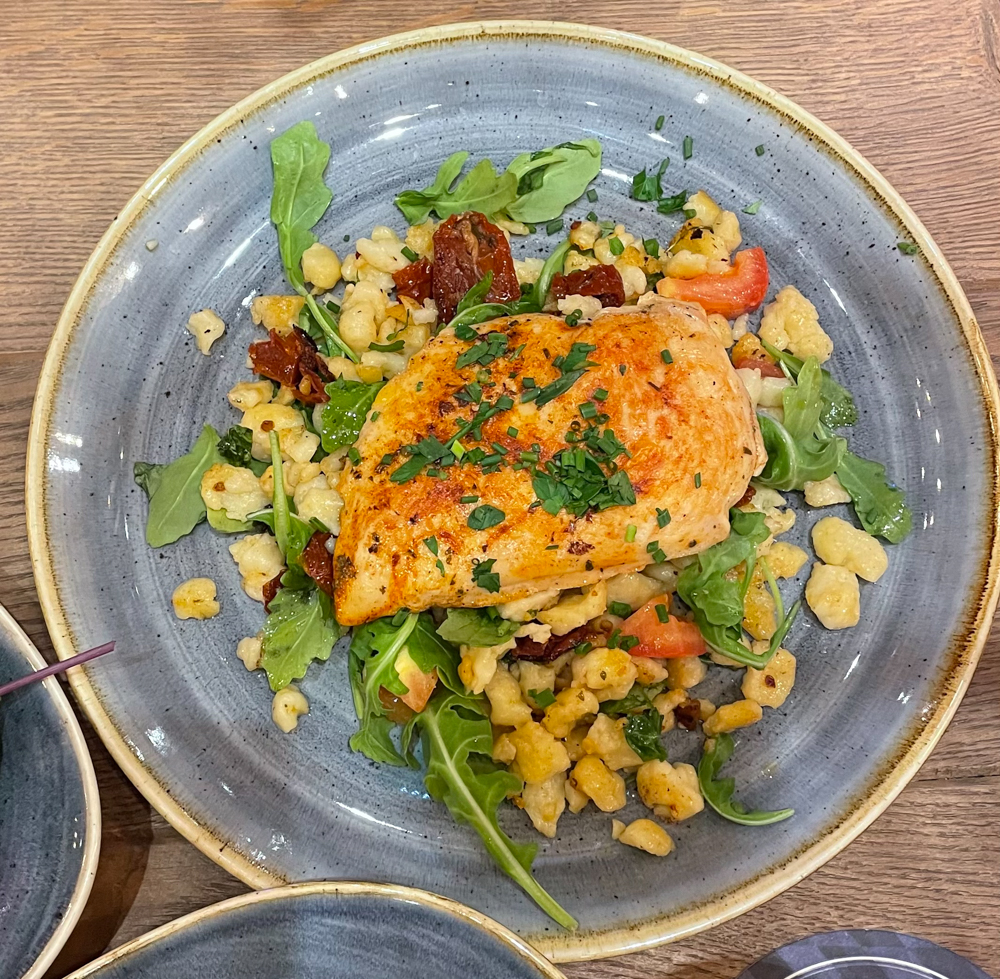 Btw there was 1 more salad that we ordered in the above photos. And just guess, were we full yet with this?
We ordered another weissewurst afterwards…hahaha. Not because we weren't full, but because it was on my food bucket list and I finally spot this item here!
It actually arrived covered with lid in a pot, and the server asked, "First time?"
"Yups", we replied. And he told us that we shouldn't eat the skin, so we have to work our knives and get the sausage out of its skin. With that, he cheerfully wished us "Good luck!" and disappeared back into the kitchen.
I think this is a must try!
Afterwards, we headed back to our accommodation but first to a nearby Penny supermarket. Btw, on the street near our accommodation, we also encountered a similar demonstration like the one at Brandenburg. And that demonstration then did feel a little dangerous because it was night time and the street was dark, and the crowd was shouting slogans and waving their banners. Police were in the area as well. So we didn't hang around, but just focused on getting to the supermarket and we headed home afterwards.
Day 5
The next day, we first made our way to the Berlin Cathedral. Right before that, we came up from the metro exit and we arrived right at a pop-up art market, aka Berlin Art Market. But at then, most of artist had only just began setting up their stalls as it was still early. This market only happens on a weekend – do pop by and check them out!
Next, we reached the Berlin Cathedral. Again, we were just here for the exterior lol.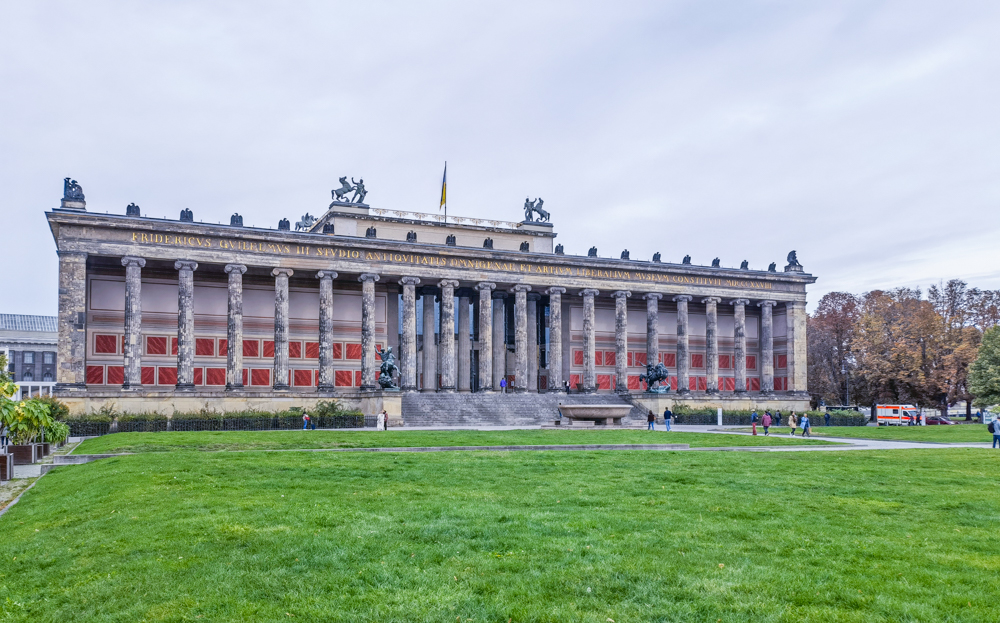 Btw, in this area, there is also a little garden to the right of the photo – quite interesting to check it out.
Sachsenhausen Concentration Camp Memorial Tour
We then proceeded to meet our guide at Brandenburg Gate for the Sachsenhausen Concentration Camp Memorial Tour. We met with our guide, whose name was Ernie for short, and then we proceeded together with the tour group on our journey to the concentration camp. (No lunch here, we ate bread and pastries). Along the stops or transit, Ernie would share on the Holocaust history with us.
Right before we enter the camp, she advised us on photo-taking, and to avoid drinking or eating food within the camp grounds as it was a place of death and killings.
Documentations
There were 2 key military army: SA and SS. SS is more closer to Adolf Hitler and was his bodyguard army. To enroll in the SS, you need to provide documents that justified your pure german lineage for 3 generations (I think)? And if I remembered correctly, descendants from any SS soldiers, they would automatically get Adolf Hitler as their godfather? Not sure was it all descendants, or just certain nth child – because they wanted to promote more pure German newborns.
Interestingly – regarding documentation, as our group also asked – how did Nazi know who to catch for their prisoners? Like how did they know who were the Jews, homosexual and so on? Ernie explained that back in those days they had documentation for everything, and people were very opened-minded and generous about providing those information. Perhaps in their minds were "What did I have to lose?", "I haven't done anything wrong". So basically, the Nazi easily had everything they needed for their atrocities. And because of how this Holocaust event used personal information, it became a back-stabbing dagger. In the current modern times, people are very reluctant about giving information to the government. Even with the Covid-19 pandemic, people would rather choose not to get vaccinated (ie, need to be documented), than give away their personal information.
Nazi Concentration Camps Symbols
Prisoners were labelled by symbols for easier identification of why/how did they end up in the camp. – and because of such labels, it would also also determined how differently they would be treated, and in some ways, how long would they survive in the camp. Whenever opportunities arose that someone was needed to "overlord" or supervise other prisoners, they would always prefer to choose ones who were labeled criminals. Those that were labeled as asocial or homosexuals would get the worst of the treatments.
An interesting question popped from our group: how about the civilians who stayed near the camps? Did they know of what happened here, what did they feel about it? Ernie shared that it was likely they knew about the things that happened in the camp. And back then, there were "spies" living amongst the people, and you couldn't trust everyone you want to gossip with. A wrong word, or a wrong facial expression and you may end up here next.
Engineering murder methods
When I read off the description at the museum (Memorial of the Murdered Jews of Europe) – one thing that really stood out was how they chose to kill off the prisoners through the use of gas chambers. Forgive my ignorance here as I commented to sis back then, isn't it like some kind of pardon for them to devise a method to kill off prisoners in a painless way.
Gas chamber was painless, but it was more for the efficiency than for the prisoners themselves. And most don't even go straight to the death sentence. Some sadistic acts includes making prisoners run in shoes that doesn't fit just to "experiment" how good were those shoes for military use. And man, read about the inhumane medical experiments that they did.
Ernie shared how did the Nazi progressed to the idea of gas chambers. At first, they used guns and plainly rounded up the prisoners and shot at them. But that caused a lot of chaos as the panicked prisoners started to scream and run, the soldiers were also stressed out from this killing method. And of course, don't forget the clean up afterwards.
So, they devised another a method where they would pretend to give prisoners check-ups, and the "doctor" would tell them to stand in front of the wall, face plugged right inside a wall-hole. A soldier with a gun would be right at the wall on the opposite side, and he would just fire the gun off. Less stressful for everyone? But too slow maybe? Ernie talked about persecution at the end, when the law finally caught up – the soldiers would simply justify – he didn't know what he shot, he was just assigned to press the trigger into a wall for that day.
The last method was the gas chambers – round everyone up in a container, and set the gas in on them. Kill many, low impact, less bloody. Maybe even cheaper than using bullets(?). Can you believe where engineering was needed, this was what it was used for? Engineering murder methods?
I highly recommend this tour, and it cost like 22 euro per person, but I felt it was totally worth it. As you can see (read), our guide, Ernie (hopefully I spelt it right), gave us a great detailed insight to the Holocaust events. What I really liked was how she also shared details based on her interpretation and personal viewpoints, and providing a great many different perspective of the Holocaust events, and lots of to think about.
Dinner Hunt – ended up at Brauhaus GeorgBrau
It was tough to find a dinner place during the evening peak hours as all the restaurants that my sis listed were full and we couldn't get in. So, we wandered around (my sis was going to give up already) until we stumbled upon Brauhaus GeorgBrau.
Btw, I got the set from their menu, it came with a boiled pork knuckle, and a beer with a Korn, a type of spirit. The beer and korn combination has a name called "Herrengedeck" – ie gentlemen place setting. This is probably male-type kind of drink, if drinks have preferences for gender. Lol~
Hehe, honestly, the boiled version of the pork knuckle looked really scary hahaha! Another table was watching my porky dish, then finally recognising it as schweinshaxe lol. It was a lot less sinful, much healthier, I guessed. But I would still prefer to go for the fried/roast version anytime.
This restaurant also served up a crazy wooden rack of 12 beers on the menu. When it was served to the table right beside us, my jaws dropped.
Day 6
The next morning, I thought about clearing my luggage for more space. So, off I went with my cup noodle for breakfast. Did I mention, it was Samyang.
I was fully awake after this – with my throat and stomach on fire.
Charlottenburg Palace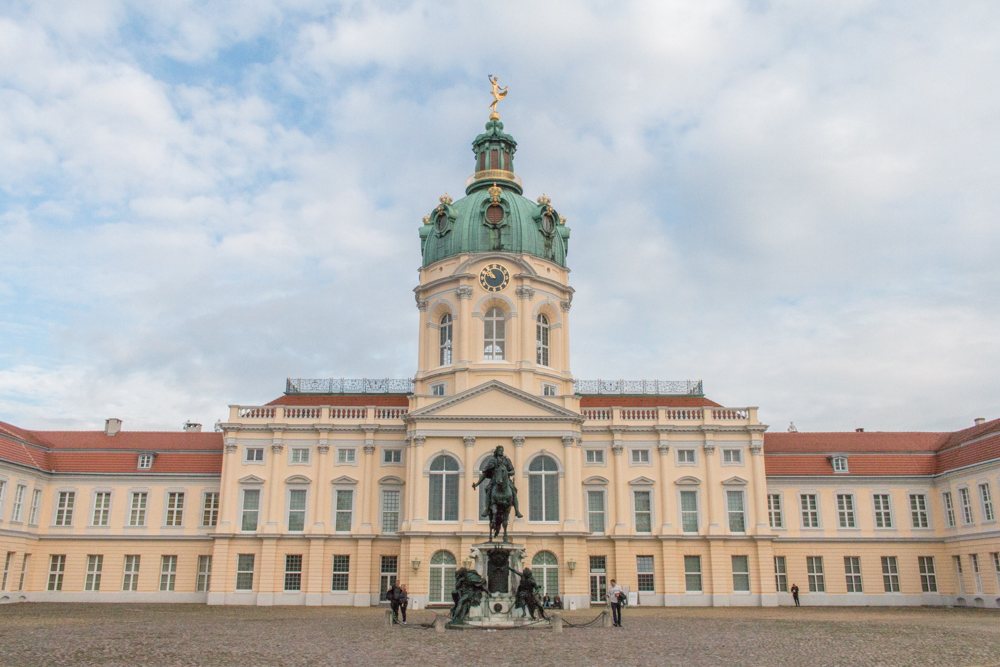 This palace was really huge with lots of rooms. The audio guide was included, and it gave a very detailed description for each of the rooms, but don't linger too long, or you will need more than 3 hours for the entire palace and the grounds.
The ballroom was really grandiose and beautiful. And while I was there, there were a group of kids in their outfits dancing.
We ventured out to the gardens afterwards, and to some of the buildings that were part of our entrance ticket. It was still too huge to complete everything.
Lunch
We headed back to the city area for lunch. It was a Sunday and many shops were closed. I was bummed when I realised some chocolates gift shop were not opened as well.
Berlin marathon was in action, and some parts of the street were closed, and pedestrians had to wait in line before they could run across the street.
We found ourselves at Augustiner am Gendarmenmarkt. Btw, the interactions between the waitstaffs were so funny here, reminding us of our old part-time waitressing stint.
We got the beers as usual (I got the dark beer for deeper flavours).
Here, I found something to tick off my bucket list! Nuremburg sausages – grilled and smaller sausages than the usual german sausages. These were delicious!
As for sis…I really don't recall what she got. Opened-face sandwich?
The apple strudel was delicious!!! Always have got space for dessert. I think this restaurant have a lot of Bavarian dishes! And only now did I spot that they have Kaiserschmarrn on menu! I would recommend checking out this restaurant!
Typography of Terror
My sis wanted to head to Checkpoint Charlie for a stamp on the passport. But somehow, no one was at the station, nor could we figure out how to get a stamp. Lol. Might it be due to a Sunday…
We wandered around hopping into souvenir shops that were opened. Most of the malls and shopping places were all closed. And then we headed to another historical documentation of The Holocaust event, Typography of Terror.
This place has no entrance fee, and whats more, there was a free English guided tour at 3.30pm. We arrived just right when it started. The guide took us through both outdoor and indoor exhibit. At the indoor exhibit, he would take us through some of the photos – and I liked how he made us think through the different perspective of people in the photographs. This session actually felt like a history & social studies lesson, and it lasted about 2 hours or more, with more and more people joining the tour as we moved along.
Did you know, the drink Jagermeister was named as such to curry favour with Hermann Goering – one of powerful figure in the Nazi party.
The founder of Hugo Boss was one of those in the Nazi Party, and they supplied the military uniform for the SS.
After the tour ended, I took a bunch of photos of the outdoor exhibit just so I could read them on the train the next day. This place will need another 2 hours for me to finish reading all the exhibit items. Definitely, don't miss this if you would ever land in Berlin.
Ice cream for dinner
Sigh, even supermarkets were not opened on Sundays.
We skipped dinner and went for ice-cream instead. Lol. Afterwards when we reached the accommodations, we simply cleared our food items for dinner.
I had to clear the following from supermarket previously. Don't think I fancied it, its texture was more mousse-y than a pudding.
The next day, it was time to bid goodbye to Berlin, and we headed out to board our train to Prague. Lets continue the journey in the next post!