Continuing where I left off in the last part, we were now on our 3rd day, starting from Hotel Lobesa at Punakha – where we planned to visit Khamsum Yuley Temple, then the Divine Mad Monk Temple. I do say if you have a choice, opt or request for Hotel Lobesa when in Punakha, simply because the service was awesome and the same goes for the cuisine!
Day 3 – Punakha
Our day began with a very sumptuous buffet breakfast at Hotel Lobesa.
Shortly after, we set off for the first itinerary of the day – which began with a hike to Khamsum Yuley Temple.
Hike to Khamsum Yuley Temple
To be (laughingly) honest, this is my first hike through a jungle for the lifetime, so admittedly I didn't know what to expect. I think each of us took a slip at sometime during the hike at the tricky areas with the muddy paths and streams.
But along some part, the pathway got better. Uncle Sangay started off later, but suddenly just appeared right behind us. Then he spotted some fruits on the tree, and got some for us to try:
If you haven't heard of this – this is quite a superfood and was tagged with lots of health benefit (lower blood sugar, cholesterol, risk of cancer, hair loss, and etc). Do read up on it separately if interested!
After about 1 hour hiking or so, we were finally here! Some photos during our exploration: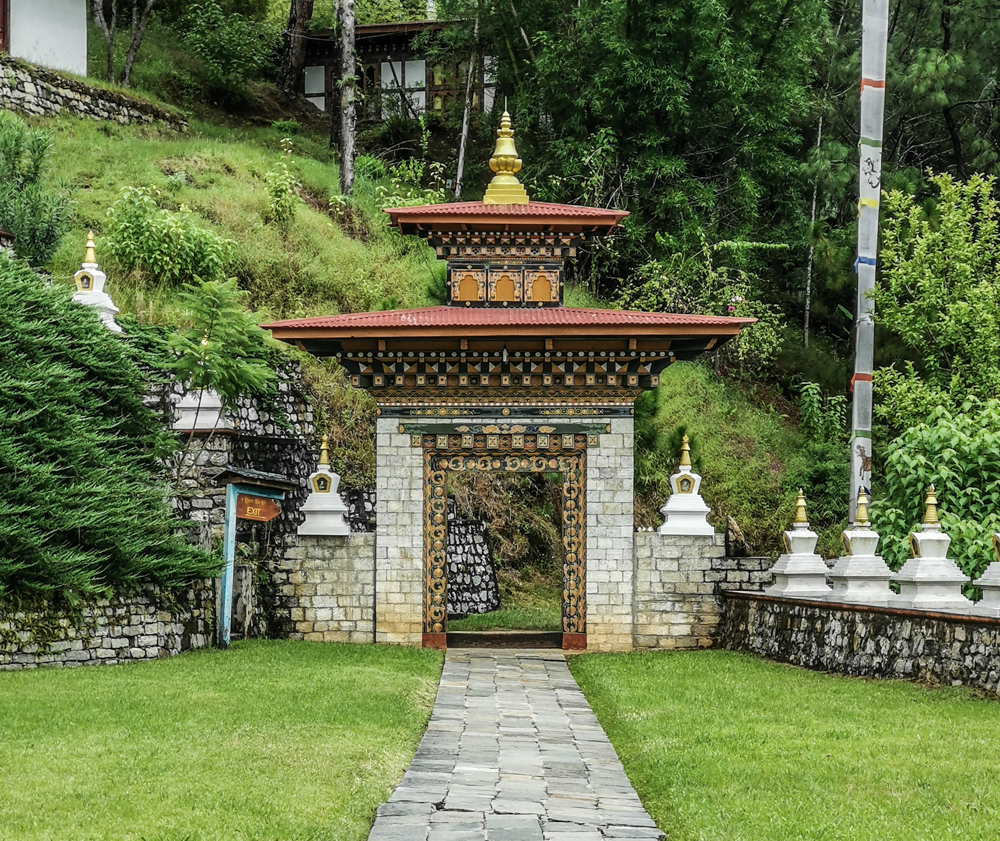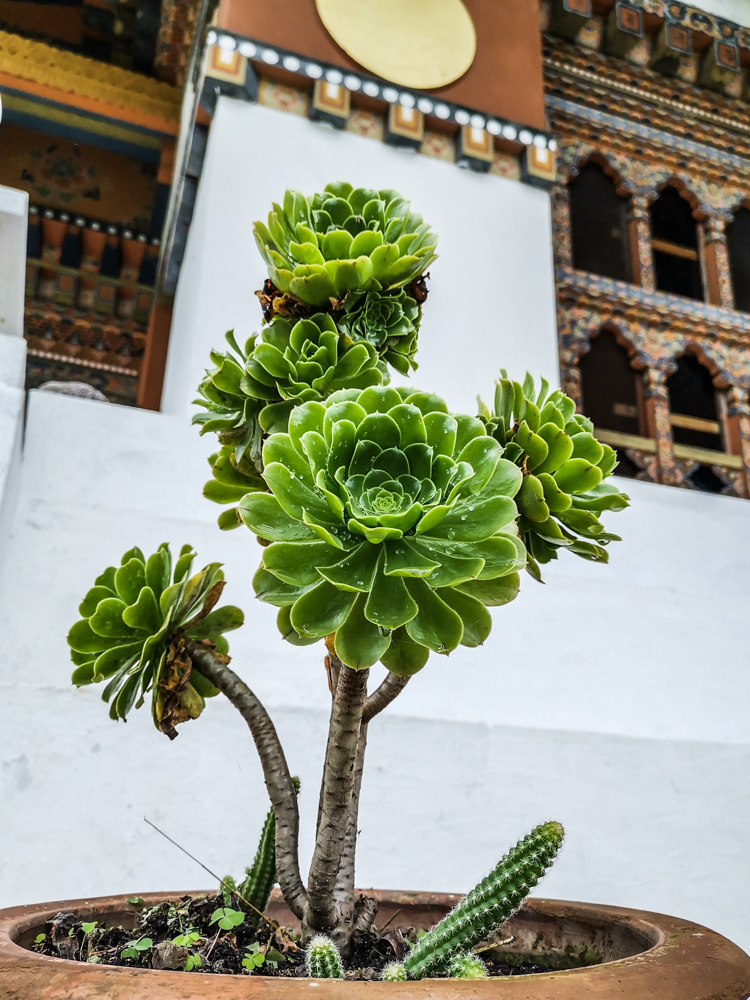 Then we entered the temple, and climbed to the top level for more views.
And we got a photo with our driver, Uncle Sangay!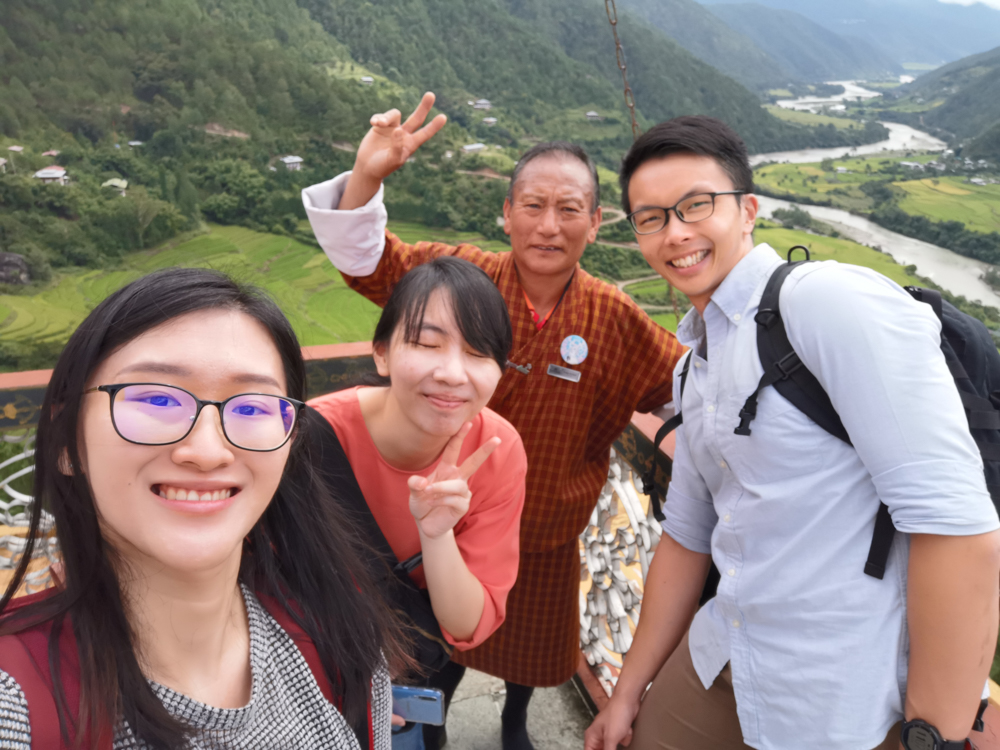 Afterwards, we headed downwards and through the same jungle with more slipping and falling before we reached the car.
Lunch
Luckily, we were going for lunch first as I was already famished from the trip.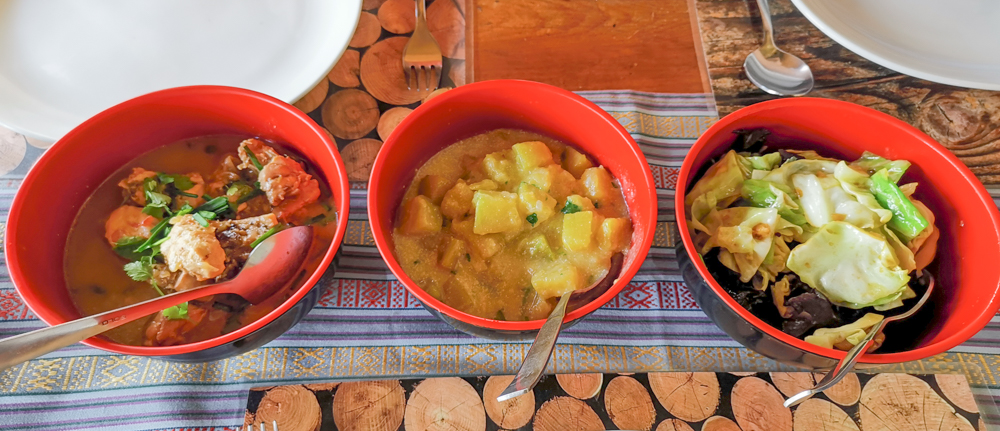 And there was a very delicious egg plant dish (not in the above photo) which is super memorable – I had to asked the staff how did they prepared.
Divine Mad Monk Temple (Chimi Lhakhang)
Continuing our day itinerary, next up was a much easier hike through yellow paddy fields. Before the real track, there are many souvenir shops selling local paintings and arts, which we will return after the temple visit.
At the temple, Namgay shared the intriguing tales about this monk about how he came to be known as the "divine madman". This temple was also famous for blessing married couples with fertility, and its quite believed to be very effective.
We eventually returned souvenir shopping. Most of the shop owner wouldn't allow us to take photos of their artworks. But here is one that did:
Then CH was very interested in one of the painting, and had a long haggling session with the shopkeeper. After they agreed on the price, he started to take out the credit card for payment. After frustrating attempts to swipe, the payment refused to go through.
Then he tried Audrey's card.
And my card.
🙁 Its not the issue with card as it seems, but their payment facility.
Still persisting on, CH was promised the offer as long as he could withdraw the cash by the next morning. We did end up trying the ATM machine in town. Sadly – we couldn't withdraw any cash.
So conclusion: don't rely too much on their cashless options, as it is quite unpredictable.
Dinner at Hotel Lobesa
That night CH didn't join us at dinner as he was having a headache. So Audrey and I then proceeded by ourselves, and we were greeted for the first time by their local dumpling, which is called momo!
And here is us trying to plate it nicely…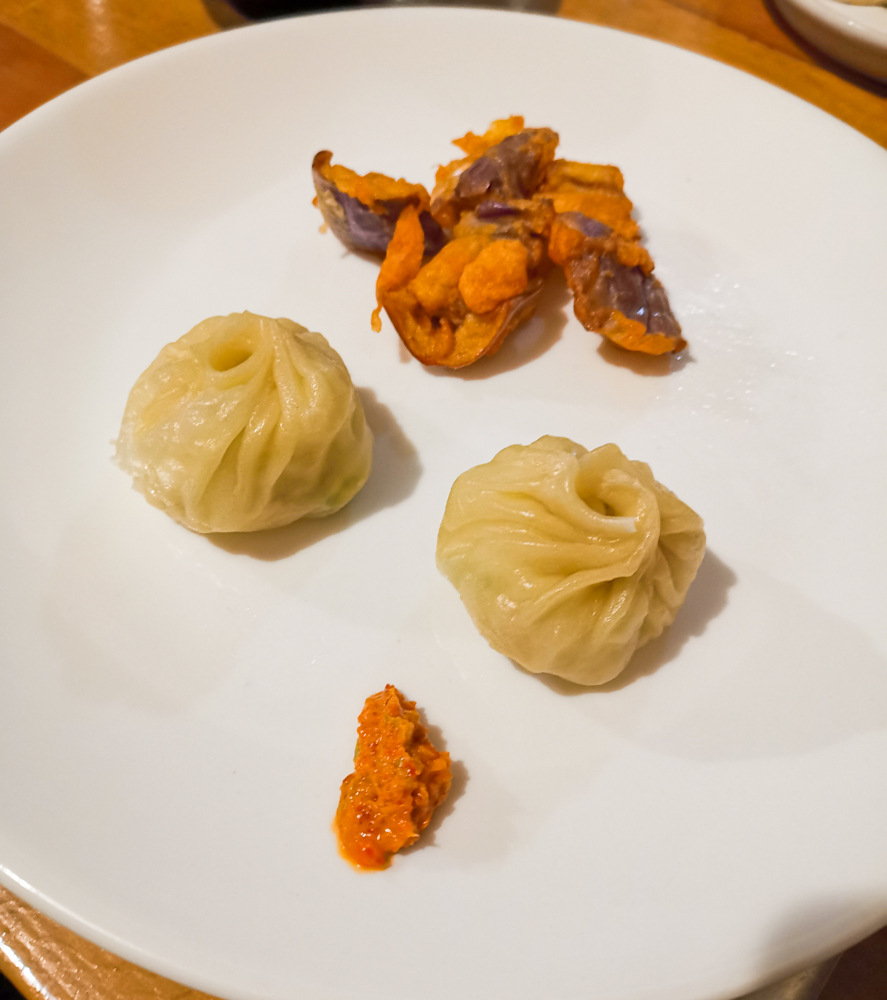 Their momos were amazing! Along with the chili, this is a dish that my tastebuds love~!! I wished they actually planned more of the restaurants with this.
Sadly this was our last night at Lobesa, and I will really miss the place here and the dishes!
Day 4 – Back to Paro
The next morning started a little easier – a long drive back to Paro. Along the way, Uncle Sangay got off to feed the stray dogs. Namgay explained his gesture, saying that the dogs at this region don't get much food as there wasn't much civilization here.
There are actually quite a lot of stray dogs everywhere in Bhutan. During pre-travels, I was worried about getting rabies from accidental dog bites and etc. But so far, apart from the crazy howling at night, the (many) dogs we had encountered are still quite very calm and harmless.
Lunch stop
Along the way, Namgay presented options to us: do we want another hike, or we can go for Paro Dzong and a visit to the museum. We opted for the latter.
National Museum of Bhutan
Normally I am not the museum type of person – but this museum does curate a good interesting information about Bhutan – their masks, dances, festivals, animal kingdom, plants and etc. I do recommend a stop here!
Paro Dzong
This was like our 3rd or 4th Dzong that we had visited throughout the trip – it does get a little bit excessive. So if you were planning your trip, do plan out alternative activities to do instead of having too many visits to the Dzongs.
Next, we had a short little time to ourselves for back in Thimphu as CH requested (impromptu) for a haircut in town. Namgay let us go wander around the town while he watched out for the queue at the barber.
We visited the Champaca Cafe for some cakes and drinks. Then CH spotted this very unique Thangkha painting in the cafe:
Soon after, we got Namgay's call and we headed back to the barber.
Here Audrey and I watching in glee as they both got their haircut one after the other. A very interesting very local experience on this trip:
Btw, the barber would slap the back of their neck after he was done – something like a "slapping massage"??
Metta Resort
We were then checked into Metta Resort – a really beautiful resort – just look at the photos:
The 3 of us is assigned to this block: there are 2 rooms which are just right opposite each other:
My spacious room in the resort:
I shall continue in another post on the last part of our Bhutan trip. Till next post!
Some rants...
It has been a long break since my last post, and admittedly I got side-tracked ever since Covid-19 broke out and I've been exploring new personal opportunities elsewhere and forgot all about blogging.
Travelling was halted and there is no where I could go without thinking of consequences ahead. For now, we can only reminisce all my past travel experiences and hope that travel can restart safely soon. Meanwhile, I shall try and continue my backlog on Bhutan September 2019 trip