Here is the first part of my 14 days solo travel to South Korea in late March to April 2018 – gonna start with exploring Daegu! Daegu is quite a very laid-back city, and you may wonder what are the things to do in Daegu? I had only a short stay of 1.5 days and was basing here basically to get use to my solo-ness part of the trip and getting familiar around with the all-things-korean and transportation mode and stuff. Can't help including a thrilling paragliding (first!) experience as well!
Day 1 – Solo Getting to Daegu
Finally reached Korea airport at Incheon T2 at 6pm plus, the worrying part of my first solo trip had finally started: commuting by yourself – I need to get to Daegu! Most of the time when overseas, I usually avoid the stress of handling transportation by myself – and usually, sis takes care of the country with the toughest transportation portion.
Heres my schedule on my Day 1 evening: Incheon T2 Airport > AREX to Seoul > Train to Dongdaegu > Metro to Daegu > (Bus/cab?) > Accommodation.
Read my rant
I promised my host that I wouldn't reach later than 11PM, but I ended up late around 1130PM. – due to slight delay in picking up baggage, which lead to missing the earliest possible AREX train and train to Daegu
So first, get an AREX express train ticket. I forgot about the discount price and got the AREX ticket from a machine and paid the full price of 9000 won – and I don't recall the machine asking me for a flight I arrived by – I recommend going to the staff counter as a better option instead of the machine. 2nd task – purchase a T-money card at the convenience store at the same level, and then move on to the waiting area for AREX. Soon after, boarded the train and am on my way to Seoul.
Personally, I found it interesting that Korean staff will take a bow at the front of each carriage on the train
Finally reached Seoul, and realized I have to missed yet another of my "ideal" train timing. So, purchased a ticket at the station and the staff very kindly circled all the main points on the ticket (car, seat number, gate, etc etc). I looked around the available food stuff at the Seoul train station – food ordering on a day 1 solo seems too challenging. I didn't want to decipher all menu and think about how to juggle the luggage and queuing and amount of time left till my train so I gave up the comfortable meal. Moved on the the train level and was happy to see some convenience stores – hopefully they have some food stuff? At that late timing, there wasn't much choices left and I wasn't feeling much of an appetite and left without getting anything.
Dongdaegu to Original Guamseowon Hanok Guesthouse
As my stay in Daegu was really short I wanted to store the luggage in the station lockers and carry a bag pack to the accommodation. I got off at Daegu metro station, and that was the last train I supposed. When I got to the lockers, omg, all Korean words and I had no brain juice left to decipher them at an exhausted state of mind. I gave up, and dragged my tired self and luggage out to street and hailed a cab. We got lost as the address stated on the Booking.com wasn't well situated if you were coming by car. Contacted my host and he very kindly navigated with the driver to a street and picked me up from there on.
Here is the very first kindness and very generous act I encountered from Koreans – they would handle the luggage for you and this very gentle manner was continued by all of my subsequent hosts! Back to my host, he actually lifted the luggage off the ground – a 13kg+ heavy luggage – and walk all the way to the accommodation. He did mentioned that there are locals living in the neighbourhood and best to keep the noise level to the minimal.
We finally reached my first accommodation with host and he showed me around my hanok room, toilet and bathroom, kitchen, and we bid good night. Can't hold my excitement for my first hanok stay – but I do need to shower and get to sleep as it was getting really late – nearly midnight!
This particular hanok remains my favourite! If you noticed, my room is actually a standalone little building and it is not connected to any other room. In fact, I had complete silence to aid my falling asleep – haha. While at Jeonju, I was constantly bothered by the thin walls and other guests who keep laughing in the night and then a whole lot of noise when they got up really early in the morning. 🙁
Day 2 – Exploring Daegu
Heres how the interior of my hanok home looked using my LG wide-angle lens in the morning. 😀 It was not super big, but really very comfortable with floor heating and for the first time in any of my trip – I was quite tempted to stay in the blankets and really snooze and relax! That didn't go well with maximising-all-my-penny-spent-on-travel-mindset however. We will be back here later in the afternoon again 😀
Things to do in Daegu – Samsong Bakery, Cherry blossom, and Experiences
First stop – breakfast at Samsong Bakery:
Samsong Bakery 삼송베이커리
Location: 7-6, Dongseongro 3-ga, Jung-gu, Daegu (대구광역시 중구 동성로3가 7-6)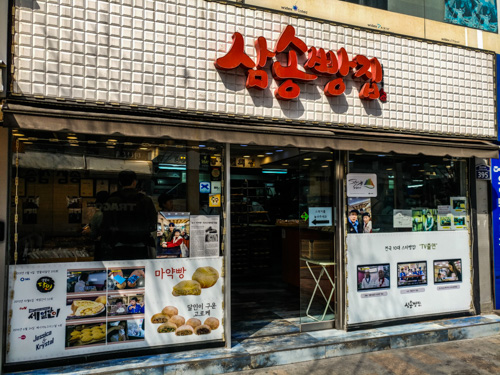 This place is known for their "mayak-bbang 마약빵" aka "drug-bun" meaning addictive bun. This specialty bun is actually a bun filled with sweet corn. I was skeptical during my research of how enticing would a sweet corn bun be – It was high on the recommendation list so I couldn't miss this. I purchased a few different buns to try – they didn't name their specialty as "mayak" bun on the labels, so I had to look out for the korean words "옥수수" for sweet corn.
..and the revealed fillings…
I have to say – this gives a really refreshing taste – exceeded expectation! Crispy buttery outside and inside was full of slightly-sweet and juicy sweet corns. I really missed this right after I finished my first and I am fan now! Besides this, I got a (2) black-color looking bun and (3) a cheesy bun. Black bun contains similar filling to the sweet corn bun but also came with ham which gave it more kick – I highly recommend! The cheesy item was a bun filled with doughy-mochi texture filling which didn't impress me much. All in all, go for the 옥수수 labeled buns!
Next stop, a short indulgence in my first cherry blossom experience at GyeongSang Gamyeong Park
GyeongSang Gamyeong Park 경상감영공원
99, Gyeongsanggamyeong-gil, Jung-gu, Daegu 대구광역시 중구 경상감영길 99 (포정동)
This isn't a huge park, and more of a park where local elderly would stroll in. Its was pretty quiet when I was there. Full of blossom for your own enjoyment.
Then continue to walk onto the Police Experience Detention Hall.
This experience hall has free admission, and you could take a look at the jail cells and exhibition set up. There wasn't much English translation in there, but it is a quick 30 mins walk through. Exchange your identification with the police stationed at the gate, and then proceed on the exhibition.
Next stop, Yangnyeongsi Medicine Market and Museum
Yangnyeongsi Medicine Market and Museum
51-1, Namseong-ro, Jung-gu, Daegu 대구광역시 중구 남성로 51-1 (동성로3가)
Again, this place has free admission, so why not. It was a quick stop here, and there wasn't much English translation to guide me on the visit. So the most interesting place to me is the gift shop within the museum which sells some medicinal stuff and food items infused with medicinal flavours. I was very tempted to get the ginseng chocolate, but I fought back the urge – ginseng and chocolate does not sound like a good match at all!
In one of the rooms in the museum there is this spot that looks like a place for consultation with a physician.
Thereafter, continued on to Gyesan Catholic Church on the way to Seomun Market to snap a few pictures.
Finally, Seomun Market – which would be most people's standard stop in Daegu. You can find variety of food, stuff for sale, and theres also an air-conditioned textile and clothes mall within.
Heres me waiting at a queue for hotteok. There are many hotteok stalls at Seomun, and I chose the one with the longest queue – lol. When I was asked for my order and I replied with "one", a lady besides me said to me "all the long wait for only one??" Haha xD
It was a quick bite and my first taste of the hotteok – brown sugar filled fried dough pancake. Hm, this didn't quite agree with my taste bud however – it is sweet, it is crispy dough, but I felt like something was missing. But, we will see as we continue on this journey.
It was almost time for lunch after wandering around the market – time to choose a restaurant. Lol, and it was my first official meal in Korea alone, and I was having a little anxiety of how ordering food works in Korea. There was an alley of restaurants in Seomun, took a while to finish navigating and again, I chose one which earlier on had one of the longest queue.
I started eating before remembering to take a picture haha. This was really bland though, but it seems to be the way for transparent-soupy stuff in Korea? Bland and healthy? And side-dishes! Kimchi is known to me, but I have not imagine about receiving green chilli (or Serrano pepper) as a side dish. Not wanting to waste food, I just munch into the pepper lols. Not spicy at all, and well, its edible food option haha – perhaps detoxing as well?
Duryu Park
After lunch, back out into Daegu world for next stop: Duryu Park. Actually during research, there was a Harry Potter theme cafe which was really a dream stop for me – but after much googling, it was confirmed that it was no longer a Harry Potter theme cafe.
Took the metro plus a bit of walking to reach here. Along the walk, you could see E-World and hear people screaming on the rides (really!). Go solo on rides – not me. Skipped this.
Duryu Park
200, Duryugongwon-ro, Dalseo-gu, Daegu, Korea
Can't miss the iconic Colorful Daegu words in the park – but it took me quite a long a while before I managed to find it. It is near the tourist information center in the park. The park is aplenty of locals and tourist strolling, pinicking, climbing up the slopes, and admiring the cherry blossom. Huge park, I couldn't finish walking all. But it is a good break and relaxing time for myself 😀
Some other shots
After Duryu Park, it was approximately 3pm plus. My Daegu todo-list is almost completed on the first day. Next stop: Geundae Golmok bakery for their red-bean filled bun. There are more choices in stall, and I went with the one that came with matcha cream filling on top of the red bean.
This fell short of my expectation and wasn't memorable enough. On photos online it looks and sounds enticing, but I feel you can give it a missed.
I actually visited the Daegu Modern History Museum as well, but I couldn't recall much, so well, just leaving it out
Former Confucian Academy – Original Guamseowon
For the most part of today was mainly spend on walking to the itinerary locations – except for getting to Duryu – my leg was slightly sore and head was aching due to lack of rest. So I headed back to my accommodation, theres mini sight-seeing to do there 😀
Former Confucian Academy – the main introduction here begins!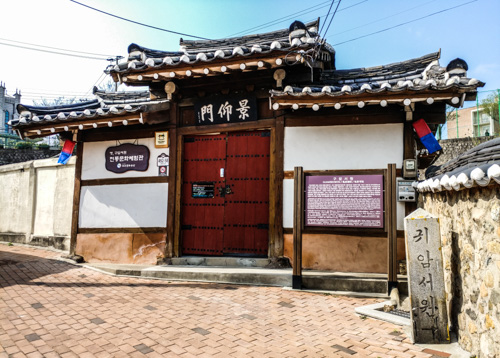 Here are the 2 hanok houses, which flanked on either sides of the main gate. Mine is the one on the left!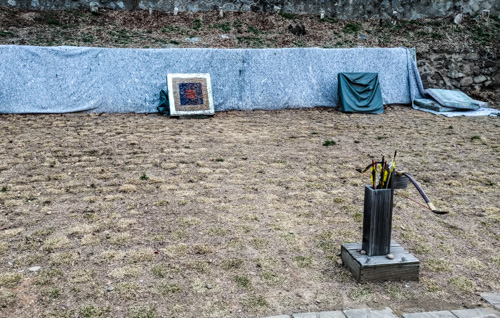 Free archery games for hanok stay guest. I tried this, and it requires some arm strength to pull the arrow on the bow – I have no experience and was really weak with the shoot! None of the arrow hit anything at all, and it wasn't much of a huge distance!
And here is my viewpoint when I sat on the bench of my hanok house. There are other traditional games as well, eg. throwing hoops, or sticks into a long cylinder vaguely seen in the middle-right of this photo. I took a quick nap here until it was time for dinner.
Around 6.30pm I got up and prepared for the night walk to find dinner – Seomun Night market. During research this kind of befuddled me – isn't the Seomun Market and Seomun Night market the same place?
At night time, Seomun morning market stores were all closed – the night market is more specifically for street food but I have no idea where to go when I reached the Seomun market to see everything closed. Spotted some locals who were navigating their friends and so I shadily stalked them and got to night market area.
Don't get here too early though as some stalls were still setting up before 7pm. This area is open, so it gets chilly in colder days while waiting for the food. There was some dance performance/busking in the middle, and youngsters screaming their cheers. 😀
Took a while for me to decide on my dinner –
I decided on this! Some stir-fry mix which consist of beef, pepper, onion, mushroom, and etc. Came with a small cup of gravy and a slab of potato salad. Hot, greasy, fried stuff in the chilly night was really memorable! Super satisfying meal, although it was small.
Braved out a little longer in the chilly night, hang about the dancing area, and then, headed back to my accommodation to call it a night.
Day 3 – Artsy Scene at Daegu, and Paragliding
In the morning, I met a very nice Ahjumoni who was cleaning up the kitchen area. I mustered some courage to greet her first, and afterwards we had a nice little exchange going between us. Shortly, I was dragging my luggage out of the Guamseowon front gate, and she saw me and quickly rushed to me, and offered to help me take a few photos for memories. Really really sweet Ahjumoni!
Next, onwards to Daegu metro station – lock the luggage with my refreshed brain juice, go to "the train station" at Daegu, and then get a train ticket to Cheongdo.
Read my rants
The metro station and "train station" are 2 different location. I got a little lost when I exited the metro and couldn't find where this "train station" was at. When I finally reached this "train station", there were even more plenty of luggage lockers and it was much more convenient to use those than compared to metro.
Kim Gwangseok Memorial Street
Next stop, some indulgence in street murals at Kim Gwangseok Memorial Street.
Kim Gwangseok Memorial Street & Bangcheon Market
450 Gil Dalgubeol Daero (Daebongdong), Junggu, Daegu
2238, Dalgubeol-daero, Jung-gu, Daegu 대구광역시 중구 달구벌대로 2238 (대봉동)
This entire street is dedicated to Kim Gwangseok, with plenty of murals tributes to him, and busking singers.
Walked along the street and found this really interesting store front decoration!
And heres the entire cafe: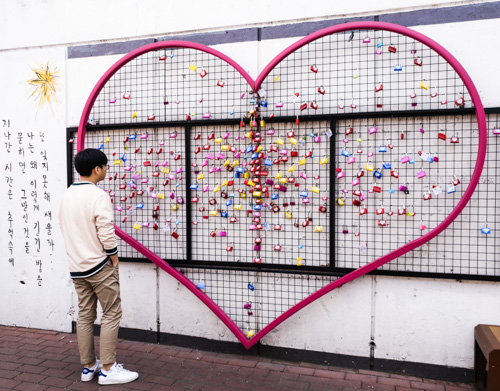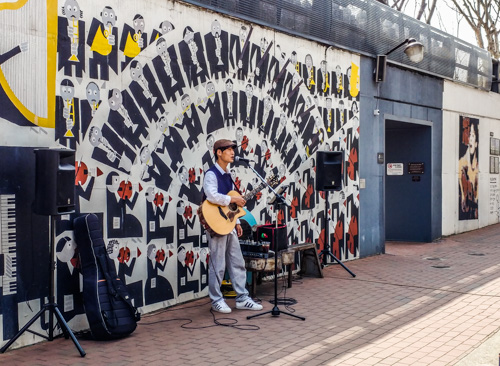 This roughly ends my stay at Kim Gwangseok Memorial Street. Bangcheon market is actually just beside this Kim Gwangseok Memorial Street, but it wasn't opened at all while I was there at around 11am – so I had to skip that and quickly think about what to do next.
Lunch – of course! Decided to find this "Ddaro gukbap" which is essentially the meat-and-rice but separate – this seems to be a Daegu's only setup where the rice and meat are served separated. But I have no idea where to lunch this and decided to google some location.
I got off at Bangwoldang station and tried to walk to this particular restaurant. (Bought a few more "mayak bbang" at Samsong bakery along the way :D). A very kind Ahjusshi saw me searching the map, came forth and offered me help without me asking! Really amazing people here! He walked me to the right street even though it was out of his way. Really very appreciative of the locals here!
In the stretch of the street, I eventually found the restaurant but got confused where was the store front and decided – omg give up XD. Wandered randomly some more and found a noodle restaurant
Haengbok Jemyeonso ~ "Happy Noodle House?"
153, Gyesan-dong 2-ga, Jung-gu, Daegu
Menu with pictures is jjang!
Noodles here are reasonably priced! I got the bibim naengmyeon – quite spicy for me (I am a low level spice eater) but it was really shiok in the chilly days!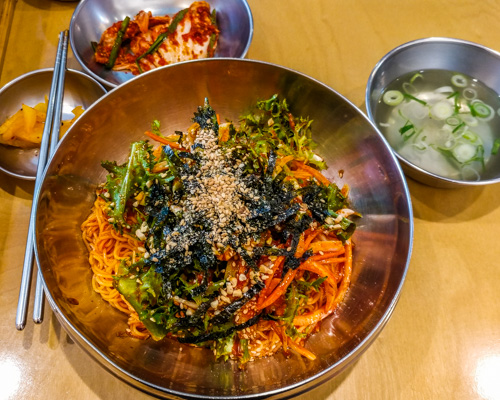 I declare, I really love Korean cold noodles!
At the end of lunch, I still have some time left, and wander towards Daegu station. Somehow, I managed to walk into a stretch of shopping street randomly near Daegu station. If I am not wrong, it should be this area called "Daegu Fashion Jewelry Special Zone" – so keep a look out if you wanna do a last minute shopping
With that, my stay at Daegu is completed. Fast forward, I got onto the train and was on my way to Cheongdo!
Paragliding at Cheongdo
Read my rants
There was a glitch in my communication with the Paragliding company – I was supposed to give them a call and I couldn't do so on my phone some how. So I used Kakao and tried to call, which didn't go through at all. Many minutes of waiting at the station later I then realise, oh, I didn't press that "dial" button. Damn…
Got in touch with my paragliding pilot, and he picked me up from the station and the luggage goes with us. 😀 They had offered to store my luggage at their office for me, so, yes this is a pretty good option. If you are traveling from Daegu to Busan – you should consider a pitstop for paragliding!
At their office, they went through some flight videos with me, and then gave me a brief of what to do, and what not to do during the flight. Next put me in a flying suit, and off we go – I joined another family and we were drove up the mountain to a higher spot.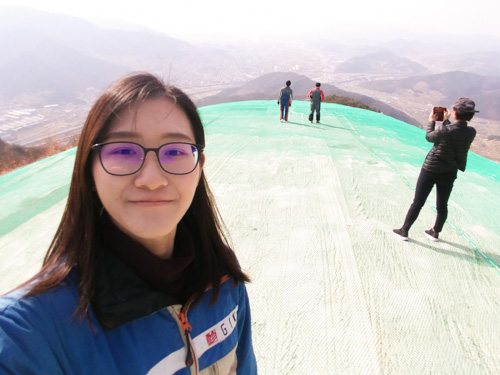 Father and son getting prepared for their flight:
For the family I came up with, the son flew first and was then egging his dad to come fly quickly while they cruised above us.
The dad joined him soon after, after failing to took off numerous times – there was some falling and crashing to ground but still remaining far from the edges. But this kind of scenes were really scary to witness while you were waiting for your turn…
At this point, I was the only one left on the hill as both pilots had gone off with the wind, and the driver needed to drive back down to fetch them. So, I was pretty much left alone on the mountain.
You know silly thoughts can creep in, "what if a tiger suddenly creep onto me…"
The Flight
Finally, they came back, and were getting ready for my turn. They put me in the harness, strapped me up, and were ready to take off – all we need is the wind. There's a windsock near the waiting area and they were all looking at it, waiting…
"Go! Go go go!" and in all the rush I was just running forward, heart pumping, adrenaline rushing, cliff edge coming near me…and suddenly we just crashed – I landed face down and was dragged forward by what felt like a few meters! I couldn't get up and my hand was trapped underneath me. Did I mentioned I had a seat harnessed to me, and that kept me in a weird position such that I couldn't get up haha.
It was all painful during the crash, and blood rushing up to the mind. But we were still pretty far from the cliff edge. Phew we didn't end up in a bad shape, and were ready for round 2.
Yes, round 2 went smoothly – I was just running and suddenly I don't feel the ground anymore! At that point I haven't even reach the cliff edge yet, so there was no need for the dramatic "jump off the cliff"!
I was handed a GoPro and my pilot taught me how to hold it up, swing it, so that we could capture the landscape and motion. Lol – it was really super heavy though, and maybe at the 8th minute my arms were tired and didn't swing my camera much.
With feet off ground and a seat, it felt like being on a naked airplane. Landscape from up were was really beautiful. Its really quite relaxing up there – and really comfortable – then my pilot started to do some stunts: the spiral
Lol, that heart-drop moment while on roller coaster, that's totally the feeling! Hehe, he did ask me if I like that, so, "yes…", and more spiraling. xD
My hands were weaken lol, nearly had no strength to hold the GoPro while the spiral continues xD.
We had a few more relaxing moments later, and then we are nearing the stop – from high up, could see some cows feeding off the grass, and yes, thats the area we were gonna land. Prepare for landing, and that rush downward felt yet like another roller coaster ride! We landed smoothly on our seats and whew, all safe and sound. I am still alive!
Later, we chilled a bit more at the office, paid up the remaining cost and waited for photos. They treated me a slice of their Korean cakes – which seemed to be filled with many different layers of beans. Really interesting taste! My pilot then drove me back to the station. On the way, he offered to bring me to the wine tunnel if I took the later train. Thought about it and declined as I had wanted to reach Busan earlier. But now, I am kind of regretting! XD
I went with FlyToTheSky team for my paragliding experience, and I recommend them! The staffs are super friendly although there's a small gap in conversation due to language barrier. But they do speak limited English enough to converse. If you are traveling between Daegu and Busan, then paragliding as a pit-stop is something to consider!
Shortly, boarded the train to Busan without a seat, but lucky, this was just approximately 1 hour train ride to Busan. I am excited to post about Busan next, stay tune!