In this post, we continue on from our journey from Cheongdo to Busan where I would stay for about 4 nights. First day of Busan I had initially planned Gamcheong Cultural Village, Busan Racecourse Track, BIFF square, Gukje Market, Bupyeong Market. Things did not go as expected – but I had an unexpected additional visit to Hwangnyeongsan Beacon Fire Station!
Busan 1st Night- Pork Rice Soup and Seomyeon First Street
Day 3, Evening
Journey to my Busan accommodation, and met my white knight!
Cheongdo Station > Busan Station > Busan Metro > Gaya Station (meet host)
I finally reached Busan train station from Cheongdo around 7pm. Next was to figure out where this metro station is – and it was a long walk with barricades surrounding some construction works. I had to do some detour to find the metro station. Finally saw the metro station, and oh my…
Stairs…
Heaving a huge sigh (yes literary I remembered sighing out loud and lol I think something magical happened next), reminiscing the times at Spain as well, I hoisted the luggage ready to throw ourselves to the stairs…
A white knight appeared! Without a word, he grabbed hold of my luggage and carried it down for me the entire flight of stairs. Flustered, and I have no other words within my limited korean dictionary, I frantically thanked him many times. XD.
Ahjusshi and I boarded the metro together and he left to take a seat. But, shortly, he decided to join me standing, and we chatted a little. He was worried learning that I was going solo, and not able to speak much of korean, and wouldn't know how to get by to my accommodation. As our journey continues, it was about time for me to change metro track, and he was suppose to continue on the same track. Yet another generous action from him, he changed track with me! All the time he was taking care of my luggage I felt so sheepishly guilty why did I bring such a huge one.
We reached my designated station – Gaya station. We went together to the first level of the station, and found my host waiting right outside. They met each other and spoke enthusiastically in their native language, and we bid goodbyes with my endless "kamsahamnida" And really, I couldn't thank this Ahjusshi enough, so touched by his graciousness. Busan! Hope to come back and meet him again.
I met up my host, DJ Kim, outside the metro station and we walked to the home-stay location – which was about 7mins walk as he indicated on his listing. He cautioned me about going to the wrong block as some previous guests did much to the owners annoyance and it implicated him :(. We reached the accommodation and other guests had arrived/returned yet. He walked me through some of the Busan sights and then I asked him for food recommendation, and he described that the pork, rice, soup is Busan's specialty. "Is that the dwaeji gukbap?", and he very enthusiastically answered yes!
Soon later, he drove me out and dropped me near Seomyeon area where he recommended the best "dwaeji gukbap". He mentioned that while there are many other restaurants, this is the one that he highly recommend as a local. Navigated based on his direction, and found myself at an alley full of gukbap restaurants. Heres the one which was recommended:
Songjeong 3rd Generation Rice Soup 송정3대국밥
29 Seomyeon-ro 68beon-gil Busanjin-gu Busan
I got a table shortly – there are some setup with tables & chairs, and some where you had to do it the local style: removed shoes and sit on the floor. This is my second meal in Korea to do so. While it is a hassle to remove shoes, I actually prefer eating in this manner. Imagine having a TV in front of me…this would be the best setup.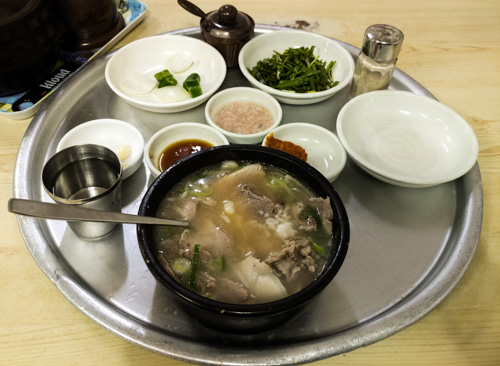 My "pork-soup-rice" arrived! The staff gestured to me to add the pepper and salt to season the soup as I like it. A pot of kimchi is already available at the table, the rest of the condiments (banchan) are small shrimps, light soy sauce, bean paste, green pepper, and spring onions.
The rice was swimming in the soup by the way.
Frankly speaking, when I first arrived at the restaurant, the smell of pork hits me real hard – wasn't very accustomed to the pork fragrance in this manner. Yet, the broth itself was really light and, in a way, bland. Not just my own sentiment, Wee (who was in Korea as well) said the same. Still, I am quite satisfied with the healthy meal – next go shopping at Seomyeon First street.
Wandered about, though I wasn't sure where the "First Street" was at. My host highlighted a street to me where locals go shopping, so I headed just there. Very soon, I started heading back to the metro – for some underground shopping.
I actually headed the wrong way, went to some exit where atas things were:
If I am not wrong, this exit where the fountain were led me to somewhere near a hotel or Lotte departmental store. I made a U-turn, and found where the underground shopping is at.
All in all, Seomyeon is confusing – the huge number of exits (number 15 listed on Naver) and googled shopping streets didn't really indicate where this streets really were at. Good luck to you, cause I realised I didn't take much notice of which exit as well. Wander along and hope to find them!
Gamcheong, Cultural Festive, and Seafood!
Day 4 Morning, Breakfast with Host and Guests
This morning, our host's wife prepared breakfast for us, in korean style, and it was a really super huge spread: coffee, tea, juice, fruits, rice ball, rice in beancurd skin. Only captured the Korean rice ball in its perfect glory:
😀 We tucked in happily. They were all delicious!
Other than me, seated at the table were 3 other groups of Taiwanese guests. 1 of them will be leaving for Daegu later today, and the other 3 are still staying in Busan for a few more days. Our host offered to take us up to Hwangnyeongsan during evening, and highlighted that this is a spot that only local would visit. All of us perked up – I couldn't guarantee my participation due to my packed schedule today, but promised to give them an update if I would be joining.
Hectic schedule for today: Gamcheong Village, Busan Racecourse Track, BIFF Square and all the markets, and Jalgalchi Market for seafood tasting, and Gwangalli Beach. Basically, I am running all over Busan for the day. The highlight for me today would actually be Gamcheong village and the Busan Racecourse Track. The race course track is an interesting find, and my host didn't know about it as well.
Exploring Gamcheong Cultural Village
Gamcheong Cultural Village
177-11, Gamnae 2-ro Saha-gu, Busan
How to get there: By metro, take to Toseong Station (Busan Subway Line 1), Exit 6. Then take the local bus: local bus Saha 1-1, Seogu 2 or Seogu 2-2 to Gamcheon Elementary School Bus Stop.
Boarded the bus, it was fully packed with tourists all heading towards the same place. Finally reached! When you are there, consider if you want to get a map for 2000 KRW which you can then collect the stamps. I bought a map from the starting point of the Gamcheong Cultural Village, happy to begin my exploration
I highly recommend – not – getting the map to collect stamp…read on to find out why.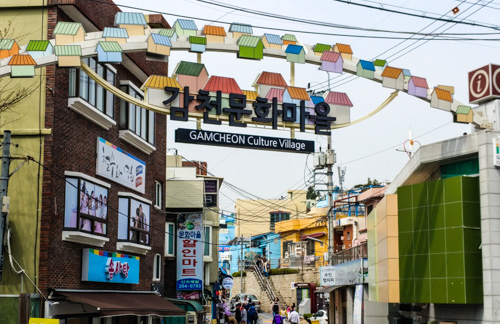 If you art into food-art, heres an interesting take on candy floss: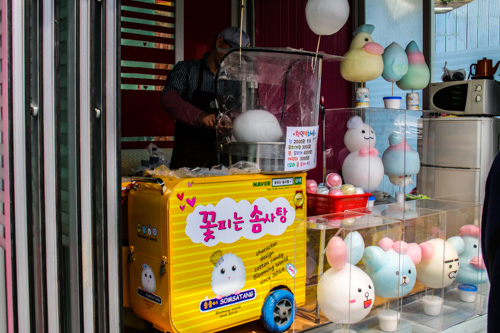 View of the colorful houses- as you explore the village, you might find different viewpoints to capture the village.
Prince and Fox sculpture – theres a huge line of queue waiting to pose with the sculpture if you are into waiting. Otherwise, wait for the split second moment when the people moved away from the sculpture and quickly snap one!
Can't miss the paper-clip art that was everywhere as well:
Another viewpoint :
Perspective floor art 😀
Lunch – I think I was about halfway into the village, and there wasn't that many tourist where I wandered to. Finally hungry, popped into any enticing restaurant, and I found this place that served sweet potato glass noodle
At this point, I had collected only half of the stamps on the map- and I had spent about 3 hours walking the village already! There were like plenty more stamps to go, I didn't had much time left. So I decided to give up stamps-collecting mission and exit out of Gamcheong to continue to the Busan Racecourse Track.
Trying to get to Busan Racecourse Track proved to be too tedious. I gave up, and with an itinerary lesser, I could join in the Hwangnyeongsan at night!
From the bus stop within the Gamcheong Cultural Village, I had wanted to bus out to Goejeong station – the first bus came, and only dropped us off right at the entrance of Gamcheong Cultural Village. Took another bus from there, and it didn't take me to Goejeong station as well – dropped me off near the Nampo station. At this point, with my plan to get to Busan Racecourse track seems really far and undoable. I gave it up and decided to join in my host suggestion on visiting Hwangnyeongsan that night!
BIFF, Markets, Hotteok, and Shopping
Continuing on to visit BIFF and all the linked markets. I saw this Ssiat Hotteok stall right in front of the BIFF entrance! This was on my to-eat list!
The ssiat hotteok variant is a specialty of Busan. Apart from the black sugar filling, they also fill it up with sunflower seeds.
And this was the particular taste that I felt was missing when I had my first hotteok at Daegu. The sunflower seeds packed in the missing punch of flavour and this got me hooked.
Around the BIFF area, there are many celebrity palm print plaques to look out for – but with too many people walking about, it becomes too hard to look out for the plaques. So, just kept my eyes up and wandered about. Gukje market and Bupyeong market are interconnected, and there wasn't much to see there however. So will just skip it over.
Wandered around and saw something interesting: His majesty and her majesty on streets?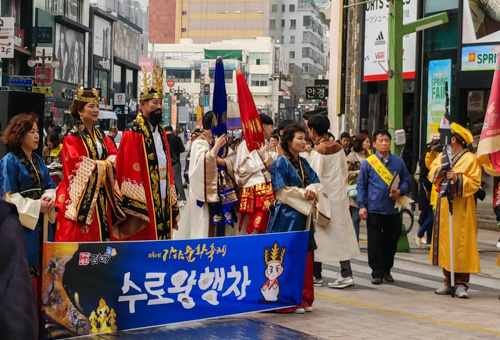 This seems to be some festival performance: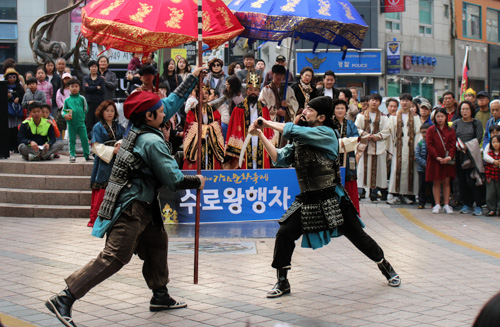 There's B-boy dancing performance too! Wait till I get the video up. I actually stayed throughout the entire festive performance – something I was able to do since I was traveling solo, own-time-own-target. After the performance, I was back to wandering more – basically it was really own-time-own-target, shopping, and exploring.
Jalgalchi Market for Dinner
Jalgalchi Market (부산 자갈치시장)
52, Jagalchihaean-ro, Jung-gu, Busan 부산광역시 중구 자갈치해안로 52 (남포동4가)
Theres an indoor market and outdoor market. I began with the outdoor market – the scent of sea in the air at the outdoor market is really refreshing. Take care as you wander on the wet floors and watch out, as some stall owners might suddenly dump a pail of water out.
Korea serves fresh seafood as food – some so fresh that they are kicking on your plate (baby octopus) – but it was pretty cruel to see it being eaten up alive in video :X nono for me.
Eventually, I entered the indoor market, which is a lot more quieter and less buzzier than the outdoor market. The array of seafood looks almost the same to me no matter which stall, so I decided to go back to the first stall where the lady owner first said hello to me.
Picked about 4 abalone, 2 prawns, 1 scallop and a huge clam(?). I bargained badly I supposed – wasn't my strong suit. All this for: 20,000 won and for cooking cost: 10,000 KRW
Mind: this is a really huge clam, have no idea what is this. Strong seafood smell wooh~!
Ending with dinner, its about time to return home for the next evening activity.
Hwangnyeongsan Beacon Fire Station
In the evening, we gathered at the living room and exchanged with each other our day activities. So I shared that I went to Gamcheong and tried to collect the stamps. DJ Kim remarked that you probably needed a day to walk through the entire village to collect all of them! True-dat – should have asked him for advice first haha! When time comes to lighten my luggage, the map was one of the first item to be gone ><
So together with the 3 Taiwanese guests and I, DJ Kim drove us up the mountain and along the way, he was introducing this spot as a local-only. To get up to the mountain, you need a car – theres no public transport, and no taxi available here. So unless you hire a taxi for this purpose, you can otherwise hike up here. "In the morning, the grandpa and grandma would hike up here, and in the evening, many couples would be here, many many love stories", so he says.
Right after he parked his car, we all got out and started to climb – I wasn't expecting a climb haha, and the lot of us was starting to pant as we had to walk about 10 mins in. DJ Kim was however in better condition than us.
Pardon my night photography skills – I was still trying to adjust the settings xD and no tripod to work with
And while it is just a TV tower, this architecture looks amazing in the night view:
DJ Kim then introduced the Fire Beacon station to us – in the older days they would light up the beacon to signal to another city. So when the Busan's lights up, the next city which saw it will light up theirs, and continue so. But now with technologies, these beacons are not in use anymore.
We each did this pose – something to remember by:
So after our each solo shot we got together to do a group pose: But the guy who helped take this photo didn't include me as I was standing on the far left. XD. Our host was the right-most guy
This is a really fond memory of Busan – an experience that way exceeded expectation. Chilly night, a little bit of hike, and beautiful night-scape. I do hope I could return here another day! Much kudos to our very generous host, DJ Kim for offering to bring us up here!
On our way back, the guests asked DJ Kim for help with ordering fried chicken, and invited me along for the meal :D! Here I had my first KFC (korean fried chicken) experience. They got the ban-ban (half-half).
Super satisfying meal! 😀 Many thanks to the guests who invited me along. Otherwise, an order by itself would simply be too full for me. Over the meal found out that they were going to Jinhae as well the next day. 😀 Supposedly we can go together?