In the city of Gwangju, I hadn't much sightseeing to do, but only included a visit to Songjeong market, some watching-out for architecture along the way. My main focus was actually on the 5.18 Gwangju Uprising event. Additionally, on my trip so far, I had gotten 2 similar recommendation when I spoke to travellers or my airbnb host about this. "Have you watch 'I'm just a Taxi Driver' – the movie?"
Day 7 – Evening
I returned to Gwangju after my Damyang day trip. Although exhausted, I continued on my next itinerary item, the very much anticipated 5.18 Memorial Park.
18th May Memorial Park
Took the bus 518 to reach here – and it was evening about 6pm plus by the time I had reached. The light was dimming and the park looked so huge with only a few souls wandering – I had to admit, it was feeling creepy. So I quickly snapped a few photos:
There are quite a few items regarding the 5.18 Gwangju Uprising event around this area that I didn't manage to get to visit/see as it was already after office hours. At then, was somewhat disappointed as this was the only 5.18 item I had in planned ahead for Gwangju – and I was really looking forward to check out the full history behind it.
Nevertheless, I had one last stop to complete my night:
1913 Songjeong Market
13, Songjeong-ro 8beon-gil, Gwangsan-gu, Gwangju
광주광역시 광산구 송정로8번길 13
To get here: take metro to Gwangju-Songjeong Station, and it will be just across the street – rather well directed by the signs.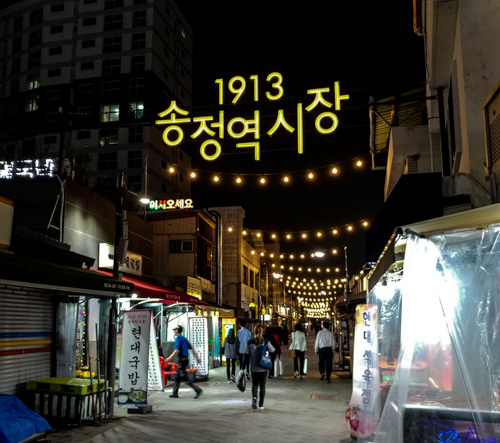 I read about how they tried to revive this market with the 1913 theme. However, it wasn't really opened in the evening so there wasn't much to see – only handful of stores were opened:
Evening was the time-out for this market – it wasn't exactly convenient to reach here (located at the almost far end of the west of Gwangju by metro) and it fell short of expectation with most of the stores closed. Supposedly – I had this "ddeok galbi street" near the Songjeong market area in my plans – I wasn't craving for it since the mega ddeok galbi lunch – skipped it altogether. Decided to call it a night and return home:
Part of the enjoyment from my airbnb – they have a CD player! And yes, they've got some CDs as well. Decided to blast it at reasonable noise level and make the living room more lively. And of course, do some work by studying the map and deciding what to do for my next half a day at Gwangju.
Day 8: Gwangju rushed city exploration
I set out early, packed up my baggage and locked the doors behind me. Goodbye, my short (fantastic) airbnb stay, and set out to the U-square bus terminal. Decided to get there ahead, lock up my stuff, and go wander in Gwangju – also, to get a ticket to Jeonju.
Weirdly, I guessed my luggage locker was faulty as it sort of automatically unlocked itself or something. Anyways, my luggage was sitting in there safe and sound – but for its comfort I had to pay for it to lock up again at full price. Which was a waste of money 🙁 as the counter staff had advised that, if you had locked it overnight, the next morning when you retrieved it, you will only need to top up the difference.
I remember there was one stop I made and I kind of believed I may have returned to the 5.18 Memorial Park again to visit the library/center by it – I didn't have much recollection though. I remembered there was a pictorial exhibition, but little to zero transcript on those photos. There were books on the 5.18 Gwangju Uprising and I stayed for 10 minutes or so trying to rush reading through them. But that idea didn't work out well…
Anyways, I set out for my first stop:
Breakfast at Cheongwonmomil (청원모밀)
174-1, Jungang-ro, Dong-gu, Gwangju
광주광역시 동구 중앙로 174-1 (충장로3가)
This had been recommended around on sites online – so of course, I was out hunting for this as my breakfast. So I got off the nearest stop which is Geumnamno4(sa)-ga, and imagine my surprise when I chanced upon this billboard on a building right outside the station exit…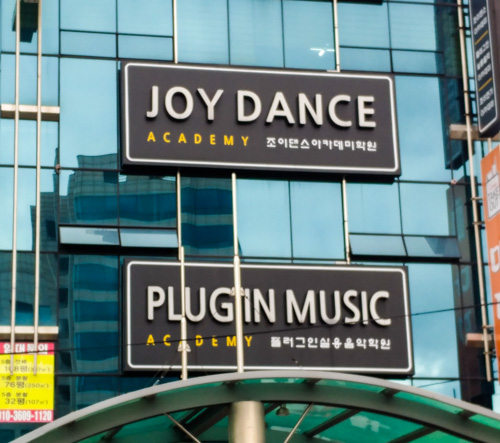 I wasn't even trying to find this although I did read it up – it was home to TVXQ Yunho, BTS J-hope, and of course a lot more Kpop stars! I didn't go in however, was really surprised with my finding though. 😀
Shortly, reached the restaurant. But there wasn't staff at the counter and I stood there for quite some time before poking into the kitchen looking for a waitstaff to take my order. I understand I might have been a tad too early, it was just past 10.30am which was their opening hours.
This place is popular for their Buckwheat noodle (momil-guksu) or in my interpretation – momil is "buckwheat". So essentially, most of the items on menu are talking about variants of the Buckwheat noodle. I went for the simplest variant which was the momil-guksu: Buckwheat noodle soup.
Sad part of going solo – not being able to order items to share. I'd been wanted to try wang-mandu for quite some time, having seen it on so many menus 🙁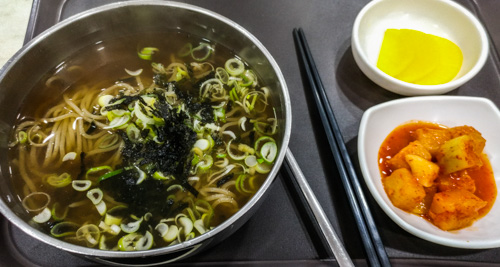 Back to my momilguksu which arrived promptly – I felt it was rather underwhelming, in a way – it is comfort food. Locals might appreciate it more? And given the raves (even recommended by Michelin) – it didn't unseat the mulmilmyeon from Busan for me. I might still return to try the dry version which some blogs prefers over the soup version though.
Out on Gwangju street for Follies
After my comforting breakfast – I was back on the streets, and just wandering along as I headed to my next spot. But – I have a few sights to catch. If you googled around, you might have read about Gwangju's Follies – art-architecture? They were scattered in areas surrounding Geumnamno4(sa)-ga. I recommend you get a local map which should already have marked those spots, and then mapped out the artsy locations before taking it to streets.
And heres a really in-depth blog post by another wordpress that documented the Follies visiting.
I wasn't bent on catching all of them – just so that these were along the way:
Truthfully, I wouldn't have noticed if I wasn't out looking for these follies ><
Hopped into one of the NC wave stores at Gwangju and got this:
I could walk in this, but I kind of regret purchasing as the size was still a tad too small. Like I said, EU 40 and above, don't try too hard finding shoes in Korea ><
My shoes purchasing experience in Korea scared me a little – culture-clash here. Hahah, here goes the story: I asked for a shoe size. So the sales assistant after retrieving the box of shoes, he proceeded to kneel in front of me and then help me put it on, and then tied the shoelaces for me. I was literally stunned and I just froze there. The whole time, I felt quite totally awkward and embarrassed. XD – its just really, a huge service-culture difference from what I would have expected any else where.
5.18 Archive – UNESCO Memory of the World
Continued on towards this archive exhibition on the 5.18 Gwangju Uprising – I was really glad to have included this based on previous night effort on analysing the map. I actually immersed myself in this archive exhibition as it was very informative and there were plenty of English translations.
18 May Democratic Uprising
Terror on the streets – when the martial law was in placed and put to action, the troops took to bludgeon anyone looking like a student (or) demonstrator. Yes just civilians in fact – and they don't even care if the citizen really participated or were even hostile at all. Beat them, stripped them down, and humiliated them. This was terror. And wait till you read about this operation's code name – Wonderful Vacation / Splendid Holiday – wtf? Of course, down the future, this code name would totally smear the operation upside-down even if they had *ever* intendedto do any good at all. I mean, FFS why did they even choose that name to begin with???
In the first place, the civilians had no part in it at all. The demonstrations actually began with students peaceful participation to put an end to martial law. But, on the 2nd day of the terror, when civilians came out to street and saw all the terrible state of the yesterday aftermath – blood, bodies laid strewn on streets, and injured people everywhere. Imagine that sight, how angry or fearful would you have been. This brought them altogether – to give aid, to come together and put a fight back at that abuse of power. The Civilians Army was formed.
At that point in that archive center, I felt a chill from behind me.
Eventual Massacre
While people celebrated the successive retaliations, they were eventually worn out from the violent stance. You have to realise that it wasn't an easy task for the civilians who were barely armed or trained to continue the fight against well-nourished and equipped troops. There came disagreement how it should proceed then on – some wanted to fight on, while many more wanted peace. Those who persevered as demonstrators were eventually massacred. The most chilling part – they knew of their impending doom, and were waiting for it. In the very last moment, they broadcast the message – as quoted from the book (see below):
"My fellow citizens, the army is entering our city now. Our dear brothers and sisters are being killed by their guns and bayonets. We will fight against the army to the last. Let's fight together to the last. We will defend our Gwangju to the last. Please remember us…!"
With that, the massacre started and the "so-called riot", came to an end. While it had been concluded as an ending, this was the spark that awaken the civilian spirit and eventually led to the end of martial law. It was a slow process, but a fruitful one.
"May 18 – Gwangju Democratic Uprising" – a free copy of the book was available at archive center here. It was perhaps hastily translated into English as there were many inconsistencies with the names such that I was confused half the time through the book. Still, this provided a good insight of the various events that to the fight for democracy.
Going up the archive center, there was also a photo exhibition about the Sewol ferry sinking event.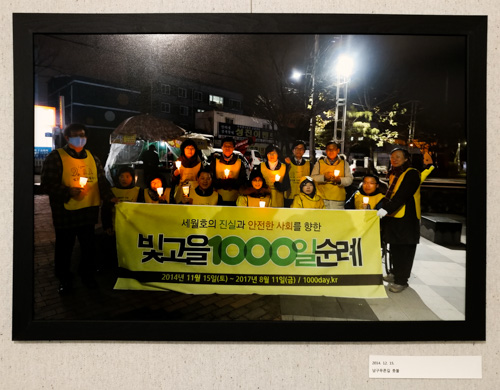 Pondering on history, violence, and peace...
At then, I was thinking of how people in the past can initiate violence on each other so easily, especially when they were of the same root? I mean, theres no problem with race, religion, and soldiers and civilians were practically same skin color same nationality same root. Of course they have stronger pride for their respective cities and are proud of their Satoori, but how can violence be so easy back then? This might be a whole lot of history and human nature behaviour I shall just leave my disbelief up to here ><
Democracy was a tough fight for especially in the past for many countries not just Gwangju-Korea itself. Peace we now enjoy doesn't come free and easy – don't take it for granted and remember the past events that led to achieving it.
Gwangju – it was a short trip here, but I was a lot more satisfied with this stay here than expected. It wasn't just blatant sightseeing, but historical indulgence which I found it really meaningful with lots to ponder on. Additionally, there are some spots which I hope to visit the next round – Penguin village, Geumnamno-sa-ga, and Songjeong market in the afternoon. The 5.18 Memorial Park as well as I did it really hastily this trip.
And I realised later – there were no cherry blossom photos in my Gwangju stay!