Heading to Gwangju next, again I was there for about 1.5 days – a really short stay. Gwangju is pretty small, but I found out more things to do after I was there so, regretted the really short stay. Part of my reason for visiting Gwangju was the day trip to Damyang, to take a walk through Juknokwon bamboo forest, a scenic walk through Gwanbangjerim, and the amazing trees at Metasequoia-lined Road.
Day 7 – Heading to Gwangju & Day Trip to Damyang
Day 7 Continued
From Busan to Gwangju, the optimal way of travel is by bus. At Seobu terminal (nearest metro: Sasang station), get an Express Bus Ticket (KOBUS) to Gwangju. You can't get this by the ticket vending machine, and you will have to go to one of the dedicated counters for this ticket – this ticket cost 22,400 won, and the ride was about 3 hours plus.
Later, I reached Gwangju express bus terminal at U-square – and found plenty of luggage lockers. As my stay was really short, shall just bring a couple of essentials to my accommodation and locked up my luggage – All locked in and ready to go, I then set out towards my airbnb at Gwangju.
Gwangju's Airbnb
It was drizzling slightly and I was glad to have ditched the luggage at the lockers – met my host and he presented me with a map that showed me quite a lot of things to see at Gwangju I didn't find during Googling:
– Penguin Village omg! (Didn't have time to go)
– 5.18 Liberty Park (on the left-most) – (Went on later in the evening)
– May 18 Democracy Uprising Archive Center (I went here the next day)
– Trendy area around Geumnamno4(sa)-ga – for shopping and what-not
He asked if I was going to this 5.18 cemetery located to the north of Gwangju, cos previously another Singaporean family came to Gwangju misinformed that there was something to see there – "There is nothing there to see" so he said. Lol – I could get why the previous guests wanted to go there, as I actually saw blogs recommending the 5.18 cemetery, – yes it was part of my previous plan to include it. So! For travellers thinking to go there, maybe check again with the local tourist information center? Then, he recommended that I should put Damyang as my first item, followed by visiting 5.18 items.
And I am the only one staying at the airbnb so I should just get comfortable :D, he said. So, yay – I got the entire place to myself when I just booked for a room?? That's the first time it happened to me. Quick look into the quaint airbnb: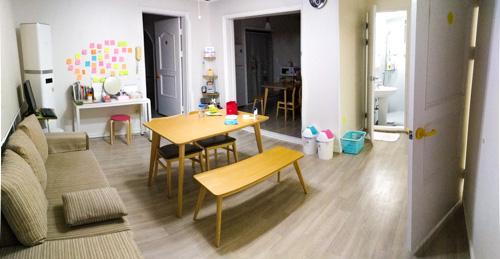 Loved how the Airbnb had a really neat and tidy feel – was really tempted to rest slightly longer as I was lightly drenched in the drizzle! But decided to head out after quick refreshening.
😀 Gwangju's Airbnb – Free advert cos the stay was awesome really!
Bus 311 from Gwangju to Juknokwon
Instead of bus 311, I took another (wrong) bus. 🙁
So not sure what happened with my brain juice – after my host recommended me to take Bus 311, and even in my research it said to take Bus 311 at U-square – I went to U-square and got a bus ticket to Damyang at the counter (???) and got into a Bus that wasn't a 311. At that time, I still had no clue what had happened until halfway on the bus ride – something clicked and I recalled some blogs mentioned they reached Damyang station instead of reaching right at Juknokwon Bamboo Forest. Déjà vu, …did that just happened to me?
So an hour later, I reached Damyang bus station instead of right at the Juknokwon Bamboo Forest. Please, remember, Bus 311, which should be right outside of U-square Bus Terminal!
I was very much clueless about what to do right then – there was a tourist information stop near the station but no one in it. At that time, energy was starting to drain just trying to think about my solutions:
1) Find a bus to Juknokwon
2) Take a taxi
3) Walk there
I followed my travelling motto – If I had no idea how to get there, just take a walk. Along the way, some cabbies called out to me to take a ride – but I shied away and decided to just focus on my walk.
It was about 30 mins walk from bus terminal to Juknokwon – and I was famished with less 10 minutes in on the walk! Found a restaurant along the way that sells the ddeok galbi 떡갈비 which was listed one of the must-try food in Damyang.
The Huge Ddeok Galbi 떡갈비
So I headed in, and had 1 of my most expensive meal in Korea costing: 25,000 won. It was such a huge spread, I think it should be a 2-person meal instead. Let me show you – The moment they served 12 banchan, and had a huge platter of vegetable, I started thinking … this might be huge:
One of the side dish that I had only seen in this meal here – mini crabs?!: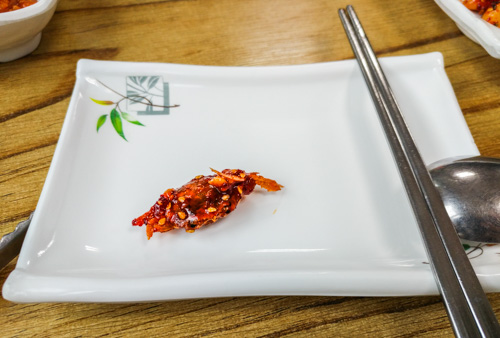 The jaw-dropping moment when the huge ddeok-galbi arrived:
At this point, my entire table was too filled with dishes – so imagine me a solo female trying to finish this, and I was taught not to waste food. So I stuffed myself. xD – I managed to complete most meat stuff, but left with handful of vegetables and banchan that I wasn't able to finish. An elderly couple (the only other guests at the restaurant) looked towards me, and the halmoni spoke to me – somewhere along the line, she asked something like "where is your aein?" Haha 😀 I could answer the simpler sentences, but once she started with longer sentence my understanding starts to fail me.
Then, with energy filled up 200%, I left the restaurant, and continued on my journey to the Juknokwon Bamboo Forest. The walk, while included unintentionally, helped me digest the huge meal. 😀
Juknokwon Bamboo Forest
At the entrance, pay for admission and a map which provides the trails that you can selectively do.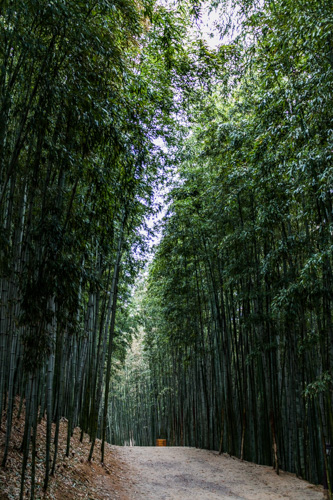 And you can spot the pandas lurking in the forest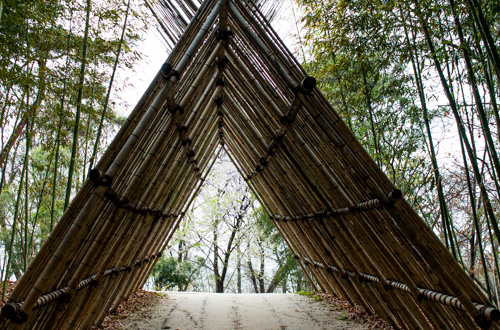 There were a lot more of bamboo forest takes, but I shall just leave it up to here. I took about 2 hours plus to stroll through the forest, however, didn't complete all the trails on the given map.
Exited the bamboo forest, and I found a Bamboo Ice-cream shop nearby that was opened!
Light bamboo flavour in it but nothing too enticing to remember – a really touristy cliche food item to try in your stop at Juknokwon.
Took a little walk out (only few meters away from Juknokwon entrance) and you would then see this lake – though I am still confused if this were considered part of the Gwanbangjerim Forest?
Along-the-path through Gwanbangjerim Forest
Rock path and really really beautiful scenery with the river reflecting the scenery – I had to cross this river! So, imagine me holding onto my DSLR and ice cream, and trying to snap photos while enjoying the scenery and ice-cream lol.
This peacefulness, really beautiful I could still remember it from memory. But the slightly, fishy smell from the lake though…haha
In fact, after you crossed the river, down the road is actually the Gwanbangjerim – enjoy a scenic walk until you reach Metasequoia-lined Road
I can't deny – the walk felt like forever to reach the Metasequoia Road, it was like a 40 minutes walk???
Metasequoia-lined Road
When I finally reached there, there was an entrance fee to walk through the road. Um, so I decided not to pay and just take a photo from far:
Sadly, it was unimpressive take – I was really knocked out by the excessive walking – so I got lazy. Now thinking back about the 40 minutes walk – I should have just paid up and entered it and take plenty of photos! Note – that was 2 path – so this one I took was actually empty of tourists – while the other one was full of tourists. Not sure why – maybe you can take your pick on which side to enter? Autumn, I might be back – with all the autumn tree leaves wow that would be really amazing.
Getting home
At this point, exhausted with sore legs, I faced yet another problem – how to get back home. Also, yet to try the cliche Bamboo rice – decided to forego it as well – I wanted to get back to Gwangju as evening was starting.
However, I couldn't find any of the bus stop that was marked on the Naver map. With all the tourist buses lined up by the road, decided to approach them and ask anyone about getting back to Damyang bus terminal.
Lol, imagine my near-shock when an Ahjusshi responded to me jokingly that there is no bus and I have to walk back! Another 40 minutes?! I whined back to him saying "no way". Jokes later, decided to go about exploring the area looking for transport alternative. But somehow I detoured back and the same Ahjusshi beckoned me forth and I followed him – he then asked around the other operators on how to get back to the terminal – wow hehe!
One of the operator decided to help me out and take me back for a fee (about 3000 won?). He told me that the tour will finish by 5pm, and gave a little tour band and I waited patiently on the bus getting a little rest on my sore legs – I am happy with anything except doing another 40 minutes walk back.
But, I certainly didn't expect this – he started the engine and off we went, not waiting for his tour group. With him and me only in the bus? Lol! He ferried me to the bus terminal right away. Hehe, at this point, I am really grateful to the Ahjusshi I spoke to just now, and this bus operator who started engine with me as the only passenger – they formed a really fond memories of my short stay here with all their generosity and helpfulness. <3 – this is something I will truly remember down the road.
With that, my stay at Damyang has concluded and soon I was on bus 311 and headed back to Gwangju.