We did a 9 day trip in Iceland as part of our 21 days winter-wonderland holiday in Europe (Iceland, London, Switzerland) Nov-Dec 2017. Our plan for Iceland was to do the southern half ring road winter drive, and the furthest we went was to Hofn at the east side. Fair warning ahead – not much of foodie pictures since we were almost always on sandwiches or packed lunch (a combi of bread and snacks haha) that we would eat on the go. Lucky, we weren't such picky eaters, I think I could still go on sandwich for quite a long while.
Hello Iceland – Half Ring Road Winter Drive Begins!
We flew from Singapore to London via Singapore Airlines, then from London we took another flight to Iceland via Icelandic Air.
Day 0
Our first night ended after long hours of flight with 2 groggy heads crashing into Hotel Jazz at Reykjavik, Iceland, past midnight. We reached here via a cab from airport. We didn't get the rental car for that night since – well we would have incurred additional day of rental, and we were not so confident to drive on the left-side for the first time with unclear minds.
Day 1
Our morning began soon after around 7.30am where we headed for breakfast at the hotel. Our first Icelandic breakfast and you would see the humble variety: eg toast, cereal, milk, coffee, egg, ham and etc.
Soon after, our car rental company rep picked us up at our hotel, and drove us to the office to arrange for the vehicle rental handover. We went with Blue Car Rental – they offered competitive pricing for their package, and included most insurance coverage in it. We got a 4×4 vehicle for 8 days, a Kia Sportage (huge car to us btw). Note: The 8th day was free upon a 7 days rental. It came up to 97.300 ISK (~SGD $1265) for 2 pax – it was a pretty good deal to us. Oh yes, winter-driving, do get a good vehicle and really – you want to go with a reputable company too.
Sis "gave" me the chance of to drive first, and to be the first left-hand driver on our trip back to hotel – lol. I was the most inexperienced driver between us (Hi, after getting my license, it was precisely my 2nd day of driving!). We ended safely back in hotel, although we detoured a little at the roundabout. And soon after, packed up and ready to hit the streets since we have a lot to cover!
At at nearly 9am, the sky looks like this :D: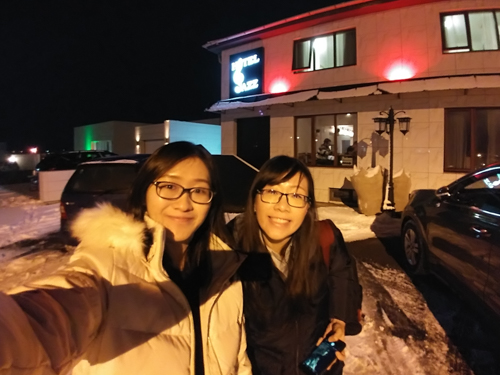 Sunny Egg Yolk of a Sun Everyday
So I said to my sis – Sunrise begins at 10.30am. So, this means that we get to see sunrise everyday! Yay?!
We did. But we were not prepared for the blazing sunrise during our daylight driving hours:
We were hit with realization that to any driver the sun is the bane. And we should have something to shield our eyes other than our glasses. This sunny egg yolk blazed upon us mercilessly for nearly 70% of our daylight driving hours. Moral of the story: bring a pair of sunglasses!!!!
Again, as the first driver, and feeling the sun cooking my eyes, we came up with the last resort of doing this:
It wasn't much, but it does help when the sun appear on top of the windscreen. Anyways, it was a beautiful drive! Icey-landscape is really too beautiful and enchanting!
Along the way our windscreen starts to turn hazy – and it did not went away as I thought it will. The hazy patch started to get bigger and bigger until I had less than 50% visibility. I panicked and shouted at sis to quickly give me a solution! And she googled us one, and quickly fix the air-conditioning. Actually, the more correct solution that we learnt afterwards was to turn on the heating on for both rear and front windscreen. xD. Noobs really! And it was even more funny now we think of it – we could have pulled over, relax and find a solution – why the panic mode!
Seljalandsfoss
We headed for our first waterfall! Sigh, I was still a novice photographer back then and didn't capture fantastic photos:
Read that just right behind Seljalandsfoss, there is supposedly another waterfall, Gljúfrabúi. Not exactly sure how to get there while we were there, but I am guessing the following stairway might lead us there – but this is just too icey to consider. Ouch, should be a summer item!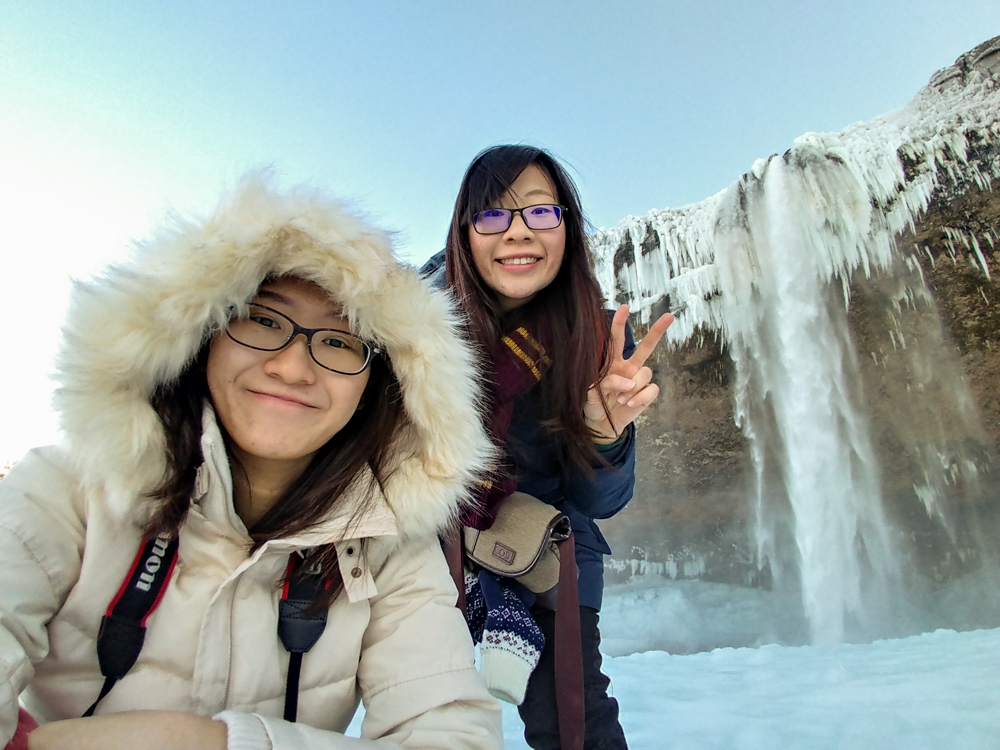 Skógafoss
Headed next to Skógafoss which is a about 30 mins drive away.
This is one of my favourite – though can't stand too near with DSLR – the water droplets would get on the lens and you would have blurry water spots on the photos 🙁
40mins Trek to Solheimasandur Plane Wreck
Yet another 30 mins drive away, we arrived at the carpark area for this item – Solheimasandur Plane Wreck! I was fully aware of the digits saying 4km walk from carpark to the site. I don't think I considered it physically and anticipated how tiring it would be correctly. It was a 40mins way in on really rough terrain – lots of gravel, stones, some big some small, and do watch out – not to mentioned, in winter our bodies felt really heavy to drag about. But the long walk was actually rewarding with views it offered.
Do take the GPS coordinates with you just in case (found them online): 63.459523,-19.364618
There was a visible trail along the way, and with few people walking towards the site so we followed them:
We were advancing! But even as we could see the plane, it was still a long walk away! But look at the sky! Beautiful hues of purplish-pink-orange-blue. At one point, we could see both the moon and the sun together in the same piece of sky – but they were on 2 opposite ends though, didn't managed to capture it correctly. xD
Sometimes, turn back and look behind too!
After the long walk, we finally reached!
There were quite a number of visitors but it wasn't a huge crowd – most visited here and then quickly moved out. As this site requires a 4km walk in and out each way, naturally tour groups won't come to this spot. Just for a really cool photo alone, I highly recommend a visit here!
Do plan your timing in winter wisely though since daylight hours are limited – our sun starts to sets around 3.50pm, but we can drag out our time with twilight for about 1.5 hours before total darkness. The sky was already dimming when we reached around 4.30pm – and not to forget that we have to take another 4km – 40min trek – back out to the carpark.
First Winter Night Drive
And here begins our first night drive without city lights.
We reached our hotel in Vik around 6pm, and it was totally dark – even dark during our drive here. I kind of remember it being a super cold night (might be us still trying to get accustomed to the local weather) and we had instant noodles for that night. Funnily, we dumped our grocery that needs to be kept cool in the car, and it felt like it was in the freezer the next morning.
There were 2 more sights that we end up cancelling for the day since we ran out of daylight: Reynisdrangar & Reynisfjara (Basalt column and black sand beach), and Dyrhólaey. We planned to be back here when we looped back.
Day 2
The next morning, we started with our first frosty windshield – it was all iced-up. Lol – lots of new experiences for us. We checked our trusty Google, and got it fixed soon. This day, we are headed towards the Jokulsarlon region.
Fjaðrárgljúfur Canyon in Winter
We took a chance at visiting the canyon along the drive. There wasn't much post I could find of this during winter while there were many more post of it in the spring/summer period, and it was a beautiful scenery! Wasn't too sure if it could be visited in winter, but we made it!
At 11am, the sun was just right up there right at the canyon. Here is an ice-scape view when our backs faced the canyon.
And tada!~ We could only view it from the viewpoint at the top and we couldn't go down into the canyon – the gate to the canyon bottom was locked up too.
Sunshine rays at that hour didn't look that flattering at the canyon, I had a hard time (novice alert) trying to workaround the sunny rays on the canyon. The canyon was a pretty lone spot – perhaps because it was winter season – we had only encountered 2 other group of travellers back then. I must be back here in spring next time!
Glacier Hiking at Svínafellsjökull – Skaftafell
We did glacier hiking with Extreme Island. From the booking office, we collected the hiking shoes then took a bus with the guides and went up into the hilly areas. Our guide shared with us a little on the glacier that we will be hiking was actually named "swine hill". Then we had a session of learning how to pronounce the Icelandic name. Something like: "Ss-vi-nah-fell-yo-kull"
Next, we were handed with helmets, harnesses, and pickaxes. We put them on and then waved our pickaxes – then our guide told us – pickaxes are just for show, and they look cool in pictures. 😀
Really amazing to be walking on this glacier! Don't go wandering off track from your group though, dangerous as you could fall into any of the crevice and get stuck (or even worse…).
We were then led to this fun treat – man-filled crevice with tons of icey pebbles! Step into them and feel your foot sinking into those crunchy stuff! Super fun!
We were then introduced to this rock – One day, it just appeared, came out of nowhere. It had then stayed for 10 years since. And today, is its 10th birthday! And we took a photo with birthday rock here.
Then we proceeded to step on it… xD!
Our group actually just consist of 2 other ladies from Malaysia. They shared that they were driving a caravan, and that they actually ran into a snowstorm just 2 days ago. Hearing that, we broke out a cold sweat – lucky us to have missed it. They are really hiong to be driving a caravan in winter!
Guesthouse Hunting in Dark
Our day activities concluded around 3.30pm, and then we began driving towards our accommodation, which is a homestay just about 26km away from Jokulsarlon.
By the time we reached the area it was totally dark and it was only past 5pm. We had some difficulty in finding our guest house as we kept being misled to an empty cabin. Omg – it was very scary to navigate in the total darkness with our car headlights only. I took over driving after my sister tried maneuvering multiple times. Finally, found the guesthouse and tried to check in with the first lady I'd encountered – who was in fact a guest instead of the owner. xD. Soon after, we unpacked ourselves into the rooms.
We started to prepare our dinner (sandwiches and crackers again) and were joined by Juliana at the table, whom we first met at the guesthouse and tried to check-in with. It was great making new friends on the road, and she shared that she managed to catch dancing auroras at Jokulsarlon the night before! Amazing! We hoped we would be lucky to catch them too! Then, we retired to rest at 7-8pm after the meal so we could then hunt auroras at night.
Some Thoughts on Where to Stay near Jokulsarlon
During the planning stage, I deliberated a lot on where to book our accommodation for that night – Hofn was really tempting as it itself being a town area and it would be really comfortable for us urban kids. However, I wanted somewhere closer to Jokulsarlon for aurora hunting that night as well as being worried about not being able to reach in time for the Ice Cave visit at Jokulsarlon the next day due to unpredictable weather conditions and low confidence in our winter driving skills. Hofn seems too far at 80km away from Jokulsarlon.
In the end, we chose to give up the comfort for that night and stayed somewhere really ulu, out in the secluded nature. Despite us having initial difficulty in trying to find the guesthouse – I was quite happy with memorable experience through it.
Aurora Hunting at Jokulsarlon
I didn't expect we would be so reluctant to peel ourselves off from bed at 9.30pm. It was a bad plan to rest early to then wake up again at night.
After much fight from Sleep, we won and geared up for the hunt. We packed some heat packs, snacks, torch light, DSLR, hot water etc, and then drove to Jokulsarlon. We camped and froze while waiting in the car till nearly 12am – but no auroras came 🙁 It was a failed night. Nevertheless, we did try to learn on the spot on using DSLR manual mode for night photography – I've got some theory before, now trying it first hand. Ended up with quite a number of failed photos. But here one of the (most) decent one out of the lot:
We didn't do enough preparation like checking the aurora forecast – and just went there to camp. Please do the check for aurora and cloud forecast in your desired hunting area before heading out!
This concludes our first 2 day 3 nights for now. Theres still quite a lot more to go – stay tune to part 2!
Cost breakdown
Cost Breakdown for Flights per person for part of Iceland – will leave in our multi-city flights to/from Singapore:
Singapore Airline multi-city trip: Singapore > London, Switzerland > Singapore. SGD $1211
Icelandair between London and Iceland: SGD $387
Here are the breakdown on our spending thus far for this part of the trip, and cost are shared among 2 pax. Car rental, accommodations, and petrol were omitted – please check out the trip report for full breakdown!
Cab from Airport to Hotel: 3,180 ISK
Bonus Supermarket for grocery: 3898 ISK
Seljalandsfoss Carpark: 700 ISK
Glacier Hiking: 19, 800 ISK + 2,000 ISK (w hiking boots)