There are many reasons to trigger a dedicated travel to Iceland – for me it was the Ice Caves. On the 3rd day, we covered distance between Jökulsárlón to Höfn, having heaps of fun visiting ice cave, iceberg lagoon, a dusty gravel drive to the Viking Village film set. The next day, we looped back southwards to Vik, catching the Diamond Beach and basalt columns at Dwarf Cliffs along the way.
Ice Cave at Vatnajökull
Day 3 – Morning
There were a huge lot of Ice Cave tour groups to choose from – it was tricky to decide which to go with. I had wanted a more exclusive tour so hopefully we will get a more secluded ice cave without the hordes of tour group. Sadly, unless you are going for a certain level of difficulty or arrange for a private tour – you will end up in ones with huge amount of tourists. After much deliberation, we went with Adventure Point since the group was stated to be a smaller size.
True to that, we met with our guide, Gunnar, and was joined by 3 others from Russia. Shortly, we were on the huge jeep and riding towards towards snow-capped mountainous areas. At some point, our jeep was going up or down a slope at 45 degrees XD.
There was a huge lot of people in the ice caves. We didn't get much nice photos 🙁
From the entrance, it was actually a short walk before you reach the end of the cave. At the end of it, we peeked over and there was an stream underneath – Gunnar said he wouldn't bring us down there as it was actually dangerous as well.
Finally a spot without the humans: raise your camera up!
We had a short own-time-own-target here. Then Gunner approached us asking if we were ready for a glacier hike?
Glacier Hike on Vatnajökull
Like, huh? We were not aware that it included a glacier hike! We just did one yesterday on a separate cost!
The idea of glacier hike on Vatnajökull was a whole different experience from Svinafelljokull. The soft crunchy snow was up about 20 cm above feet, and you would step and sink into those, while at Svinafelljokull, you would walk on solid ice.
We hiked quite a fair bit of distance, going upwards and away from the ice caves. Sometimes, remember to turn back and take a look:
The snowy icescape was really endless – at some point we reached a region where there were huge block of solid glaciers, then we slow down and started to explore with Gunnar showing us around.
Then Gunnar brought us to an enclosed spot of solid glacier and we were just standing around admiring it (not the photo above – didn't have any). Next he told us, we are going up, and he pointed upwards at a hole above us. I literally jaw-dropped at the intention he just communicated. Like, "how?!"
I couldn't remember how they did it – but the guys actually got up there pretty fast – then us ladies – they helped pull us up using their strength. xD it was a whoosh and we arrived up at the top. Hell lot of fun really!!
Adventure Point: Review
Our tour with Gunnar (Adventure Point) was more than amazing, with the unexpected glacier hike which was truly the highlight. I'll give a shiny review to the 200% problem solver, Gunnar:
I actually lost my crampons twice during the glacier hike, because I was wearing my own's instead of the professional type that actually locked on shoes. After losing it the second time, I was really apologetic for holding the team down, and suggested that I will just run down quick to search for it, then come back up if successful or otherwise wait at the jeeps :(.
But Gunnar wasn't too assured with my suggestion of running down myself, and refused to leave me out of the fun. In the end, he trekked down the hiking path TWICE (meaning 2 returns) in record speed, and finally found my abandoned crampons in the path. Along the hike, it finally broke and wasn't usable anymore. Gunnar yet again, found me another solution by borrowing from another tour group. I was truly grateful for him to try keep me along in the fun. Give me another chance I will still go with him again, and again!
Jökulsárlón Iceberg Lagoon
Right after our tour ended with Gunnar, we first headed for a quick lunch in the car which was parked right at Jökulsárlón. There was a little souvenir shop right at there as well, which also served (pretty expensive) food. Do take a look if you were interested!
Then after, we were back to sightseeing. And this was my first ever iceberg sight!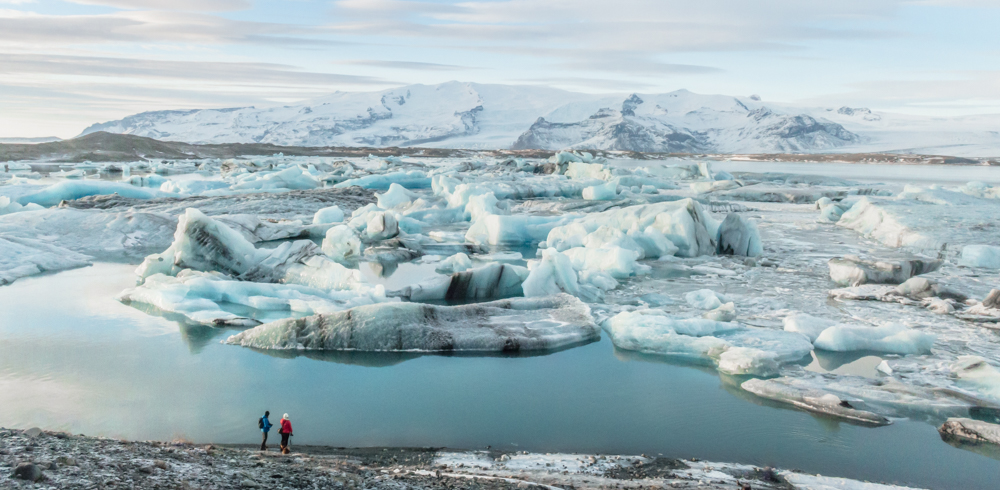 Then, finding your favourite icebergs for photos:
Being here was an enchanting experience. While there were a fair bit of crowd, there was a serene calmness that drew me in. Just gazing at the icebergs, or the occasional seal swimming by lazily, I felt that I could really lose track of time here.
Viking Village Film Set
We continued driving eastwards, towards Höfn, and for the first time we were finally off paved road and onto gravel road. We weren't too sure of what to expect – it was smooth sailing for us. Except that the rear windscreen got dusty real fast. Same for our rear camera.
We got off at the Viking Cafe to get our tickets, and there was a quite informative map regarding the Vestrahorn region on display at the counter:
Its a good introduction to this region – something I had not Googled online. I think we can easily spend 1 day just exploring the things mentioned here. Except that it was already 3.15pm at them. Our countdown to the sunset was starting…
A quick summary – Viking cafe is the starting point to get admission tickets and refreshments. From there on, you can follow through routes to explore the black sand beach, visit the Stokksnes and spot the lighthouse, do some challenging bouldering on cliffs and rocks.
From the cafe, we continued towards Old Farm.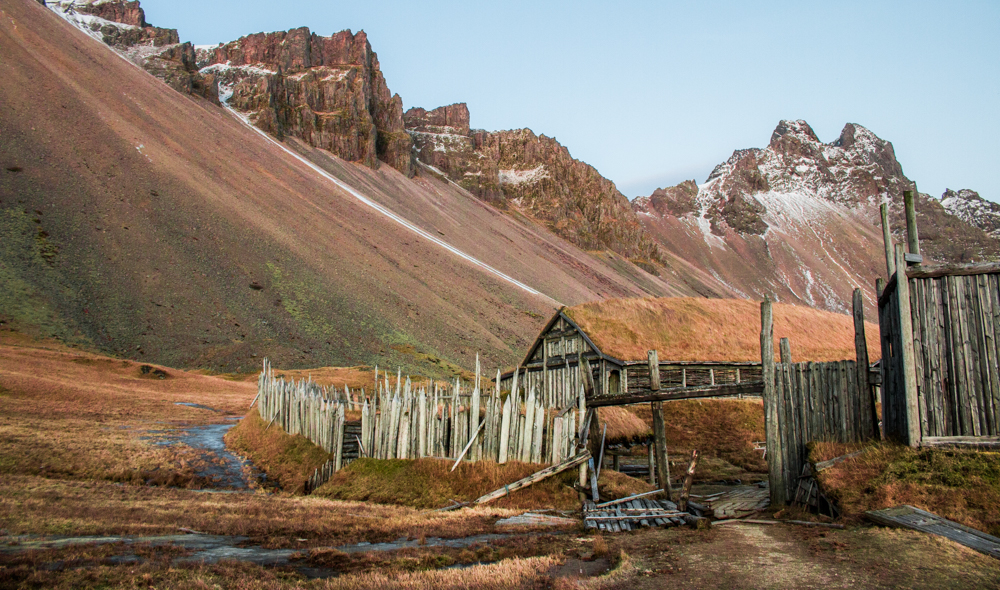 And this is my favourite house! Viking horn on top of the roof is really cute!
Stokksnes
Next we headed to Stokksnes – by then our car was super dusty. xD. Here is one photo of our car's back while we were photographing the Vestrahorn mountain. I think there might be better spots to take the mountain itself.
Yet another shot – this time we got in closer and the pathway was actually surrounded black sand. The moment we stepped on what we thought was a solid pile of sand, we sinked in right away!
Anyways, photography-noob at works here: I did shot pano using horizontal shots so I ended up a "shorter" view of the mountain. In conclusion, take your panos vertically :P.
Höfn – Langoustine Dinner!
Finally we headed out of Vestrahorn, and began our drive to Höfn where we would be staying for the night.
The rattling sound
Along the drive out of Vestrahorn, a strange rattling sound began, and refused to leave us for a long while. Sometimes, it gets really loud and had the both of us worried – did we "injured" our car in some way?
Turns out – the window at the passenger seat behind was rolled down halfway – and the windy drive was making it rattle ~ XD
Story: blazing headlights into a restaurant
When we reached the Höfn, we couldn't find our guesthouse, so we spotted a restaurant nearby, parked for a while and consulted our map. Our headlights was blazing rudely,
opps :(,
into the restaurant. Shortly the waitstaff came out and asked if we could lower down or turn off the headlights.
The funny thing is – we fumbled with the knobs, and couldn't get how the headlights will never turn off! Guilty, we apologized and promised to drive off right away. The waitstaff was however very gracious, and told us to take our time.
Shortly, we reached our guesthouse, Guesthouse Dyngja – where the lady-in-charge very kindly showed us around, and informed us on the breakfast setting the next morning.
Pakkhus Restaurant
Being a fishing town, you must definitely try their seafood, or langoustine at the very least! We chose Pakkhus amongst the many recommendation on TripAdvisor and it was just across the street from out guesthouse, so we walked there.
This was perhaps the only meal that we splurged on, and budgetted a cost of SGD $150 for 2 pax.
Our appetizer and drinks came: we got a viking stout, a type of liquor-shot, and this fish-in-a-jar – can't remember what exactly was the dish name, but it WAS AMAZING!!!
Our huge mains: langoustine platter, and a langoustine pizza. Hehe, the pizza was forgettable, but the platter isn't. xD
Cost spent at Pakkhus: 13,670 ISK for 2 pax.
We took a mini walk – love the container-based buildings in Hofn – which were mostly white against another constrasting colors – very quaint look!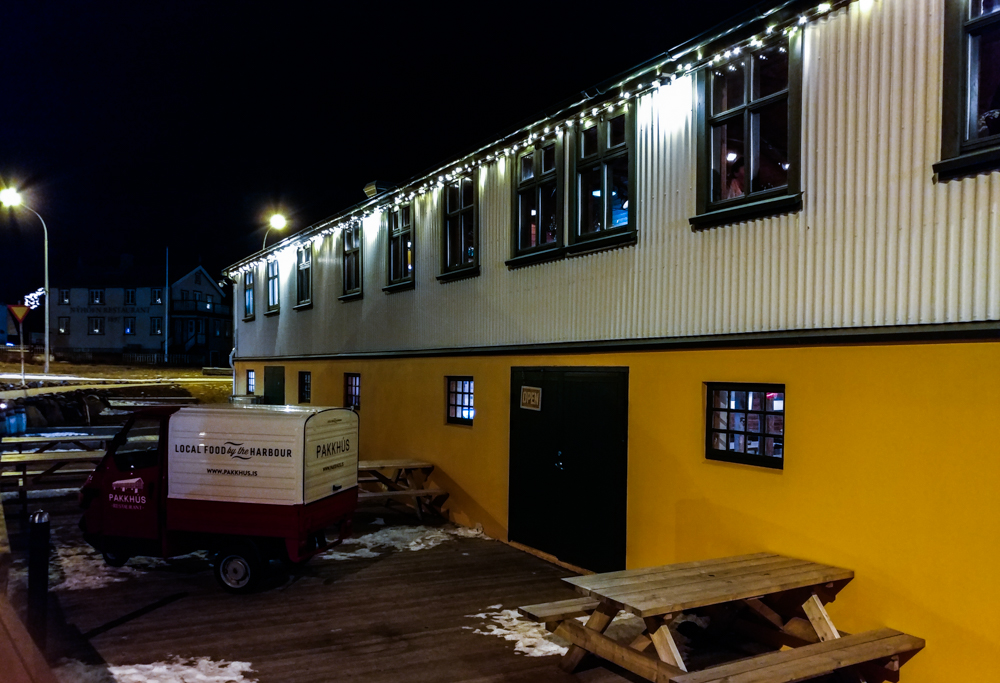 We promised to be back out in the morning to explore Höfn. That night, we consulted the the lady at the accommodation for recommendations on aurora hunting, and she showed us a place which was seemingly around the Vestrahorn area. Being really exhausted after the day of activities between Jökulsárlón to Höfn, we decided to slack off and sleep in.
Buffer-Day
Today was a planned buffer day, where we try to catch up any stuff that we had missed earlier due to unforeseeable conditions. I was initially worried about missing ice caves, such that I had an entire list of ice cave groups timing and locations in an excel sheet. But we were lucky so far, having completed all planned sights and activities between Jökulsárlón to Höfn so far.
Day 4 – Morning
We had a simple breakfast at Guesthouse Dyngja, which was provided for us, and we just had to fetch it from our designated row in the fridge, pour ourselves a drink and dig in. Soon, we packed up and got ready to go. I kinda of remembered that morning being a rush, we actually left only after 11am, unlike our usual early birds routine.
We forgot to explore Höfn in that rush and simply drove on to our next itinerary.
Lobster Sandwich at Hafnarbúðin
Ránarslóð 2, Höfn
We didn't get enough of langoustine, so we made a stop here where we picked up a lobster sandwich and some onion rings to go. Hm, sadly we didn't take any photos and finished it right away. Its was pretty good, and a cheaper option than going for a full langoustine platter. Do take a visit here!
Spent: 2900 ISK
Diamond Beach – Jökulsárlón
We nearly missed this gem! Right then while enjoying away on our lobster sandwich, I suddenly recalled something amissed – I had read about diamonds in Iceland but we have not seen them yet.
We were lucky not to have missed this, because it was such a spectacular place! Along the ring road to Jokulsarlon, the Ring Road will fork out a lane towards the the iceberg lagoon. On the other side of the ring road, another lane forks out to the Diamond Beach. A place where ice sculptures littered the black sand beach.
When you first entered the beach, there were larger blocks of ice sculptures – but wander in further, you will soon see smaller delicate ice sculptures: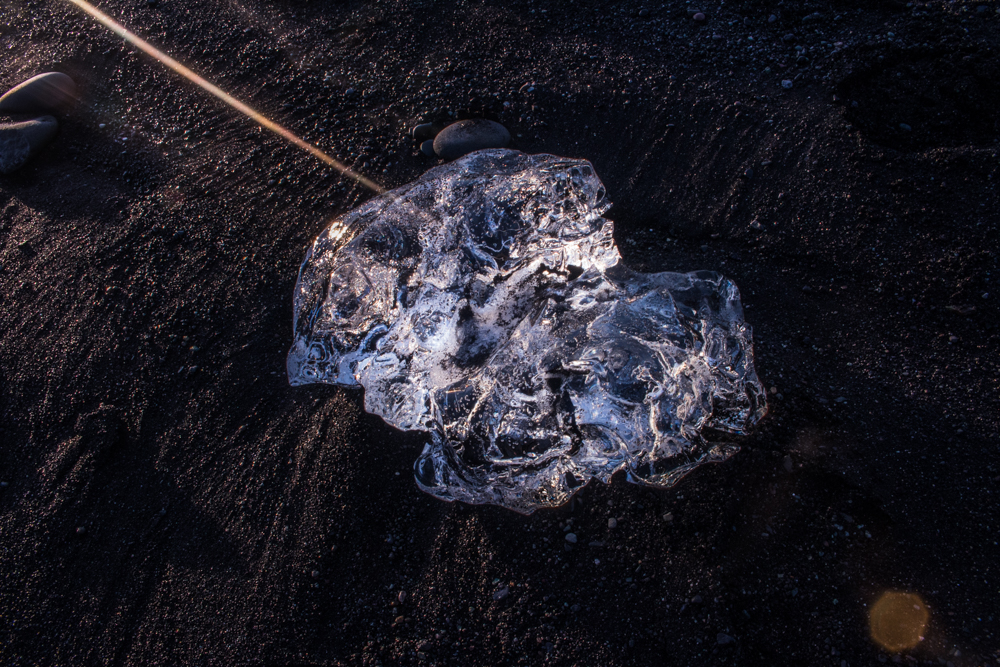 Look hard and you might find some of the beautiful crafted ice-sculpture by nature.
This is really a nature wonder itself. Yet another place that I would love to spend my time away at – just really beautiful place to be in. There wasn't a lot of tourists who ventured here, even if it was just right opposite from the iceberg lagoon. I do hope this remains an isolated quiet spot.
I couldn't resist another short trip to the Iceberg Lagoon right after this, so I popped in for a short while – and got a lot more captures too. Shall just post one here:
Dwarf Crags Dverghamrar
We exited Jokulsarlon region, and were then heading southwards towards Vik. Along the way was Dverghamrar (Dwarf Cliffs) which is quite the lonely spot. There was a folk lore about this place being the dwellings of elves and dwarves, and hence the name. Here was the only place where we had the entire place all to ourselves – a whole roll of basalt columns and beautiful yellow fields!
Some parts of the pathway was slippery and icey, take caution while you moved about on the pathways in winter. It was actually easier to walk on the grassy area though!
Evening
We stayed on till around 4 and then continued our drive towards Vik, and checked in at our accommodation, Guesthouse Carina. Shortly, we unpacked our stuff to realise that, hey, wheres our butter and 2 big (new) tubs of Skyr yoghurt!? The whole lot of grocery was missing!
Our missing grocery
We had a long memories-provoking session – then it finally dawned upon us: early in the morning I first came out of the guesthouse with water and newspaper to give our car's rear camera a wipedown. Right afterwards, my sis came rushing out with all the bags, big and small. And we thought yea, thats it, and we drove off.
Ouch – the whole bunch of grocery sitting in the guesthouse's fridge was forgotten. I do hope they did not throw it away :(. I remember a tub of Smjör butter, 2 big Skyr yoghurt unopened and yet to try flavours, hams and vegetables probably.
So we went out again for grocery – needed to restock the stuff that we lost :(.
The darkness of the night messes up our navigation skill
It was interesting trying to get to anywhere in the dark at evening hours. On the ring road, we reached nearest grocery store in Vik, but weird road separator prompted us to drive further ahead in order to turn into the store's parking lot. By then, we had driven past the store with no way into the store. So sheepishly and hopefully no one saw us, we did a 3-point-turn and made a detour back, else we would be on the way back to the east again. It was a deja vu moment as we did something similar at the same spot on our second night.
Back at our guesthouse, we had a simple dinner (back to sandwiches) again, and call it a night. That night we did went aurora hunting at the black sand beach! We waited out there for about an hour, but nothing showed up. It was very foggy and hazy in fact, and the reason for the fog manifested the next day.
Cost breakdown
Here are the breakdown on our spending thus far for this part of the trip, and cost are shared among 2 pax. Car rental, accommodations, and petrol were omitted – please check out the trip report for full breakdown!
Ice cave tour with Adventure Point: 34,500 ISK
Viking Cafe: 1,600 ISK
Dinner at Pakkhus Restaurant: 13,670 ISK
Lobster Sandwich at Hafnarbúðin: 2,900 ISK
Grocery (x2 – including our restock for lost grocery): 8,861 ISK