Forget your biases or reviews on any existing talent show/competition/idol survival through China/America/Korea TV shows. JTBC Superband is thoroughly different in that it focused on instruments and also emphasized on teams producing their own performance! Many of the here contestants were not well-known, or were at most just a busker, or mostly cooped up at their home studio jamming away.
In here, contestants are required to form teams by themselves and there is no fixed bands throughout the show. Every team formation is renewed after each elimination round. This constantly challenged them to get out of their comfort zone and take their stage to the next level.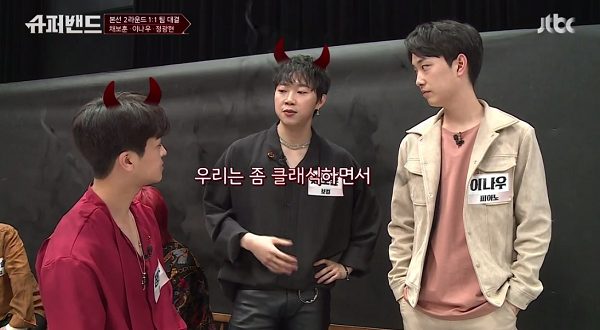 I got hooked on this, and would even re-watch this series! Super glad that Youtube recommended performance cuts which then triggered me to binge watch all 14 episodes. And also, very thankful that I can read and understand Chinese – because I can only find it subbed in chinese!!
One of the most unexpected thing is – how did they manage to get Joe Hahn, a Linkin' Park member, to be a judge on the show!?
How Superband works
Nominated Frontman and Forming Bands
There are multiple elimination rounds. And each round, Frontman are nominated by the judges and they have to select their team members. Of course, there is this "sequence" we need to consider – which is decided with the emcee drawing from a lucky box.
Naturally, no one wants to be the lucky last leader to take their pick.
Elimination Rounds
With teams formed, next, the elimination challenge is a 1-vs-1 setup. Each team will be going up against another team, and the winning team is decided only by the judges. Meaning, for every 2 teams, one will win and the other will lose. Pretty cruel elimination :(.
Winning teams will safely enter the next round. For teams that had lost, they will await elimination. After rounding up all losing teams, judges will then decide which of 4-8 players to be eliminated. Then, rinse and repeat again.
I like how only judges were the ones making elimination decision without interference of audience votes which can skew the results to the most popular person. Sadly, each elimination were not easy, as they have to balance out the overall players in their skilled area. You can't have too many guitarists, nor too many drummers, nor too many vocals in the remaining pool of players. 🙁 It was really tough seeing talents eliminated each round, and there were many tear-jerking moments.
Finalised Bands
After 4 elimination rounds, we now find ourselves in the last lap of the competition with 6 superbands finalised – and each band now have their own name! From there on, audience participates Superband voting process.
First 2 rounds allowed the bands to perform without elimination – but they will be awarded with the total number of votes. The total votes from the 2 rounds will select the top 4 bands to finally proceed to the final round of Superband, where the very final Superband shall emerge as the winner.
Personal Top 5 Performances
There were so many favourites performance of mine out there, I will just pick my top 5 to convince you to catch them:
ILYSB: Woo Sung's Team.
This got me hooked, I kept replaying this non-stop – Woo Sung's vocals and his capability to render this song in the most romantic way! Not to mentioned, they have DPOLE who introduced the water glass effect, and the saxophone player to up the game.
Result (spoiler)
Sadly, as much as the judges love and sang high praises for their rendition, they didn't win this round. They were up against another tougher band who performed Adele's Skyfall.
Smooth: Zairo's team
Spanish guitar feels (Zairo), husky-raspy voice (Jo Han-Kyeol), amazing drumming (Lee Si Young). This is a truly indulging performance, and you can see how this team were just drunkenly playing and feeling the music along.
Int the next round, Zairo also round up the same members and played Suckers by Jonas Brothers. (Yet another of my favourite stage)
Stop Crying your Heart Out: Chae Bo-Hoon's team
Rock band yo~! Chae Bo Hoon had many performance rounds which I absolutely loved. Decided to highlight this: it was their performance where they first grabbed the talented classical pianist, Lee Nau, and converted him into a hard-rock player, not that he resisted!
Watching Lee Nau through the series, I felt liberated through him – how he finally embraced the music genre that he truly loves. Sometimes, we don't get to choose, or we get stuck in our state due to expectation of others. But being able to step out of your circumstances is truly freedom.
Adventure of a Lifetime: Jo Won Sang's team
This was one of the most interesting team! Frontman, Jo Won Sang, decided to sweep all 3 of the best guitarists available in the room, much to the despair of all other Frontman. And they delivered this breathtaking performance:
Even Coldplay tweeted about this!
And it was also through this performance, for the first time I felt that a guitar can be so amazing, and maybe I should pick it up.
1000x, by I'll Team
I'll (아일) is the name of the leader, though in English it can be quite confusing. He had the charismatic classical cellist Hong Jinho, bassist Kim Hyun Woo, and the purist vocal Ha Hyun Sang.
Ha Hyun Sang, was emotionally at deep bottom after losing all previous rounds, and he nearly lost all of his courage and confidence. It was really sad to see him like that, experiencing failure, even though it is part of the growing up process. I was really glad that I'll took him into team, confidently saying he will make him win once, and here is the stage where he gave it all and delivered his emotionally best!
People to Watch/Follow (I mean "stan")
As a result of this show, I ended up with more musical artists to follow. I am not complaining! But many of them do not have much presence in the kpop world and are probably back to their old place after the competition 🙁 I really do hope they get the recognition they deserved and please serve us some music! Otherwise I would hunt them out, wherever they might busk! There are tons of them I am following on Instagram right now, but a special mention for the following:
Zairo – Vocal, Guitar
This dude is top of my list! He have quite load of creativity in producing and delivering each of his stage better than before. I also find that he strives to make things work, even scheming up his team members to pick up the bass. A great teacher and a great (and shrewd) leader who know how to make the best of his situation. I am also lowkey appreciative of how he took Jisang in his team in round 4 in a very suave manner (by doing nothing just sitting beside him).
Kim Woo Sung – Vocal, Guitar
I was blown away by his vocals since ILYSB – it was just that enchanting, captivating, and beautiful! I wish to hear more of him!
DPOLE – DJ / Special Instrument
This dude innovates music creation – any gadget can be his music instruments. Or rather, he makes his own instruments out of anything! Really fun to watch him bring the unexpected to the stage. I do hope he find others to make music and have fun with. Do watch some of the behind the scenes where they showcase his studio and tons of gadgets.
Jo Won Sang – Bass, Producer
I highlighted him because I felt he has a lot of creativity in producing and making unique stage. He and Park Ji Hwan were in this group called "Yenevara", as introduced in the audition episodes. But I wasn't able to find much info on their group: lets just resort to stalking him on Instagram first.
Spoiler
Towards the end of the show, he showcased by selecting themes for their music works and creating musical ambiance – essentially bringing listeners into their own world. Swim, Crybird, Light Sleep – amazing ideas. I definitely keep an eye on him.
Tons of others to watch in summary (too long a post otherwise!)
Jo Han Kyeol – Husky raspy voice singer! If he were back to busking, I need to go hunt him down! Actually when I saw him in this emotion: (T_T) – I can't help thinking he is a real sweetheart.
Lee Nau – Classical pianist turned into a badass rock pianist! I hope to hear more of him. He delivered his ideas and help elevates his team's rock performance to the next level!
Kim Young So – Talented guitarist at 19 years old. He's very outspoken on his ideas. I wished he had a chance to showcase more of his producing skills.
Im Hyung Bin – Talented guitarist, same age as Kim Young So. He is a skilled pianist as well.
Ha Hyun Sang – Love his pure and clean vocals
Lee Joo Hyuk – Fairy light vocals, super surprise to hear him sing "Starry starry night"
Shin Ye Chan – Violinist, he is always hyped up when he play, such that his bow will always have broken hairs. xD. He is part of a band called "Ganeung Dong" – do hope to catch him and his band once!
…
This show leaves me feeling empty after finish the last episode, I do hope that season 2 comes soon. And also, every artist I've seen on the show, I really hope that Korea music industry recognise these talents and showcase them to the world! (Yes they can have my money~!)
Update: Muahaha, I finally found a good place to rewatch the performance videos! They are available on Naver – pretty high quality although there is no english subtitles. But still a good place to rewatch!