Right then, we are in the southern Iceland for our last 2 nights before heading back to the capital. We will be going to the Flúðir region to enjoy little soak at Secret Lagoon, followed by the Golden Circle and an amazing Kerid crater visit!
Day 5 – Gloomy weather
That day we woke up with a gloomy weather 🙁 it was drizzling non-stop. Still, we made our way to the black sand beach. In our downcoats and DSLR, we tried to take some photos, but can't help being worried of our camera in the rain. I wonder if the rain is only within the southern Iceland only?…
Black Sand Beach and Basalt Columns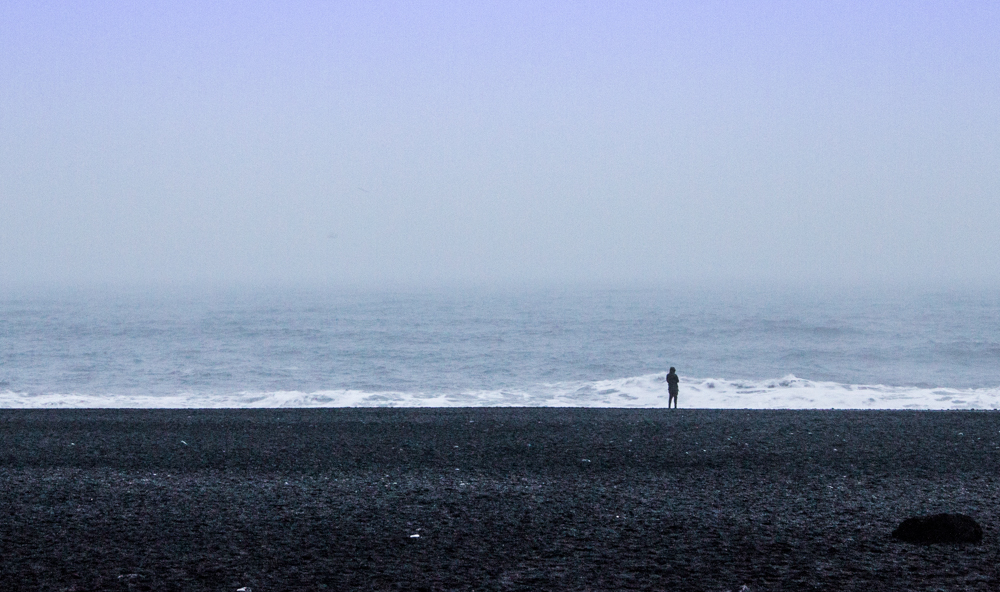 Hálsanefshellir Cave – a small cave where you can also see the basalt sea stack of colums formed in the ceiling. I didn't have any good photos of the inside to share 🙁
And on the outside, you can see the columns of the basalt. This cave is right under the mountain Reynisfjall.
So I tried to make a camera hood using paper from brochures (hehe many uses we put them into). While it help to keep rain out for some while, it still got drenched pretty fast. But now I understand why a hood would be useful.
Last but not least, an epic one:
Soon after we drove out in hope to visit Dyrhólaey, the famous arc in the cliff. But upon reaching, we had about 70% visibility and there was a board indicating way down the stairs to get there – it was ringing "danger" to our ears. We backed out.
Totally drenched, and coldness was seeping through our wet down jacket. I guessed that was plenty of lesson learnt: get a waterproof down jacket!
Skogar Folk Museum for Turf House
Nevertheless, it was still pretty good weather than compared to being in a snowstorm. Those I heard, were scary. We continued our drive to next, Skogar Folk Museum for turf house! Otherwise one could visit Keldur turf house – but I read that it might be tougher to get there in winter condition.
In our case it was a good choice, after much fascination with the turf house outdoor in the wet weather, we finally headed for shelter with the indoor museum, Museum of Transport.
Flúðir – Hot Spring and Awesome Guesthouse!
Here, we finally deterred from the Ring Road – we were heading towards the Flúðir region.
Finding bakery...
The funny thing that day was really this: we were looking for this bakery – we exhausted all options of road but we couldn't find it! Then there was this lonely lane with tall hedges of trees. A glimpse of hope of maybe? And we drove in.
We were driving on pedestrian walk path.
I don't know what possessed us to do all for trying to find a bakery!?
We headed straight for our accommodation at Guesthouse Fagrilundur. Very surprise when we reached, the cabin look and feel from outside was really "wow".
We proceeded in, treading the icey path carefully, and met our host and were led to our room, leading me to exclaimed out loud!
It was beautiful! The entire feel was super cozy and very cosy-kinda-log-cabin room I had imagined living when I was young. This was my childhood dream room! Much much better than I had seen on pictures. My photos didn't do it justice honestly!! 🙁
Shortly, we prepared to set out for Secret Lagoon, our first (and only) hot spring experience in Iceland! The more popular (and pricier) choice would be Blue Lagoon, but it was said that during winter it would be greyish rather than blueish.
I hadn't got pictures of our experience here but just these really spooky-tree-atmosphere hehe. But honestly nothing scary, just the steam and trees…
Anyways if you were in there, do prepare to shower naked in the shared showering facilities – and no, you can't wear swimsuit to do that. This was my first time in life using shared showering facilities, I think rather than be embarrassed, just do it shamelessly, and quickly get out of there. XD. But do scrub and wash yourself clean, cos their hot spring are natural, nothing chemical in it to keep the waters clean.
So we then bobbed around in hot spring in the open air and enjoyed the steamy spring in the cold weather. Truly shiok!!! There are some floats left around the pool – which is free for guests to use. There is also a little dining area where one can get some refreshments.
Day 6 – Golden Circle and Kerid Crater!
That day was an exciting day planned, as we were going to run through 2 items on the Golden Circle, a couple of waterfalls and a crater!
Woke up to an awesome morning and helped ourselves to the sumptuous breakfast prepared by our host: amazing pancakes!
I am really sold here, the hosts are very personable and helpful, and the place was really amazing! I do hope to return back here again! Free advert to their Booking listing!
Gullfoss
Our hosts hinted us that good weather will be coming and true enough to their predictions, the endless drizzling was no more by the time we reached Gullfoss.
Gulfoss was simply majestic! There were a few spots to check out though we need to be cautious about the icey path – we don't want to slip and go tumbling down into the huge waterfall.
I anticipate what Dettifoss, up in the north region of Iceland, would be like – it was said to be the largest volume of waterfall in Europe! We have to come back the next round.
Geysir
Next stop, Geysir! Here, it was more of a waiting game. About every 3-5 mins, the geyser would erupt and that was what we were waiting for. Best equipment to go with: a slow-mo camera! (My sis's iPhone took the best shot here).
Urriðafoss
Next, we visited Urriðafoss. The drive here was slightly tricky with what looked like only 1.5 lanes for two-way drive. We had the whole place to ourselves!
I would think stopping by here is optional, only if you had lots of spare time.
Kerid Crater and its Frozen Crater Lake
Personally, I think this is a must stop! Red soil, blue center, a bit of hiking, and really amazing view of nature… this is it! At least something really different to catch amidst all the abundance of waterfall and natural phenomenon in Iceland (she really has it all!)
If you were well-prepared (ie. hiking shoes, crampons in winter), then it might be possible to do a full round around the rim. We did about half and it started to look really risky due to lack of good crampons, so we u-turn back the way and return to the bottom. Key thing: bring a wide-angle camera! Or get ready to stitch up a panorama!
Not without taking an epic one with the basin at the top. Find a good spot!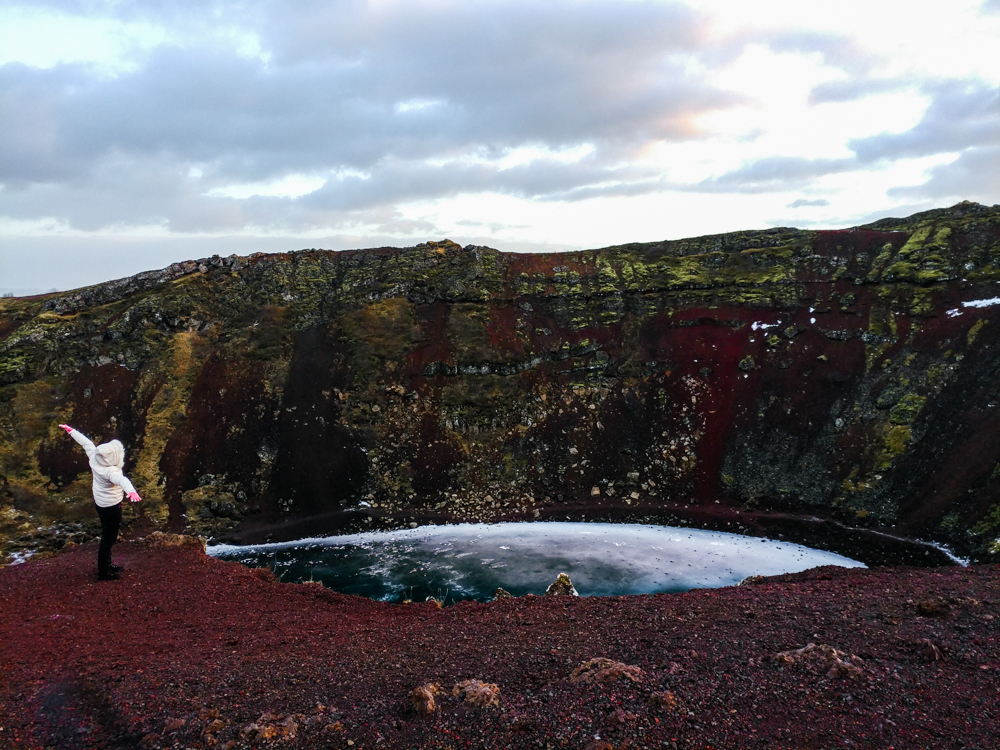 Then we also ventured down into the center of the crater. I don't remember there being any guidelines regarding walking on the frozen lake, so default meaning: Not recommended? But we saw others doing so, so we follow suit.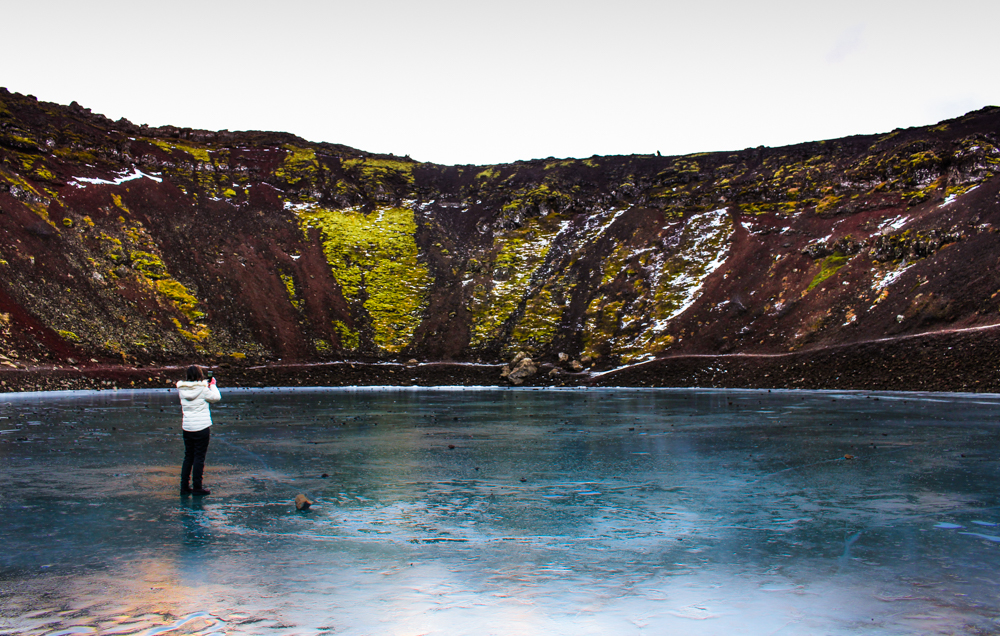 We have no idea how solid it was. Just don't start jumping on it, or gathering too big a crowd in this.
Give me a chance, I would return here again~! But choose a good time to come by (we reached about 2.30pm in winter) – because the carpark was really small. By the time we exited, the carpark was so full and many cars were just waiting to snatch up a parking lot. These are most likely tourist whom had completed other Golden Circle items.
Ljósafossskóli Hostel – School cum Accommodation
Imagine that, an overnight experience in a school? This hostel was converted from a boarding school and really great to have a chance to explore a school setup in Iceland.
We didn't get to meet the host, but we found a helpful note on the stairway waiting for us (and another guest as well), and we jotted our 'thank you' note there.
Along the way up to our room, I scared my sis by my friendly-wave at a guest whom was standing very far and sort of blended into the surrounding. Sis thought she saw no one!
Our room was spacious, and huge even. This actually feels like a music studio or a classroom.
This accommodation was really interesting, though it might be a tiny-little scary for some. Given the school set up, it was huge with echos banging around the walls. And the surprising part was the shower room – it was a large shared showering facilities that 6-8 person could use at once – there were no individual cubicles. Just to be a little more cautious, we decided to also locked the shower room door – who knows if someone might accidentally walk in.
Next, we had to do our dinner at a designated kitchen/dining area:
And the stockpile of grocery for 2 person all dished on the table:
We have this bag of tortilla chips that was too spicy to finish – and sis had this great idea of crumbling it all up and dumping it into salad – superb combination. Of course, thats not the only dish. There were some other pastries and bread to finish. Yes – we are eating humbly dining on bread mostly.
Here we are back at exploring after the meal, and following room looks to be a canteen.
And a basketball court. Obviously I am not a player haha.
That night, we also promised each other that we would wake up and do some aurora hunting. I woke in the middle of the night, but the forecast was bad – cloudy and no good aurora KP index :(. This is our last night outside of the main city – I'm afraid our chance of spotting auroras is getting lesser and lesser. Furthermore, we are returning back to Reykjavik in our next lap of journey.
Early Summary on Southern Iceland
There's so much to see in just the Southern Iceland – mind, we were out here for a little more than 6 days, and not to mention the number of things we had to miss due to weather. If you were really short on time, don't rush through to only get a glimpse of everything. I rather dedicate a good amount of time for the this region of Iceland, and return back again for the other region the next round.
See here for Part 1 and Part 2 of my Iceland 2017 posts!
Cost Breakdown
Here are the breakdown on our spending thus far for this part of the trip, and cost are shared among 2 pax. Car rental, accommodations, and petrol were omitted – please check out the trip report for full breakdown!
Skogum Museum: 4000 ISK
Kerid Crater: 800 ISK
Pastries: 925 ISK
Grocery: 5104 ISK