Finally, I'd gotten down to visit the land of happiness, Bhutan, in Sept 2019 just last year, with 2 other friends, Audrey and her (then-bf-now-husband) bf, CH.
Again, I am always writing for overdue travel report.
Somehow it did seems quite hard to gather friends to come here. Bhutan is quite an exotic place by itself, think: Buddhism, mountains, hiking, cultural festive. And travelling here comes tag with a hefty daily tariff of US$250 per person. And if you travelled as a solo or just 2-pax, theres an additional US$40/day. The last thing is that, we have to go with a travel agency – can't really DIY.
Day 1 – Thimphu
At the airport – we exchanged our Singapore dollars for the local currency, Bhutan Ngultrum (BTN), and also bought a data sim card at 300 BTN for 2GB data valid for 1 week. I recommend getting these 2 items settled at airport. We had also made a trip to the local bank for currencies and telco for a sim card and the conclusion is: Rates and prices at the airport was definitely more value for money.
First Bhutanese Cuisine at Dharma Siddha – Thimphu
Shortly, we met up with our guide Namgay, and our driver Uncle Sangay – and we were first driven to Thimphu, and for our first meal at Dharma Siddha.
While we were waiting for our meal, other tourists started pouring into the same restaurant, and amusingly – they were mostly the same batch of passengers from the flight we took. Some of them might have the same itinerary as us as well.
The most memorable dushes:
Honestly, Dharma Siddha's chilli cheese was the best we had throughout the entire Bhutan trip. Also, the bittergourd chips and buckwheat pancake were really special and we didn't really see those in other restaurants.
National Memorial Chorten
Our first sightseeing started with the National Memorial Chorten, where many of the elderly gather to spend their day praying and spinning the prayer wheels. This was the first time I was introduced to the prayer wheels and we do see them in many other places as well. Each complete spin was considered a mantra chanting – and always spin them in clockwise direction.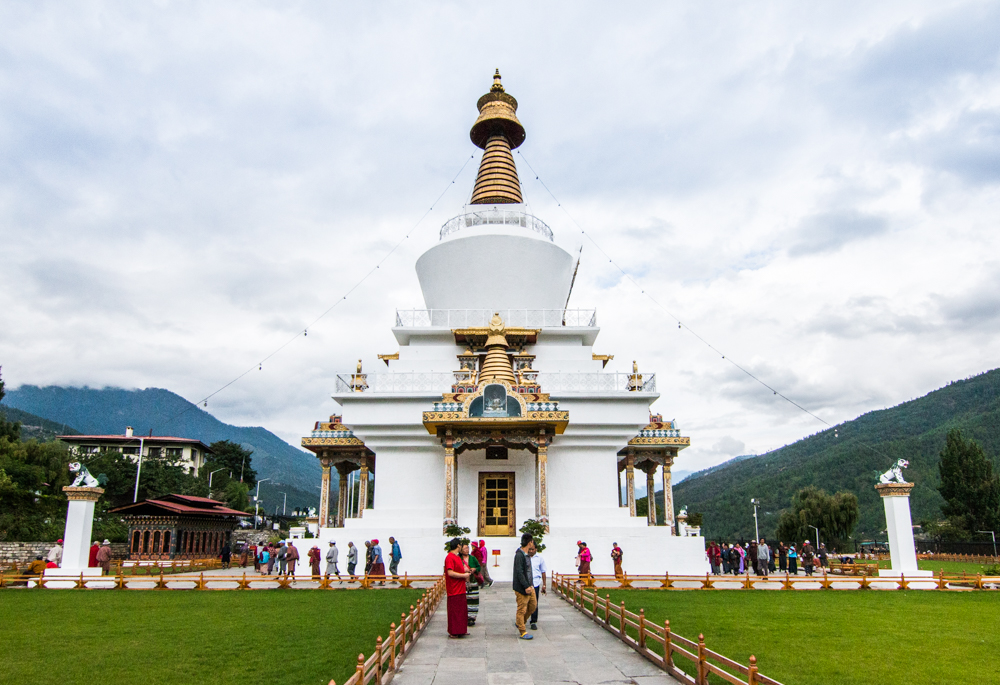 Even for walking around temple, always go in clockwise direction.
Tashichhodzong – Thimphu Dzong
It started drizzling, and we forgot our umbrellas and started to dish for hats, hoodies, and scarves – only to be informed, we can't use them. So, like our guide, we braved on the drizzle (luckily it wasn't a huge pouring).
Last part of the day, we visited the some shops at Thimphu to look for CH's shoes replacement – his shoe soles was falling out right at the National Memorial Chorten – don't trust old shoes that were not worn for a long time.
Stay close to the sides and through the winding pathways, we looked through a few shops and finally found shoes for CH. Soon after, we were on our way by foot to take a glimpse into the local market.
As I was walking along the a stretch of shops, a cup of water was suddenly dumped out – I was just following behind my tour guide and it missed me by a split second! The lady who dumped the water was very apologetic about it and we were laughing it off!
Like what was always said in Bhutan,
Take it as a blessing
I'll share more on this quote in the later part of the posts on our trip.
Farmer's Market
Next we were walking through the local market, looking at the daily grocery available here. Sale of rice, dried cheese, dried meats, local produced honey, bottled lemongrass, betel nut, and many more were all available here.
Namgay introduced their local favourite snack, rice cracker. Curious, we bought a bag of local rice cracker to try – sorry for the lack of photos – each piece was larger than palm size. We each took a piece and bite into it.
It was quite a tough and oily bite. However, towards the end of each mouthful, the flavour of the rice began to sink in. Its rather different from what we always had as asian rice cracker snack. Namgay and Uncle Sangay both enjoyed the the rice cracker, while we concluded that it didn't match our tastebuds.
Archery Ground
We were then taking a little walk out from the market. As we walked along, Namgay plucked off a stalk from this seemingly innocent greens and handed it to me.
I received it.
"This is Cannabis."
While Bhutan made it illegal to do drugs, this drug plant grows impudently in Bhutan. Jail the plant?
We continued a little further down and where we watched locals playing their national sport, Archery. At 140 meters away, the bulls-eye was all but a small blur to us where we stood (mind, we stood almost the same distance as that archers were standing!)
Every now and then, when a player hits the board, they will sing and do a little dance. But anything you do, don't go distracting them from their concentration.
In Bhutan societal norms, only guys would play archery, girls would usually be doing singing/dancing as hobby.
Then we got to Namgay Heritage Hotel for our first night, which had the same name as our guide. Interestingly, Namgay explained how everyone in Bhutan had almost the same name as they were given by the temple.
After we checked in, we took a little walk by ourselves from our hotel towards the city center. We didn't stay for long as we felt a little too conscious with all sorts of curious looks and stares thrown our way. But I feel like we didn't wander to the correct touristy area.
Day 2
Our short stay at Namgay Heritage Hotel concluded the next morning. Food was generally ok, although nothing much of a wow-factor. There wasn't much variety of a truly local cuisine I could remember.
Buddha Dordenma
Our first stop of the day was here at Buddha Dordenma, where a magnificent huge Buddha statue sits atop of a hill. Within the temple, it housed many smaller Buddha statues, over a hundred thousands as told by Namgay.
We had some time exploring the huge courtyard of the area, almost having the area to ourselves, aside from one or two other tourist.
Photo spot tip: If you walk in direct opposite direction of the temple, you will reach this area with staircase – where people fancy taking a photo while sitting on the stairway, and having Buddha Dordenma in the background. We haven't taken one like this, and I only stumbled upon this inspiration, only when we had returned from our trip, on IG.
Dochula Pass
Dochula Pass is a scenic pit-stop between Thimphu and Punakha. Here, 108 memorial chortens were built. This region was higher up the mountains and very foggy – and in fact, very cold as well.
All the fog, I feel like it might be cloud!? Are we wafting in cloud???
Lunch
Onwards, we continued to Punakha and stopped somewhere for lunch. Can't remember what was the restaurant name.
The best part of lunch was actually this scenic view of rice paddy!
And plenty of food came (there was also a plate of rice and extra veggies xD)!
This time, we had bhutanese-styled noodles for the first time, and it was the MVP for that meal – we asked for 2 more servings.
And I also tried suja for the first time – the taste wasn't the best at this restaurant, as in my next trip, I tasted better suja! No matter what, keep trying till you find a good one.
Punakha Dzong
Here at Punakha Dzong, we were given a more in-depth narration of Buddhism, beginning with The Fours Friends: Elephant, Monkey, Rabbit, and Bird. I think there were multiple variants of the story – but it all boils down to the basics of Buddhism: Being respectful to the elderly; and living in unity and harmoniously.
A couple more of photos as we walked through the compound.
Next we were led on a 20 minutes walk, before reaching the bridge over the male-female river.
Hotel Lobesa
Finally, we reached our accommodation for 2 nights – and this place was truly a gem! If you had to get accommodation in Punakha, ask your travel agency to book you here! Local cuisine, super ultra great services, and comfortable accommodation overlooking the green fields.
Great comfortable rooms:
Super scenic view from the room
Super service and delicious cuisine – let me say how did it happened. During dinnertime, at the buffet counter, a waitstaff wiped a clean plate and handed it to me. Next, another staff walked me through each of the buffet dishes, explaining what are each of the dishes, and how best to savour it.
When have I ever gotten such a personal experience to be explained on buffet dishes before? The staffs were super meticulous and very smiley – the whole dining atmosphere was lifted by them.
And the dishes were delicious! The most memorable one had to be the bread – chewy and puffy. They recommended to also stuff some ema datshi or ezay into the bread before taking a bite. I can still recall the taste of it now!
Additionally, they have a small alcohol counter, with sampling available. I would recommend trying some of the local beer or wine here. Eg. Peach Wine, Lager, Druk 11000 too. I like the local beer – way better than Carlsberg and Tiger, it's more flavourful and doesn't have that bitter taste.
Shall continue the rest in the next post!