This is my last day of fun at Busan and I concluded it with a Haeundae Beach visit and at the gigantic mall – Shinsegae Centum City – but I am there purely for the Jjimjilbang at Spaland! Also, at the Centum City – I found my favourite delight from Daegu!
Day 6 – Haeundae Beach and Jjimjilbang Experience at Spaland
My day started early again as I would be going from Busan central all the way to the far east area at Haeundae! Still, lemme share the awesome breakfast I had back at my accommodation –
Right after breakfast, had to bid goodbye to both groups of Taiwanese guests – the 1st group were returning back to country, and the 2nd group didn't manage to book this accommodation after that day. So, I would be welcoming new guests in the evening. It was a great experience to have met this batch of guests, they were really friendly and it was comfortable to have someone to talk to!
Nearly forgot to pay for my homestay!
I shared with my host that the next day I would be leaving for Gwangju – I had to repeat a few time before he understood that I was going to "Gwangju" – it had to do with the way I pronounced Gwangju which he seem to misheard it for some other places. Then, he recalled that he had not received payment for the stay. Oh my goodness! How can I have left that out! Quickly dug through my bills and came up with big bills, otherwise I came out 7000 won short with smaller bills. DJ Kim discounted the cost and refused to take the big bills from me. >< Felt so bad about that.
He checked through the buses timing, and then provided me information on which bus to take, and told me that he would be here, 7am the next morning when I check out. Although this information kind of left me a bit curious – "Why wait for me at 7am?".
Exploring Haeundae Beach and the Traditional Market
Took a really long train ride to reach Haeundae station – continue the walk out with plenty of road sign that led me to the main attraction:
Haeundae Beach
Haeundae-gu, Busan, South Korea
And there were plenty of seagulls squatting into the sand at the beach – are they sunbathing or laying eggs?
It was short stay for me here – Haeundae beach actually fell short of my expectation – with just the cool sea breeze and white sand. I was hoping to see red umbrellas at the beaches, but saw none – I did read that it cost to get an umbrella to sunbathe there.
Headed back and began exploring the traditional market that I spotted on the right side
Busan Haeundae Traditional Market (부산 해운대전통시장)
22-1, Gunam-ro 41beon-gil, Haeundae-gu, Busan
부산광역시 해운대구 구남로41번길 22-1
I didn't take much photo in there – but there was plenty of seafood restaurant that was selling pretty much the same thing – seafood, fishcake, pancakes, mandus. Read up that hagfish is the specialty food for Haeundae – but they were too expensive for a solo diner – decided to just pass it till my next trip.
Continued the walk towards metro and was thinking hard about what to do for my stomach – need a cheaper food option, and something delicious too. I popped into random restaurants lined along the way and finally settled on this:
Busan's Milmyeon 밀면
Each city in Korea seems to have their own specialty noodles, and milmyeon is the specialty noodles in Busan. I actually hit jackpot visiting here without prior intention.
Choryang Milmyeon 초량-밀면
20 Gunam-ro, U-dong, Haeundae, Busan, South Korea
부산광역시 해운대구 우동 구남로 20
Mul-milmyeon – 5000 won (small), 6000 won (big)
Bibim-milmyeon – 5000 won (small), 6000 won (big)
Wang-mandu (huge mandu – king size?) – 5000 won
Haemul-milguksu (seafood noodles) – 6000 won
Unsure of the last item
They serve this Yuksu as a default drink – tasted like a soup but drank it like a tea. From what I gathered from Google, this is made with kelp and anchovies. I really love this soup-tea here!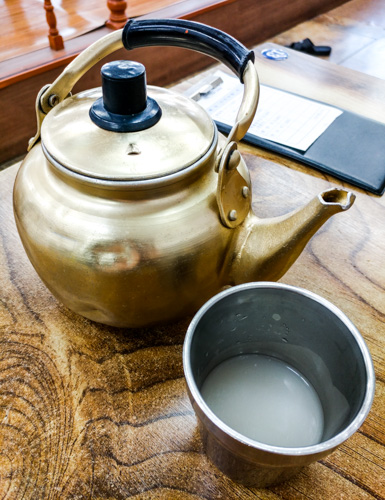 Some Korean students were sitting on the table opposite me, and they pour out 4 cups of yuksu each, and then pondered really hard what was this, before pouring all 4 cups back into the teapot and then getting self-served plain water. I was amused.
My mul-milmyeon was served! At this point I was slightly confused – wasn't this like naengmyeon? (cold noodles) it was served in cold soup. However, threw all thoughts away and dug in and focused on the flavour. It was delicious! The noodle texture and the cold soup stock, plus the yuksu was all-in-all a fantastic combo! I will remember this noodle fondly – definitely hope to be back – if I couldn't find a better mul-milmyeon!
Shinsegae Centum City
Completed my hearty lunch, and headed to Shinsegae Centum City. This is famed to be the largest shopping center in the world.
Shinsegae Centum City (신세계 센텀시티)
35, Centum nam-daero, Haeundae-gu, Busan
부산광역시 해운대구 센텀남대로 35 (우동)
But honestly – I ain't the rich kid to want to be shopping here. The only thing I find of interest was the basement floor where food market and the atas supermart was at. And, I found my favourite Samsong Bakery from Daegu here! They have an outlet here! Now I have to come here the next time I return Busan! I promised to return after my Jjimjilbang experience to bag a couple of mayak-bbangs to-go!
Spaland for Jjimjilbang Experience
Spaland is actually located within the Shinsegae Centum City itself – managed to find it after consulting a map.
Jjimjilbang experience – This has gotta be one of the highlight of my entire trip – being naked in front of strangers (same gender of course). Going solo, I threw all my pride to the wind – did everything shamelessly – shower in the open bath area, and tried all the hot spring without caring for who's ogling who. I really enjoyed the hot tubs here – however do note. I did a very newbie thing – after soaking in hot tub for about 15mins, I immediately stood up and I felt very dizzy right away. I had no clue why until I surfed net and it was explained:
If you were planning to stay long, keep your heart above the water. When you want to emerge from the hot-tub, rise slowly, and give yourself plenty of time to slowly rise up and exit the tub – I am talking in minutes, not seconds. And pay attention to your consciousness. Otherwise you would face what I did – the dizziness and this could get really serious for some would even faint. Stay healthy!
So right after that, its sauna experience. There was plenty of room options available and the entire Spaland was huge and without too many visitors while I was there.
They offer rooms with different temperature and different themes. Of course, I went to tried every single one of them…
The Fomentation Room (Bulgama) with the highest temperature: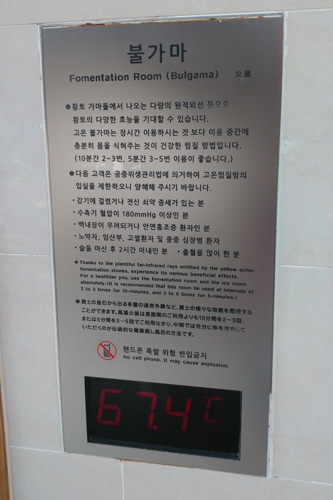 And if I remembered correctly – this was the highest temperature of 67 degrees – I remember succeeding in entering and staying there for 10 minutes for the first time. The next time I tried to enter, I couldn't stay for more than a minute and had to exit right away – entered this room by hopping all over like ants on a hot pan! But I really like those sauna with higher temperature – self-torture addict here – and those rooms with the woody charcoal scent.
Here is another fanciful pyramid sauna room – Egyptian theme?
Oh do note: don't bring in handphones into those hot sauna rooms – don't want them to go off with fireworks. I was thinking about what to do with my phone when I noticed that people just leaving it at the shelves right outside the respective sauna room. Very trusty of strangers eh? Decided to do just that as well.
Regretfully I didn't make full use of my 4 hours pass at Spaland – as I was gonna rush a few more shopping for the day. I didn't crack an egg on my head nor do the sheep-shape towel like Korean variety do and didn't particularly relax much like others who were there as I was pretty much keeping track of time trying to rush through all the saunas. Sadly, this was my one and only Jjimjilbang experience in my 14 days trip. So! I definitely want to be back again.
Towards the evening time – did a last round shopping at Nampodong, and savaged the last round of ssiat-hotteok. I identified one of my favourite store to visit in Korea for shoes and bags for both male and female shoppers – this I must recommend:
Shoopen
There are plenty of outlets across Korea – so this was was situated at Nampodong, Busan. There is a wide array of shoes and bags available. However shoe-wise I wouldn't bag much hope if you wear EU size 40 or greater – Korean shoe sizing seems to max out EU 39 for ladies.
Wide array of colors, simple design, and I got one of them on the later part of my trip. Surprisingly – I didn't expect its inner lining to be waterproof until I got home. Great quality – this cost 16,000 won – compared to the cloth-material backpack I got from Bangkok at around SGD$12 – I rather get this!
Dining at a street vendor
I had a simple dinner fare at one of the street vendor at Nampodong – so supposedly – I was famished and chanced upon this vendor selling mandu and jeon (korean fried pancakes) and 2 other ladies dining there. Finally got a chance to dine like locals do – dine standing at a street vendor. So I ordered my mandu and jeons. Unsure why, but the vendor pan-fried and only handed me some mandus, so I thought "Should just grab them myself"? I did that, lol, and one of the dining lady told me that the vendor is heating it up for me. xD. Awkwardly and sheepishly understood – I put them back and waited for the other mandus to join my plate. 😀
A couple popped by and gestured the number of mandus and was replied with how much they cost. I think some miscommunication happened and the other dining lady then helped bridge the translation between the couple and the vendor. And ohh, the couple were Singaporeans – so glad to finally hear my local accent. Insofar on my travel, I had not met a single Singaporean – except for Wee of course. Some while later, plucked up my courage to speak to them and the dining lady – turns out that shes from Taiwan. Exchanged a few more chatty moments then we all went on our path. My fateful meeting with the Singaporean couple had a part 2 still!
Satisfied with how my evening turned out – I returned home and met the new set of guests whom were from Malaysia. Hehe 😀 yet another familiar accent. They were sharing with me that they were planning to go for a cherry blossom marathon – wow amazing?
Farewell Busan
How awesome was my Busan host!
Early in the morning at 730 AM, I packed and then was gonna head out of the accommodation. Found my host in the living room waiting for me – still at that point I had no idea why was he waiting for me, maybe to bid goodbyes? So I did that, and remembered to fish out the 7000 won I had short in my previous payment. But, he refused to accept it! We played
taiji
with the bills, pushing the note towards each other left and right and even to the extent I said to him, this is for "
dwaeji-gukbap
"! But in the end, the bills went back to me XD
Then he told me he will drive me to the station – Really?! I had not expected that at all, and really – felt very touched by his generosity – he goes out the way out for his guests – bringing us to sightseeing, providing breakfast, all the tips and whatnot! Along the drive, he was showed me some of the hidden shortcuts that only locals would know and how to avoid jams. 😀 And in no time, we reached Seobu station – I thanked him fervently and welcomed him to find me if he ever come to Singapore! Do hope he does that, so I could return all of his generosity.
Concluding my final night at Busan – Green House
For my stay in Busan, super satisfied and really happy to have chosen this accommodation. First, it is a shared flat – I got my own room, socialised with other travellers, and met one of the most amazing host! I had always been the type to want to rent out the entire Airbnb flat, want my own bathroom, super cozy in my own comfort zone. For this solo trip, I thought hard to get out of it, to try staying in dorms at hostel to get some of these experience, but that ultimately still freaked me out. However a shared flat with own room offers similar experience but with more personal comfort so I might continue with this the next time. :D.
I have lots to rave about our friendly and generous host, DJ Kim – please do consider Green House (free advert for him) if you are passing by Busan. I do say though, its about 7 mins walk from the Gaya station, but the house is really well-furnished, very clean and comfortable, and have the most awesome host by far! Do check it out!
Busan is quite amazing to me – and I had many experience with the locals whom helped made my memories a lot more complete. Busan, I hope to be back! Things to do next round: Better seafood haggling, chomp grilled hagfish at Haeundae, fully exercised the 4 hours of spa relaxation at Spaland, and the Racecourse track I failed to go this round!