After the hectic week of running across South Korea for sights, finally, I headed for vibrant city, Seoul, and my final destination! I had a total of 5.5 days here. But for this first part, which is just a half day itself, I felt like I had stuffed plenty of stuff which is a little bit of everything within the same region. Need a simple 1 day Seoul itinerary? Try here: Read on for ginseng chicken, K-BBQ, historical and cultural indulgence at Gyeongbok Palace and Seodaemun Prison History Hall, and immersed in cuteness overload at BT21 and LINE merchandise at the LINE Flagship store at Itaewon!
Day 8 – Seoul
After my short stay at Jeonju, woke up early to take an early train to Seoul. Met an Ahjumma at the guesthouse and asked her (in broken Korean of course) on where to best grab a taxi. "Keun-garosugil" and she gestured me to that direction. Finally, we were on our way to Seoul via the KTX.
I stayed at Cheonggye Haus for Seoul – I found them at Booking.com, and it was a decent budget stay!
Its quite spacious, a corner for my luggage that wasn't spotted from my photo above. Private bathroom, and my personal washing machine! 😀 I can wash clothes everyday! And this location was actually located along the Cheonggye Stream, which offers a really nice night view for a stroll. I actually didn't venture down to the stream however, as most of the night was too windy-cold for me.
It was about 1pm then and I had to make a decision first: (1) grab a quick meal and then head to Gyeongbok Palace first or (2) Tosokchon for Samgyetang first!?
Tosokchon Samgyetang
I headed to Tosokchon – which perhaps wasn't a wise decision as I was famished at then. So I was properly punished with the long queue and getting slapped by huge breezy wind. Define miserable: cold and hungry at the same time!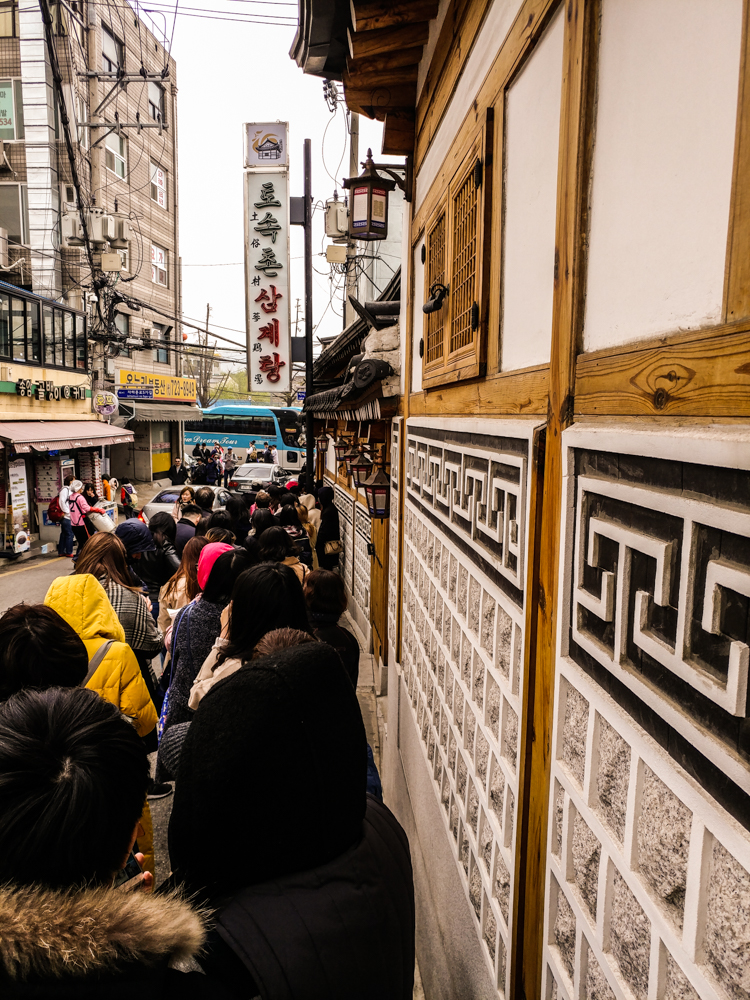 Was an hour of queuing before I got in!
Once we finally got in, I got a table with a few friendly Koreans who were just right in front me during the queue. From the menu, I picked the most expensive set since I queued for so long, might as well get the most out of it? Before I digged in, I consulted this manual:
Ginseng liquor: awesome, sipped it during the meal
Tea: ginseng flavour!
Ginseng roots: dump into the soup
Samgyetang and all others: Ready, get set, eat!
The ginseng chicken was stuffed with flavorful glutinous rice, and the broth was full of ginseng flavor. Very hearty meal, enjoyed it thoroughly and I finished the entire soup down to every single drop, the entire chicken, and all the herbs haha. I am not sure if other outlets offered such a high quality Samgyetang since I had only tried it here once on my trip. But this is seriously a must-eat in Korea next round!
Gyeongbok Palace
Next, headed on to Gyeongbok Palace which is a short walk from Tosokchon!
Lol, even before I stepped in, I felt like I was walking towards the past times. A scene of many people dressed in beautiful hanboks. :D!
This slideshow requires JavaScript.
The only performance I managed to catch – hear the traditional instruments and music.
Sadly, at the time when I visited, I missed all the guard changing and performances. So I wasn't feeling the hype of the palace. What's more, you can only see the palace from outside, can't enter the building. Was feeling a little let-down by this trip. Later I spoke to Audrey and she told me that I should have went in with a guide, then it would be more informative. True maybe. Perhaps I will revisit again with a guide the next round.
Next, I headed for a little historical indulgence:
Seodaemun Prison History Hall
An informative map to guide you through.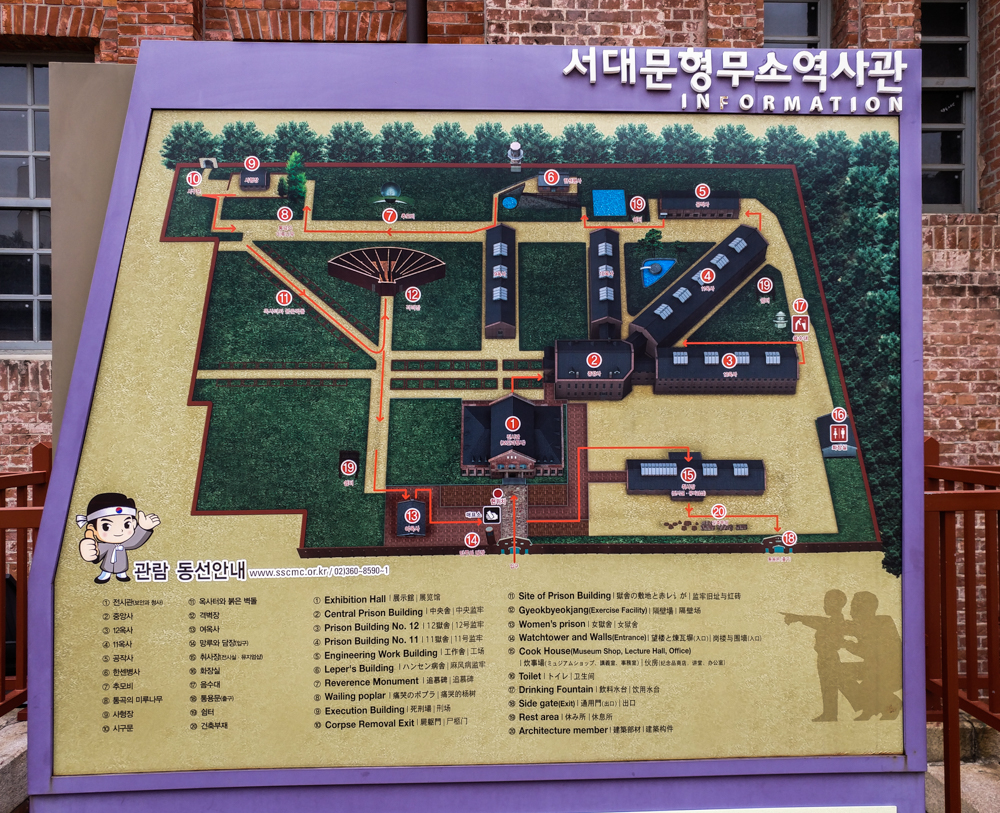 Torture and extortion methods and chambers display
Inverted drowning
Along this hall was plenty more of exhibitions, I took time to pop in each of them before snapping this scary wax dude.
Finally ventured out to the prison outdoor compound. Red bricks, and bald trees~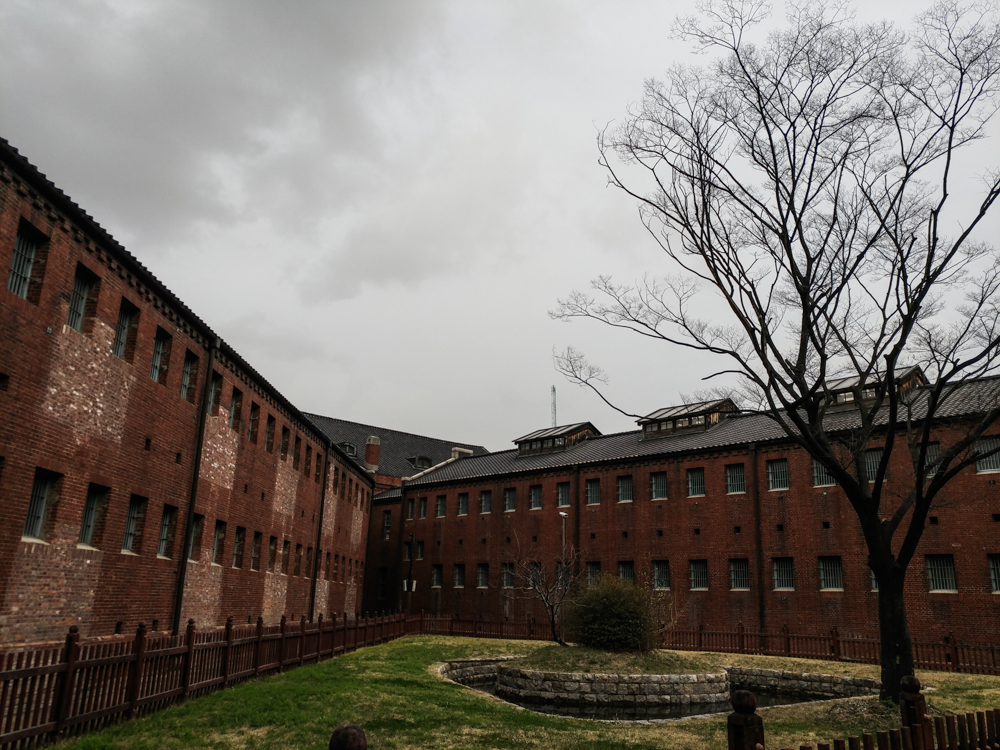 The red-bricked walls never felt so stifling and ominous before
This following photo was of a a half-semicircle meant for prisoners to get out and do a little exercise. It was sectioned by walls, and prisoners were to face the walls while they work out. This was meant to prevent communication among them.
And this was situated near the leper chamber, or it might be it, I can't remember.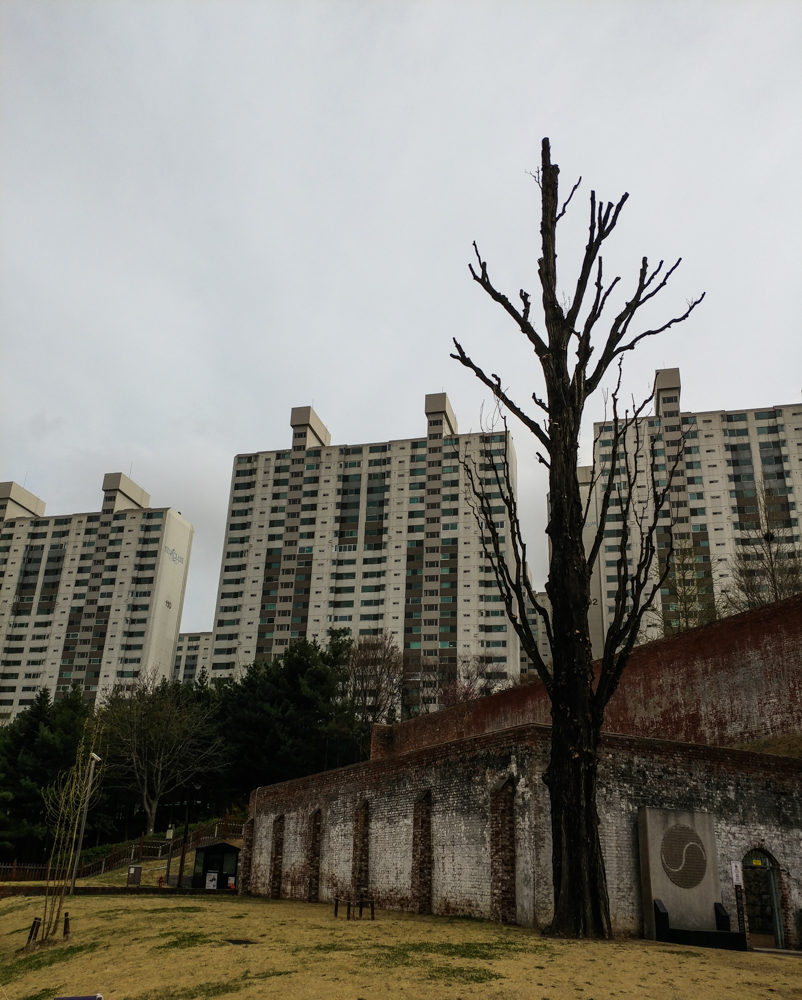 I highly recommend a visit to this hall – very informative, well-organised and documented self-tour and easily doable within an hour.
LINE Store – Itaewon
Address: 200 Itaewon-ro, Itaewon 1-dong, Yongsan-gu, Seoul
My intended visit was to sweep some of the BT21 merchandise back! But, sales were halted then, and they were only meant for display while I was there.
And interestingly! I ran into 2 of the Singaporeans whom I met at Busan previously. XD We had a quick catch up and they help me with the following photo waha!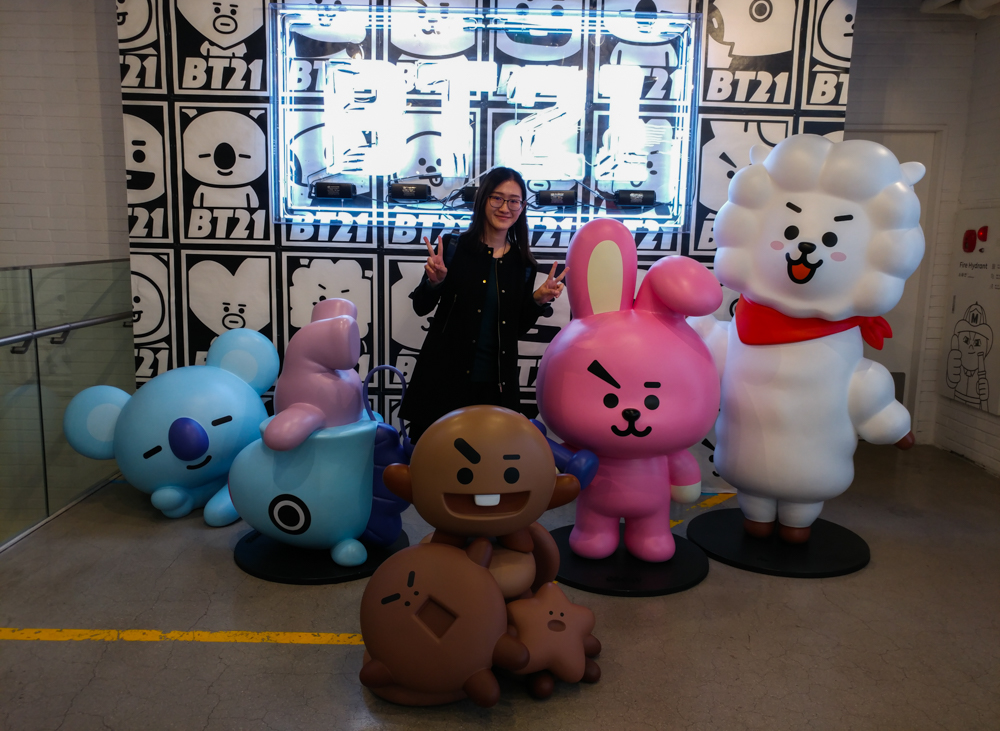 Couldn't resist doing a goofy one by myself 😀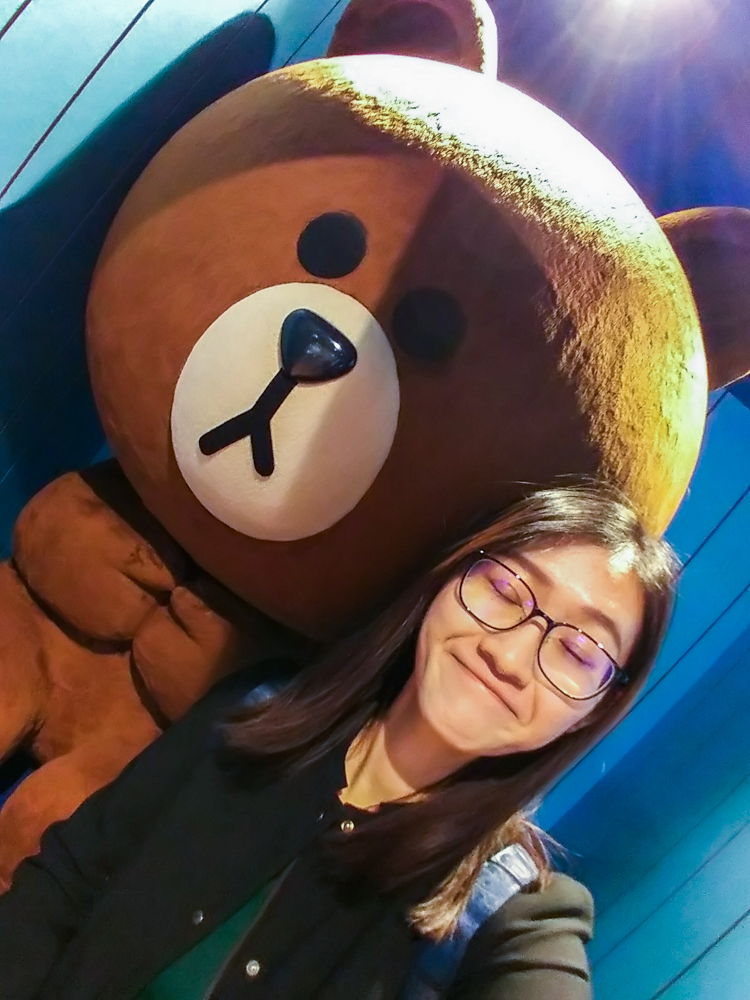 Had plenty more of BT21 photos, which I had separately dedicated a post here
Wang-Bi-Jib – Korean BBQ
Met up with sis and her friends for dinner! There was actually a long queue, and the manager was advising some to go to another outlet due to the long queue. There was 2 outlet within Myeongdong I think…can't remember which outlet did we went exactly…But we were finally here!
Got an alcoholic drink to share that tasted like Ribena
Meat was finally served and cooking!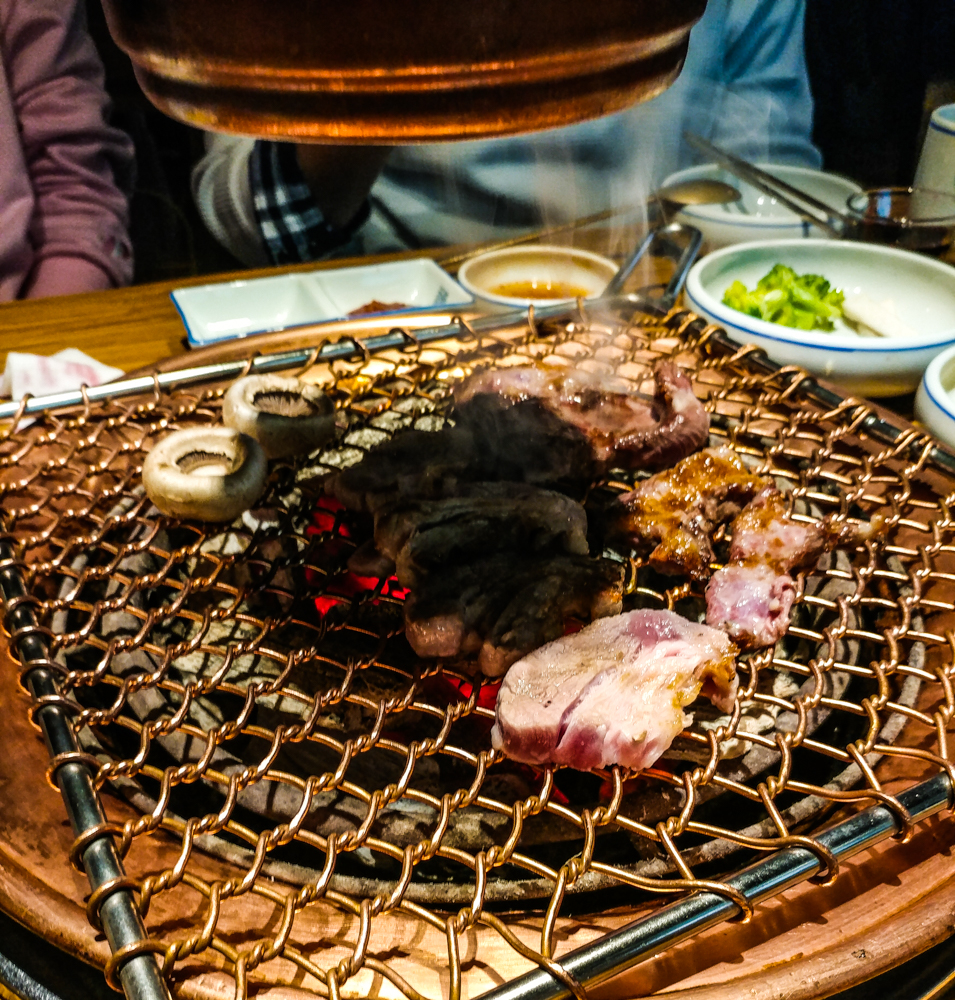 Our nice BBQ server joined us in our wefie :D!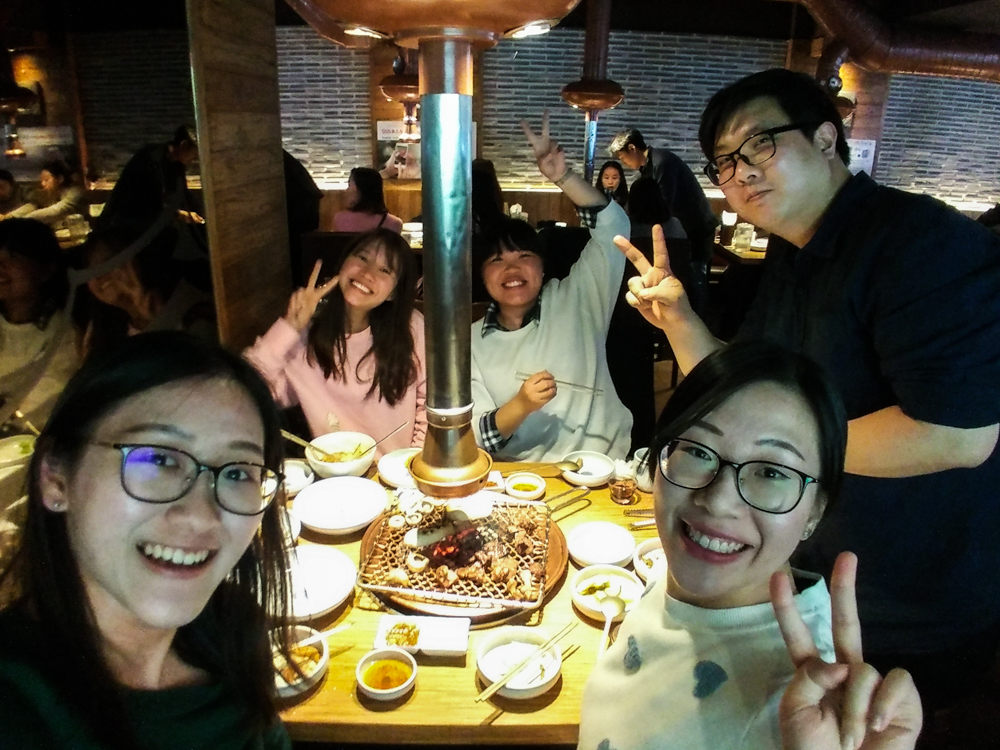 After dinner, we did a little quick shopping around Myeongdong – skincare, and what-not. And I found this store selling music CD, and popped in to have a look.
Can see, but cannot buy!
Seemingly, albums at these CD shops are much pricier – alternatively, head for CDs shops at Myeongdong metro underground shopping (tipped by sis) as they have albums at a much more cheaper price.
After that – called it a night and we headed home. Was nearly enticed by Lynn's offer to hang out at their place for 2nd round supper – fried chicken! But the thought of getting a cab home in the middle of the midnight doesn't sound so enticing and I remembered I had to get my clothes out of the washing machine…which is another story on its own!
Washing machine story
Earlier on when I check in, I had actually put clothes for washing before I headed out from afternoon on. However, as I had left, I took the room card from its holder and electricity was stopped from then. So imagine the moment I grabbed and pull the washer door and water started to pour out and I had to slam it back! Sigh~using washing machine overseas are never easy!