Still based in Busan, I would be going on a day trip to Jinhae – famed for its abundance of cherry blossom and scenic takes – a place you surely can't miss in the Korea's Spring Festive. Another highlight at Jinhae would be temple visiting – I was very much excited to go for Sammilsa Temple after seeing the pictures online! Can't wait to view it in its full glory!
Day 5: Day trip to Jinhae
Decided to tag along with the Taiwanese guests to Jinhae. We set off at 7.30 am (after the late night fried chicken supper we had omgosh) from Gaya station and reached Seobu bus terminal at a nearly early timing (8am+) time – right after we queued, the moment we turned our heads there was a long snaking queue behind us already. So, do get there early to queue for the bus if you are gonna go Jinhae.
When we reached Jinhae, queued again to get the return tickets – cause blogs tipped that return tickets can get sold out. However, here I parted ways with the Taiwanese guests as we had different schedule: they were going for the Gyeonghwa Station first, while I had planned for Yeojwa Stream Romance bridge first. I might sound a little inflexible – but purely because I followed some blogs which commented that Gyeonghwa Station can be a missed if I didn't have the time…so, we will see how this work out in the end. I have a different story to tell.
Jinhae Gunhangje Festival (진해군항제)
Decided to go by foot from the bus terminal to the Romance bridge. It is actually walkable – about 15mins. Actually to me, everywhere is walkable :D. Along the way, you would first pass by the Jungwon Rotary Intersection, where the Gunhangje Festival is based at. This is a cherry blossom festival, normally held during the first 10 days of April.
Jinhae Gunhangje Festival
Tongsin-dong, Jinhae-gu, Changwon-si, Gyeongsangnam-do
경상남도 창원시 진해구 통신동
It wasn't fully opened by the time I had reached there which was around 8.30am. There was supposed to be some performance – cultural and military – but I didn't catch any during my day there. Anyways, continued the journey to the bridge.
Yeojwacheon Stream (Romance Bridge)
And it was quite crowded by the time I reached, fair amount of tourists had started to fill up the place. The bridge actually stretches for quite a long distance. For the initial stretch, there wasn't much decoration on the bridge, so after some time I was starting to think that those blogs I had researched on were lying! Lol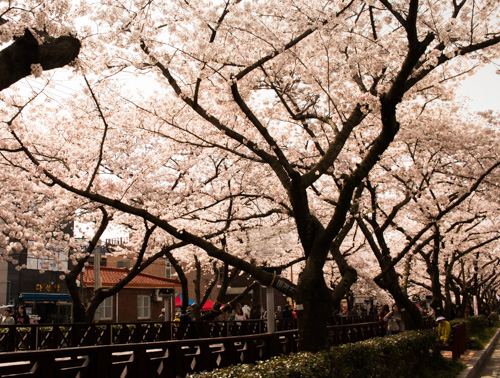 Along the way, theres a short stretch of vendors selling food and services:
Heres something I wouldn't try:
More cherry blossoms:
But, I continued the walk on, and ohhh, starting to see more fanciful decorations. And the number of tourists dwindled the further I ventured. But do continue on the journey if you wanna catch more of the fanciful decorations. I am anticipating the bicycles display…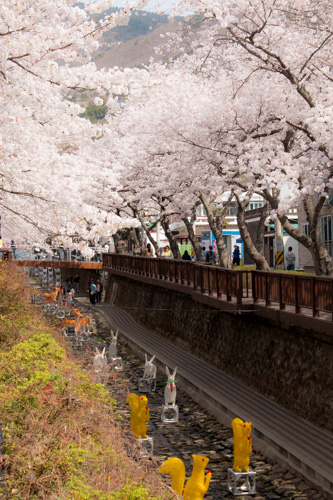 Found a subject for my photography!
Realised that these decorations are fixed with LED lights! Should be an amazing view at night!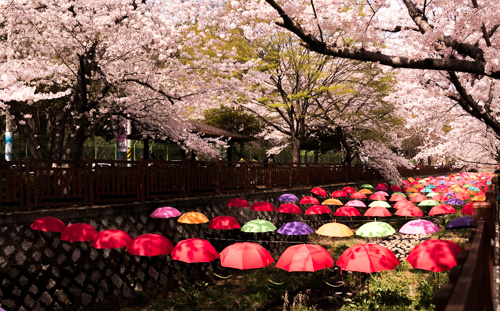 Look at the opposite side of the bridge – almost no one at the bridge! This segment was very far in the walk.
So bicycle decoration wasn't seen anywhere – admittedly a little disappointed. And halfway through photography, my camera decided to die on me – had me worried because am I carrying a deadweight again? That happened while I was on my 1st part of my 2017 Europe trip.
Walked back to the Jungwon Rotary Intersection and started to explore the Gunhangje festival – I was actually there more for the food. There were quite a lot of choices, but some were rather pricey and I was also opting for a cheap and fast meal. Not sure what possessed me, but I got an expensive fishcake priced at 3000 won: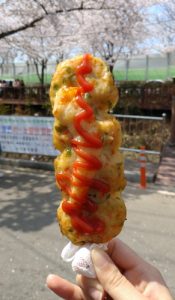 Gyeonghwa Station 경화역
Next, I had Naver app to suggest me a route to get to Gyeonghwa station. At the time, it was only about 12pm. There was plenty of time left for my day trip. Along the way, texted Wee and turns out she and her travel buddies were heading towards Jinhae as well, but had only just started queuing for the bus from Seobu?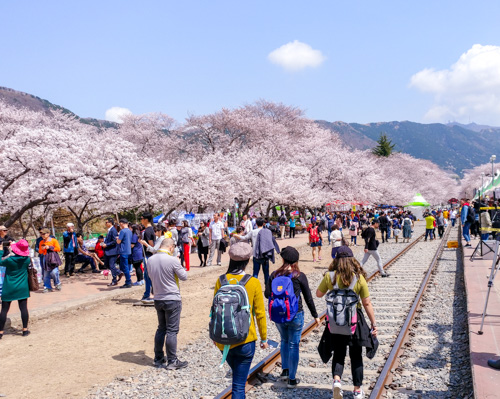 Reached Gyeonghwa Station…and it was, scorching, hot. Don't be deceived by the blue sky, I did some work there ><. There wasn't much of a shelter except for the narrow stretch of canopy that shelters the vendors- and even very little cherry blossom to shield you from the sun. This place was burning. Really a bad place to be at noon time.
Also, tons of tourists here at the station to photobomb you at this hour. Lets just make do.
My Recommendations for Jinhae Itinerary
As of this point, I concluded that the Taiwanese guests had made a better choice – Gyeonghwa station should have been a morning itinerary so that you could dodge the heat during the noon. The Romance Bridge offered more shelter from the sun – and yes its beautiful cherry-blossom-umbrella. And you can definitely complete Gyeonghwa Station and Romance bridge both in a day with plenty to spare.
Still under the burning heat, I fled quickly, within less than an hour of stay I was back at the bus stop waiting for the bus out – sadly, the little bus stop doesn't provide much shelter, and with all the heat trapped in the shelter it was actually way uncomfortable. Added mix scent of food that other tourists were munching away under shelter, it's basically an oven-shelter with mix of food flavours. As I exited really early – I managed to squeeze in another itinerary:
Temples Visiting at Jinhae – Daegwangsa Temple and Sammilsa Temple
My main goal for temple visit in Jinhae: the Sammilsa Temple – wait till you see it. Boarded bus 762 to Jinhaegu Community Center stop which seems to be in nowhere, so I pretty much navigated using Naver map.
First, I found myself in another temple – Daegwangsa Temple.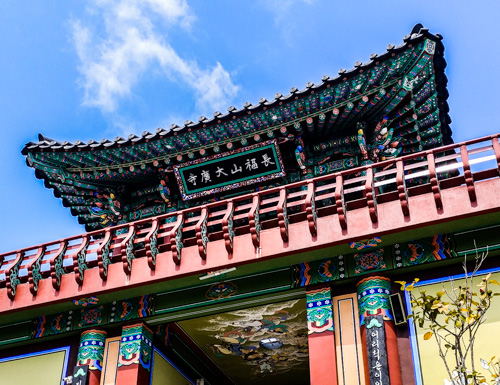 Just out of curiosity, decided to walk in and visit. Saw an lady staff in there, and greeted her from far and got her permission to take a look around.
Tread carefully and consciously so as not to disturb the peacefulness here – offered a few kowtows to the Buddha to bless my family in the temple, and checked with the lady on how to get to Sammilsa temple.
Shortly, exited and begin back on track towards Sammilsa. Along the way up, there were plenty of cherry blossoms in this area and a sculpture park.
Finally found a map display:
Don't take a deep look into this – in fact, I had no clue at all after trying to read the map. All in all, just head straight up the track. The steeper tracks should lead you right up the temple.
Finally the first clue that showed me that I was right on track – Sammilsa Temple! Then look at the next picture:
This mountainous trail looks like a 45 degree incline – and it was really steep climb. I was panting all the way up. And some Ahjusshis who were climbing down looked at me weirdly – they all seem so fit! Also, while there were steps – some of these steps felt slippery. So caution – bad knees, or rainy day, I recommend you don't attempt.
After the tough climb, finally reached the temple, and here is a little glimpse after the incline hiking:
Lol, theres even more stairs to reach the temple at the top!
And finally, alas!
Go through here, and theres some statues on the stairway to welcome you:
…and right then, turn back, and take a look:
Viewpoint from the top of the mountain! Fantastic IMO! I haven't got to the main part of this temple visit, yet I was feeling very satisfied with everything that led me here! I had this thought that I wasn't going to be doing any trekking or hiking as it really wasn't my cup of tea – yet, I "accidentally" hiked up halfway through the 45 deg incline slope and the thought of giving up hit me. But, I wasn't the type to do things halfway – so I continued on although cursing inwardly (oops, sorry Buddha) how have I not anticipated this! But, at this point in time, I had a really solid memory of this hiking journey and I was really happy – the tough fruit of labor (ahem, hiking), yes
Continuing on, refreshed state of mind with the fantastic view point, I walked in and here was what I came for in the first place: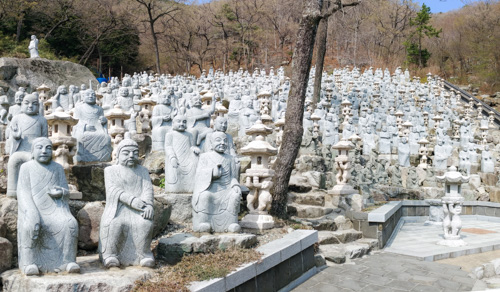 The massive number of Buddha statues at the temple – I stitched a panorama but it still didn't managed to capture all – my lack of skill though.
Now calmly absorb in the sereneness on top of the mountain with all the Buddha statues that were facing me – peaceful.
With that, I concluded my stay at Jinhae, and trekked back down to the bottom, took a bus back to the central area and walked all the way back to the bus station.
Hana! The solo privilege
I have yet another solo experience to share – so while at the bus station, the queue to get back to Busan was already snaking. So, no choice, queued all the way back and waited for my turn. Coincidentally, the bus captain beginning to call out "
hana
!"
Huh, one person?
"Mememe!" – 😀 Quickly, I ran forward and boarded the bus, happy to jump the queue ahead – that was one of the perk of going solo!
Headed back to my accommodation and checked on my DSLR – which seemed to be only a battery flat issue. Shortly, the other Taiwanese couple returned (different couple from the earlier guests whom I went to Jinhae with) and we were then sharing our trip of the day. 😀 They too, visited Jinhae, but had only stayed for a short while.
Gwangalli Beach Night View
Towards evening time, I headed out again – this time to the beach! After I reached Gwangwan station, first stop was to satisfy my stomach. Randomly, found a Kimbap restaurant along the way to the beach after exiting the Gwangan metro.
Its a simple food fare, and finally got to try the Korean's kimbap – and this is only 3500 won! Its way more worth than the 3000 won fishcake – imagine that Maki-san in Singapore costing approximately SGD$9.90 per sushi roll. I am definitely happy with the Korean version!
Satiated, continued on my journey towards Gwangalli beach – and heres a little shot using my LG V20
Gwangalli Beach 광안리해수욕장
219, Gwanganhaebyeon-ro, Suyeong-gu, Busan
부산광역시 수영구 광안해변로 219 (광안동)
Afterwards, headed back – I believed I returned back to the shopping at Seomun area.
Along the way, decided to send text in Korean to Wee (in banmal haha!) asking where she was. Then I learned a feature on Whatsapp from her – sharing live location! So we did that, and funnily, realised we were just about 1 intersection away? So, decided to meet up impromptu. Finally met a friendly Singaporean after so long, I finally could speak like as per normal and conversation just gushes out endlessly each sharing our trips and complaints. XD
The highlight had to be this complaint:
Koreans spitting everywhere, even youngsters do that!
Sadly, this isn't part of my fond memories of Korea, and looking at the street floor I had so much dread sighting spots of yucky colors that decorated the floor tiles. Even guys with one arm around their girlfriend was just spitting like nobody's business ><
Headed back to accommodation to find the Taiwan guests I went out with were back! Having fried chicken again for supper – woah!! They then shared that they had stayed at the Romance bridge for the night view, which must have been so amazing!